Bears Spotted 'Checking Movie Showtimes at Mall' in Video Viewed Over 65K Times
These bears were in the mood to see a movie.
Footage of a pair of black bears walking around outside of a mall's movie theater to "check showtimes" has delighted Facebook viewers but might be indicative of a larger trend of bears approaching heavily populated areas in the state.
Video of the bears checking out the movie theater in the College Square Mall's development in Morristown, Tennessee, was posted on Facebook on Wednesday. Viewed over 65,000 times, the video starts with one of the two bears approaching the AMC Theatre as the Bee Gees' 1977 hit "Stayin' Alive" plays in the distant background.
The bear struts along the sidewalk and glances at the movie posters along the wall. Moments later, the bear picks up the pace and jogs away from the theater toward the shopping center.
"Check out our visitor this morning looking for showtimes of Space Jam at AMC College Square 12!" the mall joked on Facebook. "In all seriousness, please be cognizant of two bears in our area. Do not approach or feed the bears."
A representative for the Tennessee Wildlife Resources Agency [TWRA] confirmed in a statement to Newsweek this was not the first bear to visit the county in recent memory.
"Bear sightings in that county [Hamblen] are becoming more common," he said. "This is expected to continue as bears expand into their historical range and the number of people moving to [Tennessee] increases. However, most people in that area aren't accustomed to seeing bears so when one shows up it is typically 'big news.'"
Indeed, dozens took to the comments and found humor in the video.
"One ticket for Jungle Cruise please," one person wrote.
"He must have smelled the popcorn," another joked.
Two hours later, the mall posted additional footage of the bear elsewhere on the premises. Filmed by Beverly Robeson-Brooks, she is heard expressing shock at the sight of the animal.
"Oh my goodness y'all, this is crazy," she exclaims. "Hey Mr. Bear!
"He hears the music. He wants to go shopping," she jokes, as the bear looks through the glass doors at the mall's entrance before once again scurrying off.
Robeson-Brooks' video was viewed over 40,000 times, and Facebook followers began expressing concern for the bears.
"Poor baby. He needs to be rescued. He's hungry thirsty and probably scared," one viewer said.
"He is just looking for food. Bless his heart. He doesn't know where to go, he is scared [I'd] be scared too not knowing how humans will react," another remarked.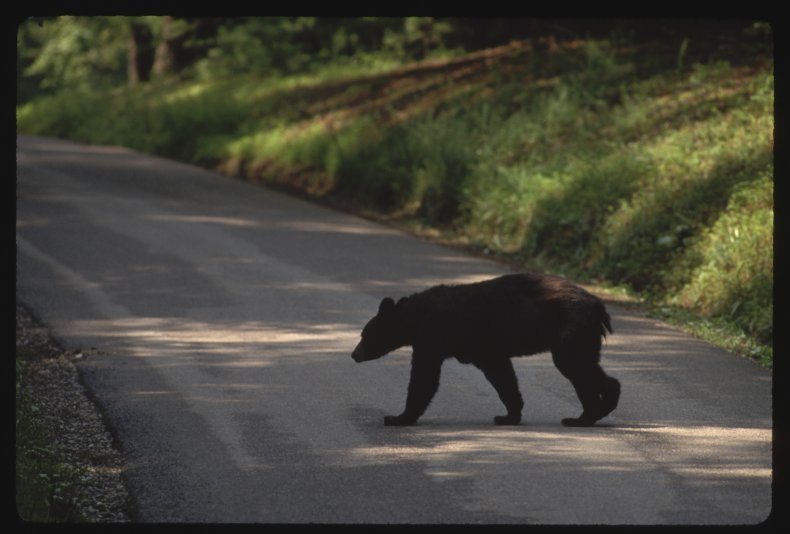 The College Square Mall noted in the comments that while it contacted the TWRA about the bear sightings, "they won't come out since the bear is not aggressive."
"So they will only come and get this little guy AFTER HE HAS BECOME AGGRESSIVE AND POSSIBLY HURT SOMEONE??? And then if he does they will blame him and destroy him," one angered viewer shared in the comments. "He needs to be relocated to his natural environment for his safety and ours. TWRA this makes no sense."
"Poor thing needs to be relocated safely," another demanded.
According to a report from WVLT-TV, this marks the third bear sighting in a highly populated region in the last three weeks. In early July, a black bear was spotted on a resident's home surveillance cameras in Karns. The next day, another bear approached neighbors in West Knoxville.
"It is kinda weird that we don't live in the Smoky Mountains or Sevierville but there's a bear in Morristown, so beats me," Malachi Horton told the outlet.
As Morristown is about a one-hour, 15-minute drive from the Great Smoky Mountains, some residents are particularly anxious about the recent sightings.
"You wouldn't really catch anything like that around the streets, you don't see horses, like people used to ride horses around here, you don't see that anymore, but seeing a big bear is really shocking," Keara Aaron also told WVLT-TV.
The TWRA spokesperson also told Newsweek that they acknowledge that human intervention is not always the answer when interacting with bears.
"It is the Agency's desire that [Tennessee] residents learn to coexist with bears and moving bears simply because they are in an area where they are not normally seen is counter active to that goal," he said.
"TWRA is very active in Administration and development of BearWise.org and encourages residents to visit the site to learn how to be proactive and prevent conflicts," he added. "In most cases, removing food sources that encourage bears to remain or return to an area will suffice."
The bears found at the College Square Mall are the latest wild animals found in residential areas across the country, as well. Last month, a bear caused a stir in Schenectady, New York, after several local residents spotted the animal walking through the streets of the city. The bear later retreated to woodland.
A "lost" black bear was spotted 40 feet up a tree in the backyard of a home in Marin County, California, in May. The 200-pound bear appeared to be healthy and showed no signs of aggression, even seeming to fall asleep at one point.
In Connecticut, after a hungry bear went viral in 2017 while begging for fresh-baked brownies outside of a home, the same animal returned in April—this time, bringing her baby cubs for backup. Footage showed the bear and her cubs going for a walk on an Avon property across the street from the original "brownie house" the mom targeted four years ago.
Updated 07/29/2021, 4:54 p.m. ET: This story has been updated with statements from from the Tennessee Wildlife Resources Agency.