Beats Fit Pro Review: The Fitness Alternative to AirPods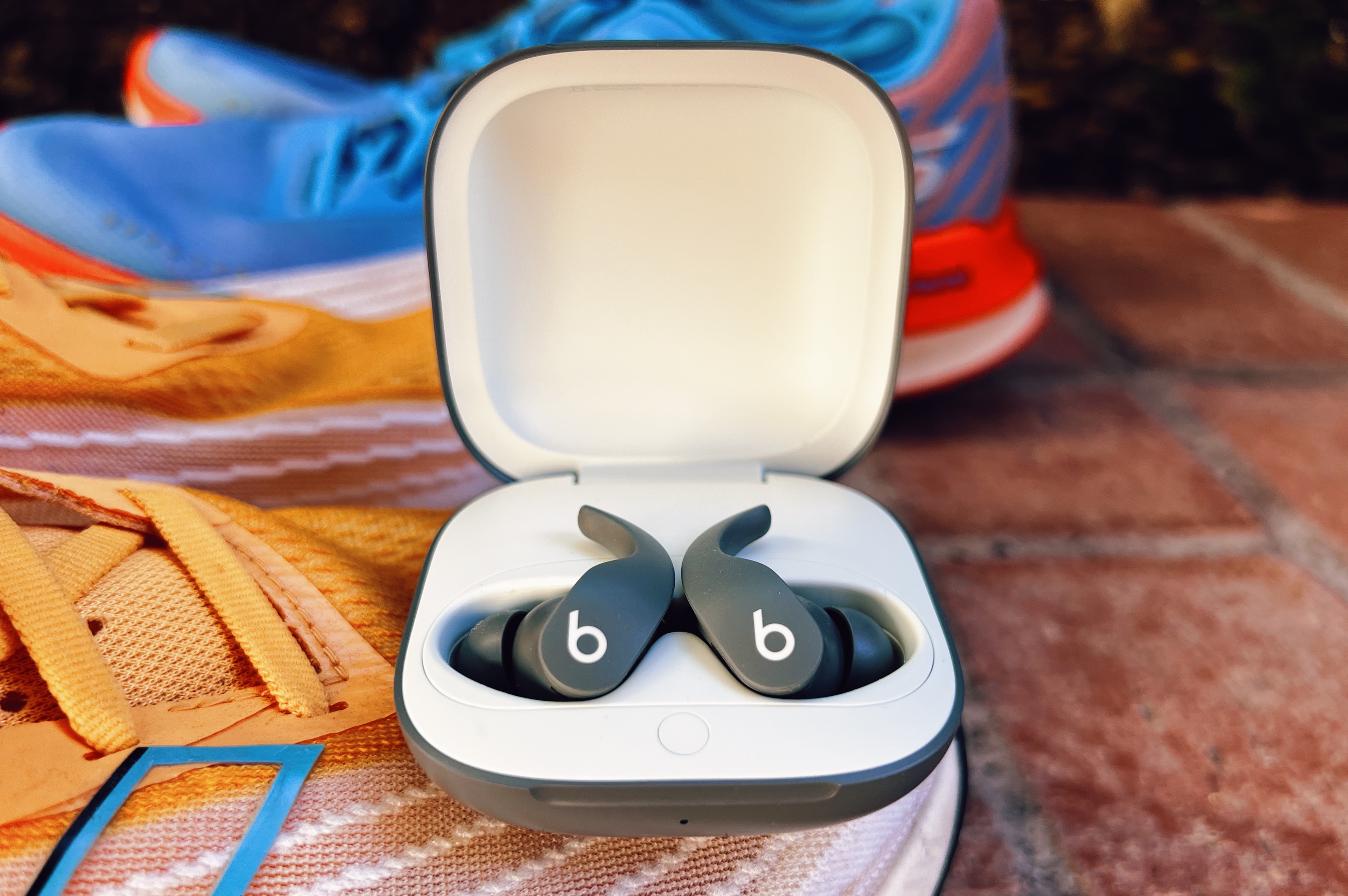 Beats Fit Pro don't look like AirPods or AirPods Pro, but they're basically a blend of the two Apple earbuds in a fitness-wrapped shell. The reason for these wireless earbuds to exist then, even with such feature and sound overlap, is their shape and innovative wingtips. These earbuds are all about being able to stay put, no matter how rigorous the fitness activity—and they work.
I've often turned to Beats earbuds for times of physical activity. For example, the Powerbeats Pro's over-the-ear hooks were helpful for keeping them in place on my ears while running. There's nothing wrong with those earbuds now—they still work—but in hindsight, Powerbeats Pro are a large, clunky solution. These new Beats Fit Pro are a small, sleek and elegant update to address the same use case.
After spending some time with the Beats Fit Pro, I can say they are great for sports. Athletes of all levels will appreciate their minimal size, large sound and advanced features. People will especially appreciate their secure fit. And yet, these earbuds are so focused on their fitness objective that they won't be the right choice for everyone.
TL;DR
Pros:
Innovative, secure-fitting wingtips
Solid Android experience
All the tech benefits of AirPods for iOS devices
Cons:
No wireless charging case
Long, sustained use may cause discomfort
Buy at Apple.
The Fit of the Fit Pro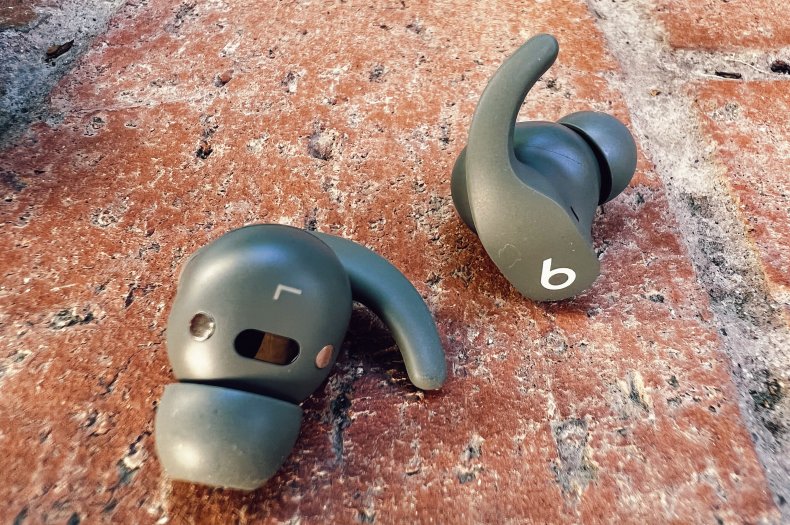 The flexible, minimal wingtips are the main appeal of these earbuds over other competitors. They bend to accommodate a wide range of ear shapes. Pixel Buds have a similar-looking rubber nub, but those are significantly more rigid and stiff. I've found the ones on the Fit Pro to be very natural to push into my ears, and generally speaking, they're comfortable.
The Fit Pro earbuds do create some pressure in my ears. In the first days of use, I needed to adjust them back and forth a few times to find the right position. The most discomfort, for me, tended to come when removing the earbuds. I do find this wingtip solution to be my preferred way to achieve a secure fit compared with other options, though. After a week of use, I think these even best the ear hooks that the Powerbeats Pro use.
My preference for the fit of these earbuds is all in the context of running and fitness. Using earbuds to sit on a couch and work on a laptop, I prefer the feel of regular AirPods. For example, I was happy to pop these in my ears when heading outside, but almost never considered them over another choice for sitting at the table to work.
Beats Fit Pro Features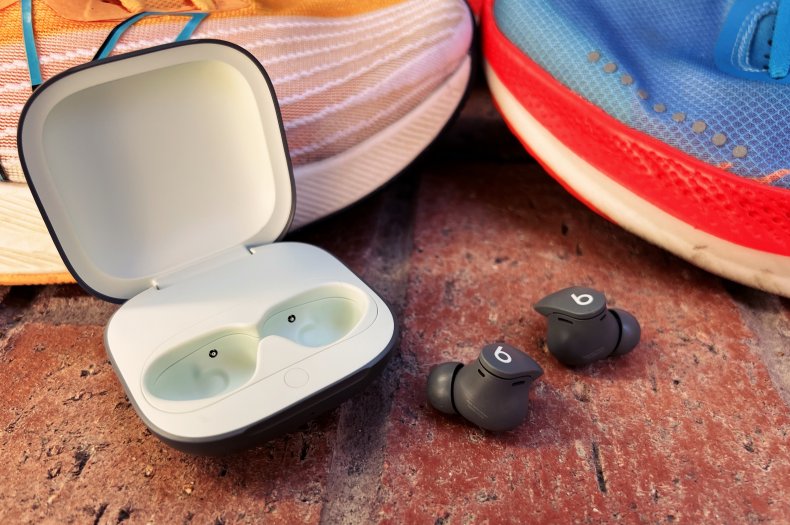 Some Beats products have glaring feature omissions. These don't. These get Apple's H1 chip to help power wireless technologies, including easy Bluetooth pairing and sharing capabilities. They can activate Hey Siri hands-free on Apple devices. They even have head tracking in spatial audio with iOS 15 software.
There's adaptive ANC included for better sound isolation. This could be helpful for keeping gym noise to a minimum. These tiny earbuds also have long battery life per charge. Overall, they are packed with desirable features.
For listeners with an Android device, these earbuds forgo some iOS-specific features like hands-free Siri or head tracking for spatial audio (on Android devices), but they still get most features that can be used through the Beats Android app. I would classify them as top-tier earbuds across major mobile platforms.
For the curious, the Beats Fit Pro support all these features on Android: adaptive ANC, transparency mode, Adaptive EQ, spatial audio, auto-play and pause, Class 1 Bluetooth connectivity, beamforming microphones, Fast Fuel charging, one-touch pairing, ear tip fit test, listening mode controls, customizable controls, battery status, product renaming and OTA firmware updates. It's hard not to come to the conclusion that Beats-branded audio products continue to exist as a sub-brand within Apple to target the sports and Android categories of the consumer market.
The most egregious decision for this $200 product was not to include a case that can charge wirelessly. It's probably not a deal breaker if you're excited about the earbuds' other aspects, but it hurts. The case the earbuds live in can be recharged via a USB-C port. The charging case is definitely the weak spot for this product. The plastic feels cheap, and it seems like it's bulkier than it needs to be.
Beats Fit Pro Sound
Fresh off reviewing the new AirPods, it was hard for me not to compare the Beats Fit Pro sound with those directly. Both of the earbuds sound similar, with the main difference being the silicone ear tips on the Fit Pro. The seal that the silicone tip creates makes the sound fuller, deeper and overall more detailed.
The Fit Pro earbuds are fairly evenly balanced and have a pleasing tone. This could be different for other people with Adaptive EQ adjusting the listening experience for everyone, but I haven't heard evidence that that feature made things worse.
I found myself getting lost in Teen Daze's songs, like "Reality Refresh," because of the engulfing sound. The earbuds do well with the outer frequencies, but they also handle the midrange just fine. "Futures" by Jimmy Eat World is a song filled with crunchy guitars and plenty of sounds fighting for space.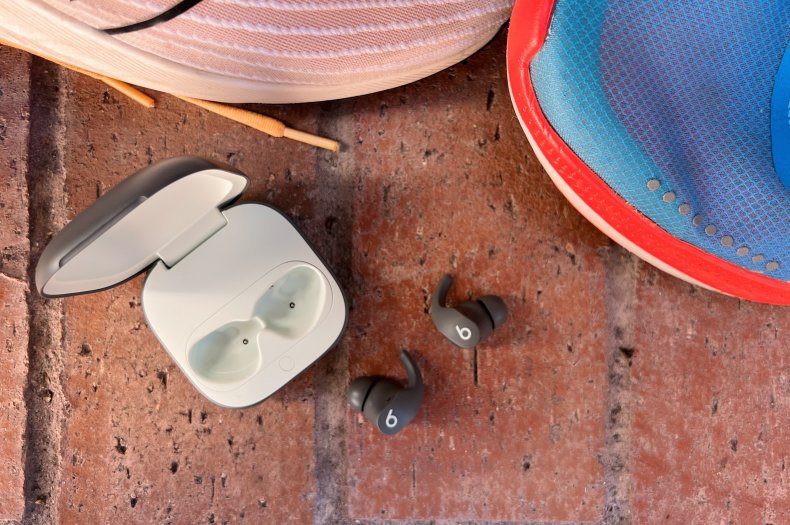 Of course, the listening experience described above is when I was using these earbuds with ANC on while listening in a mostly quiet house. Outside, running on the street, is a slightly different experience, as expected, but I was still pleasantly surprised by the natural-sounding music.
The low-end frequencies from the synth strings were present while listening to Griff's "One Foot in Front of the Other." The more delicate strumming sounds of the acoustic guitar on "Missing Piece" from Vance Joy were audible, too. I felt satisfied with how the earbuds could compete with leaf blowers and car noise yet still give life to the music playing.
I run with transparency turned on so I can hear my surroundings as well as possible. I didn't notice any of the wind noise that can sometimes be present with earbuds using external microphones, which can let outside sound in.
These are not audiophile-level earbuds, and they're not meant to be. They're wireless earbuds that sound about as good as their price suggests. They should be able to provide a full sound to pump you up while working out.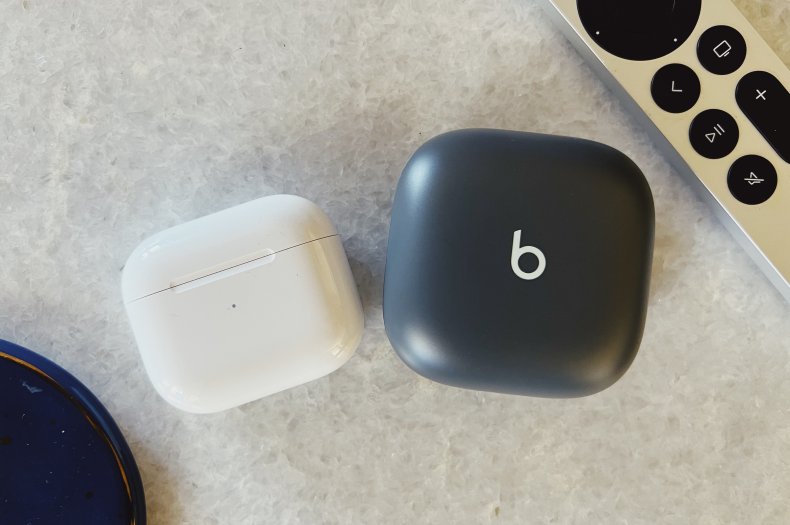 Should You Buy Beats Fit Pro?
The Beats Fit Pro are wireless earbuds made for athletes, from amateurs to professionals. Within this context, these are great. These small wireless earbuds allow for hats, sunglasses and other head equipment that might get in the way with other kinds of earbud hooks.
As general-purpose wireless earbuds, however, there are trade-offs to consider. Even superficially, the Beats Fit Pro charging case is bulky to carry in a jeans pocket. The in-ear fit might also cause too much pressure for long, casual listening periods. Still, listeners with an Android device or people with an active lifestyle should be taking a close look to see if these are the ones for them.
Buy at Apple for $199.99.
Newsweek may earn a commission from links on this page, but we only recommend products we back. We participate in various affiliate marketing programs, which means we may get paid commissions on editorially chosen products purchased through our links to retailer sites.