Becky Lynch Talks Her NXT Journey and Offers Advice Ahead of USA Move
NXT, WWE's third brand, has quickly become known for its superb in-ring product and must-see Takeover shows. So it was a bit of a shock for many when it was announced that the black-and-gold brand would move to live television on the USA Network in September.
It's a move that many saw as a possibility, and the wrestling world is curious to see how the transition is made — as is current RAW Women's Champion, and former NXT superstar, Becky Lynch.
"It's going to be huge. I'm so interested to see what that means and where it's going to take them," Lynch told Newsweek. "It's crazy that they gone from wrestling in littler armories and in front of 40-50 people to see the growth to where it's come today. From the first big Takeover at Brooklyn and now they have their own TV deal. The sky's the limit."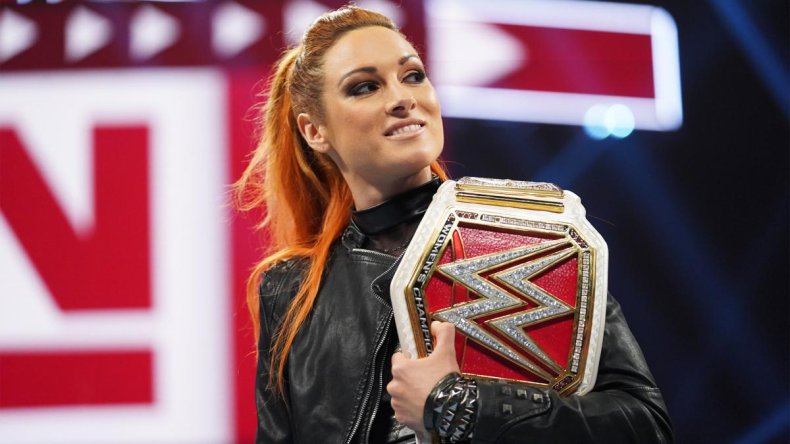 The move to USA doesn't shock "The Man" too much, though. While in NXT, Lynch felt they were all building something special with plenty of potential for growth even when its biggest stars leave for the main roster.
If you look at the list of WWE's roster you'll learn that many are alums of NXT. The black-and-gold brand has fed Monday Night RAW and SmackDown Live some of company's top talent including Seth Rollins, Bray Wyatt, Finn Balor and Charlotte Flair. But there's probably none bigger than "The Man."
That wasn't always the case. When Lynch made her NXT debut in 2013, the Irish native was saddled with a happy-go-lucky, dancing leprechaun gimmick. Not the best start for the woman who would main event WrestleMania, but Lynch has no regrets.
"Definitely no regrets. I mean, sure I came out in spectacular fashion in NXT, but I changed and continued to grow and learned to fall flat on my face in front of these people," Lynch said. "I brush myself off and get back up again. For that I can't regret that."
Lynch would commit her share of errors and missteps in her two years in NXT, but it was those hard times that would eventually shape Becky to become "The Man."
"When I came in, my confidence was down. I was constantly on the brink of being fired and worrying for my job," Lynch said. "But I had to know deep down that I could do great things, and I had to take those opportunities when they presented themselves or when the time was right. So I look back on [my time in NXT] fondly and it helped me. It put a chip on my shoulder and gave me a lot of strength."
In those early years, NXT would become a breeding ground for the top women's wrestling matches in WWE. Cultivating stars like Paige, Emma, Flair, Lynch, Sasha Banks, Bayley and much more became the developmental brand's calling card for a long time.
"We were given more time. We would have a match and it would be good and we would prove ourselves and get more time. And then with that more time we would prove ourselves again and so on and so forth," Lynch explained. "I remember being told to 'move like a girl.' What the hell does that mean? I'm a girl and I'm moving. You know? And to go from that to being told that girls can't do this or that to now where none of that is an issue. You're just told to go out there and do your job. Your job is to entertain people and be a damn good wrestler. Be that. Go do that. And of course that's what we ended up doing."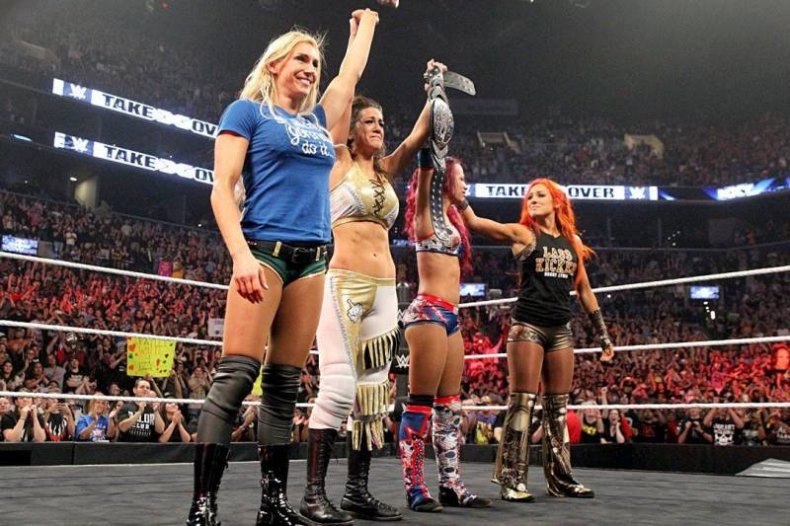 Lynch feels giving wrestlers the ability to be creative and the leeway to try and fail was helpful for her and the other women in NXT when she was there and still is now.
It was that creative freedom that changed things for Lynch down in NXT. Her character would gain an edge, ditching the dancing leprechaun gimmick and aligning herself with Sasha Banks who embodied "The Boss" persona that fans are witnessing now on the main roster.
Lynch admits that while there were plenty of moments in NXT that informed her she was on the right path, it would be her match with the then NXT Women's Champion at Takeover: Unstoppable that changed everything.
"The biggest [moment] is my match with Sasha Banks at Takeover. At the end when even though I lost, the crowd stood up and chanted for me, singing my song. I walked out and thought 'Ok, I can come back from this too,'" Lynch said. "That's the time I gained more confidence and I knew I was heading in the right direction."
Coincidentally, Sasha is Becky's next challenger for her RAW Women's Champion. The two will go at it at Clash of Champions on September 15, and while they both have gone in completely different directions in the almost four years on the main roster, the feud is rooted in NXT.
"When we were in NXT she was seen as the top dog and I was lucky to even get a look. And now it's funny because the tides have changed," Lynch said. "I think that it's a different animal up here on the main roster. Things have changed, match times have changed and everything is cutthroat and I took that and ran with it and became 'The Man' I am today. And she's been away for awhile, she took her ball and went home. And she thinks she can come back and think I'm going to give up my spot, because I'm not."
While Lynch currently has her hands full with Banks, the move to USA means the women of NXT are fair game for her too.
Lynch's busy schedule may only give her time to catch Takeovers and some episodes of NXT, she is well aware of who is on their roster and relishes the idea of any of them stepping up their game and "getting to the level of 'The Man.'" And if that means Becky needs to take a visit to NXT to find that competition, she will.
"Look I'm going where the competition is at. So whenever anyone is worthy competition I'll be there," Lynch said.
But as NXT prepares for a new era in its short, but storied history, Lynch offers some advice for everyone on the roster.
"Work hard. Work harder than anyone else, and don't be afraid to fail. You fail, you fail. You can always come back, you can come back from anything," Lynch said. "Keep working hard. Take those risks, they are so important."
NXT premieres on USA Wednesday, September 18 at 8 p.m. EDT.