Adam Cole Talks NXT's Move to USA, Keeping the Show the Same and the End of the "Call Up"
NXT becoming a live weekly television show on the USA Network is one of the biggest wrestling stories of the year.
Often called WWE's third brand, NXT has quickly become known for its top-notch action and storytelling that has made it the "gold standard" for professional wrestling. At the top of the NXT brand is Adam Cole.
After making his NXT debut two years ago, Cole rose through the ranks, becoming the promotion's first North American Championship and is now the NXT Champion after a grueling feud with Johnny Gargano. Now that NXT is moving to live television, Cole is ready to usher in a new era for the black-and-gold brand.
Newsweek caught up with the NXT Champion to talk about the promotion's move to live television.
Note: This interview has been lightly edited for clarity and length.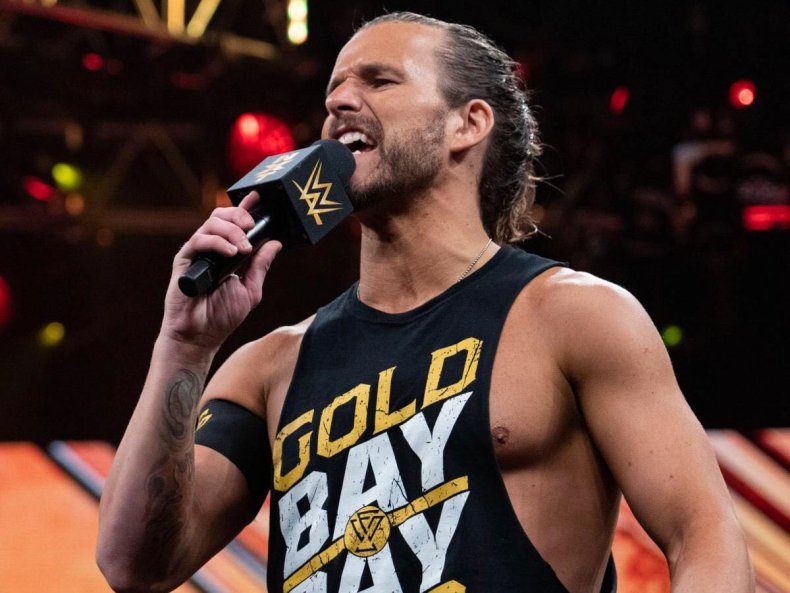 Last we spoke, you were challenging for the NXT North American championship before Takeover: New Orleans and, now you're here as the NXT Champion. A lot has happened in that time.
It moves so fast. Being in the wrestling business, my concept of time is completely thrown off. It's crazy. I was talking about it the other day. I can't believe I've been wrestling for over 11 years, and it doesn't feel that long. Time flies.
You mention being in professional wrestling for 11 years. You're now at the top of arguably the best in-ring promotion, how does it feel?
It's cool, man. I've said this before. I'm so proud of the product we put on. I'm proud of the roster that we have. And I've said before, and I stand by it, bell to bell NXT is the best wrestling show on the planet. I really feel strongly about our crew, and our Takeover events are always super exciting wrestling shows. To be on top of a brand that I feel so strongly about is a really cool feeling. It's a lot of pressure, but it's also very rewarding at the same time.
When we last spoke it was right after War Games and now we're talking after that brutal Toronto match. Are you going to take it easy on your body?
[Laughs] I've kind of turned into a hardcore icon.
Well that match in Toronto saw the end of your trilogy with Johnny Gargano. You spoke before about how you guys were thrust into this situation because of Ciampa's injury. Looking back, how will the feud be remembered?
I've known Johnny Gargano for 10 years and before this feud, this trilogy. Johnny and I hadn't touched at all in NXT. We knew that someday it was going to happen, and when it was going to happen we would make the most out of it. The way, and the time that it happened was not what we expected. But getting the chance at WrestleMania weekend, and to have that match that so many people revered and enjoyed so much, and then turning it into a trilogy that many people are saying is one of if not the best trilogies in NXT history was really cool.
Gargano is a really talented guy and without question we bring the best out of each other. Getting the chance to wrestle him on such a big platform like NXT Takeover was really cool.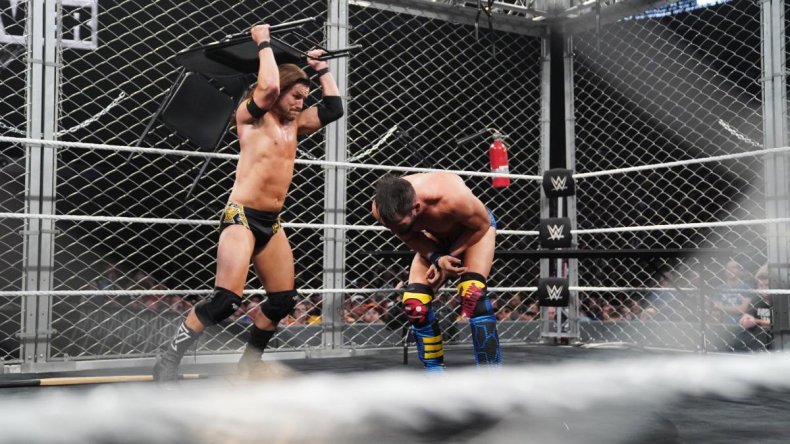 NXT is going live on USA Network, how are you feeling and is there a different mindset with going live?
It's awesome. I've said countless times that if more people got to see and experience NXT they would be fans for life. And now we have this whole new avenue and outlet. So many new people get to check out NXT, and I'm convinced that a lot of people will watch this show on USA and go "I have to watch this every week" just for the shows that we do deliver and put on. Going live on television is a lot more of a high pressure situation, but it's something our team is ready for.
We've done the Takeover events, which are live. Feeling the energy of that crowd and knowing we have a weekly live show, I'm excited man. Of course there are nerves and pressure, but more than anything else I'm excited.
How important was it for NXT to stay at Full Sail for this transition?
Full Sail has so much history with us. If you look at NXT television it was born and bred there. And so many of those fans have been so supportive all along and on team NXT before many people knew what NXT was. They've been as much a part of the growth as the wrestlers have. I'm so happy that we get to do the television tapings there, because those fans have stuck with us for so long and now they get to be a part of the celebration of NXT going on the USA network as well.
Did you see his move coming or was it just a big meeting with Triple H and you were all told out of the blue?
I'll put it to you this way. I certainly felt like the path we were going, there was no doubt in my mind that someday NXT was going to end up on television. For the two years that I've been here and seen the growth of the brand as well as it has, I knew someday it had to end up on TV. I feel too strongly about the product. I knew it had to.
The answer being the USA network and the timeframe? No, I didn't see that coming at all. I was like "oh, here we go we're getting thrown in the fire. Let's do it." So, like I said, a lot of people were really stoked, a lot of people were really excited about it. A lot of people thought potentially it was going to happen, but I don't think anyone saw it coming as fast as it did, which is great for us.
Is there different preparation for live television?
Learning to go on the fly is going to be very important because with live TV you don't really have time to think about everything too much. You have to react in a lot of cases. Obviously, being on a television show, you have to be careful of your time and things like that so that pressure will be there more. But, as far as being able to react that day, that's going to be very important. It'll be a good education for a lot of people to work in the pressure situation of live TV.
As far as the status as NXT and what it brings to the table, I don't think that's going to change. We realize that NXT, what it is right now got us on the USA Network, and the show itself isn't going to change very much. You're going to see a lot of the same things you'd see on the WWE Network.
You say things won't change, but I'm thinking of the work rate. You guys would have time to work out matches without having to be on TV every week. Is that something that will inevitably change?
I don't think so. I think we're going to continue to do what we've done. I think it's important for what we built with this brand, delivering exciting match after exciting match, week after week and that's the game plan. Our crew is very passionate, we know the style of wrestling that we like, and we love the energy the NXT fans bring to the table. I can tell you this: we will bring the most exciting show we can every single week. That's most certainly is the game plan.
You have a two-hour time slot and a deep roster. Are fans going to expect to see the top guys and new faces every week?
Yea I feel that for a lot of guys. Not only will some of our top guys get TV time every single week, but, like you said, I'm sure we're going to see some fresh faces as well. Some guys that are absolutely chomping at the bit and can't wait to showcase what they got and what they can do. We have a very deep roster, so the combination of seeing your favorite guys every single week on television and a bunch of new faces as well, I get excited talking about it.
Before the announcement, people on NXT would be "called up" to the main roster. Is that still the plan?
We've called it this for awhile, but we look at NXT as the third brand. And now I feel this move to USA just solidifies it. Instead of calling it "moved up" it'll just be "moving." Some guys may move to RAW or SmackDown. Some guys on RAW or SmackDown can move to NXT. To me, this move to the USA totally solidifies NXT as the third brand. I'm sure you'll see lots of guys moving to different brands as time goes on.
Undisputed Era continues to stay relevant after so much time on NXT. How do you guys do that, and how is the group feeling about moving to USA?
People have said before that the stuff between I, Bobby, Roddy and Kyle always feels so fresh. And the reason it feels that way is because we're all legitimate good friends. We all talk every single day, we have known each other for 10 years. So that friendship and that camaraderie really translates on TV and I think that's why the group has worked so well.
As far as us, we feel like we're firing on all cylinders. Week after week there are things in the group that we get even closer and better. I love working with those guys, and I feel our best work is yet to come with the move to USA.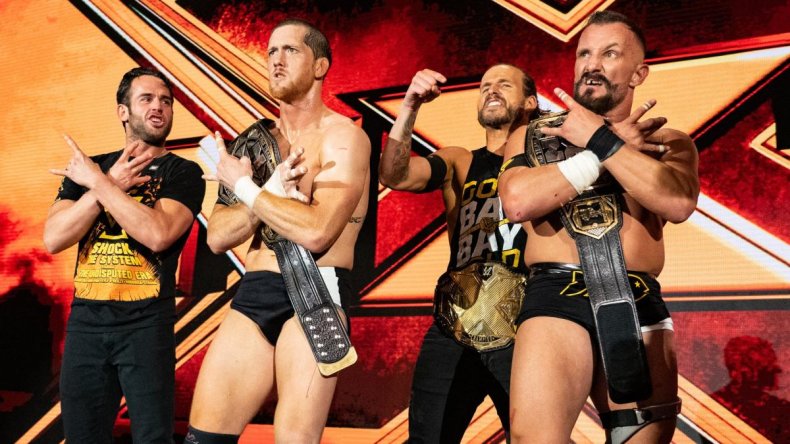 NXT will be going up against AEW. What are your feelings the "wednesday night wars" as people have started calling it?
First and foremost, it's an exciting time to be a wrestling fan. I think it's so cool that fans have so many different options that they can watch wrestling all over the place.
But I will say this. As far as the "wednesday night wars" or AEW or anything like that, NXT got to the USA Network because of NXT. We've been focused on making sure NXT is the most exciting brand in pro wrestling and not just in WWE.
We're going to focus all of our time and energy on making sure our show, week to week, is the best it possibly can be. Our roster and our guys are so ready for this opportunity. Ready to knock it out of the park and focus solely on what we can do to make sure this weekly TV show is the best one possible.
We're getting into Survivor Series season, which usually means War Games for NXT. Are you mentally prepared for a possible third year for you guys to be in that match?
I certainly hope so. They should just start calling it the Undisputed Era Games. We've been in it for two years in a row, why not make it a third?
In all seriousness, I love the War Games match and, in all sincerity, I hope me and the guys are in the War Games match. It's such an exciting event. I love that match, I love the history of that match. And yeah, hopefully me and the guys are involved with another one this year.
What do you hope new viewers and NXT fans get from the live show?
I've said before that I feel like NXT is a rock concert roller coaster ride. There's a vibe. The energy of the show that is unlike anything else. So anyone who has never checked out NXT before, if you do decide to watch the debut on the USA Network, I can promise you that when you finish you'll go "man, I've been missing out. I've been missing out for years."
For the people who have stuck with us. I feel like we all got here together. For the fans who have talked so passionately about NXT being the best wrestling on the planet and said we deserve to be on television and wish more people got to see us, all of that is coming true. So thanks for sticking with us, and I promise you that we are not going to let you down. And we're going to show the world that we are NXT.
NXT premieres live on the USA Network on September 18 at 8 p.m. EDT.