Becky Lynch Announces Pregnancy, Forfeits Women's Championship to Asuka on 'Monday Night RAW'
WWE Superstar Becky Lynch announced on Monday Night RAW that she is expecting a child with fiance Seth Rollins, and forfeited the RAW Women's Championship to Asuka.
In the opening segment of the May 11 episode of Monday Night RAW, Becky Lynch walked to the ring without her RAW Women's Championship, just the white Money in the Bank briefcase won by Asuka on Sunday.
An emotional Lynch talked about coming to America and joining the WWE, and was afraid that the fans wouldn't get behind her, but they did in a big way. That's why she wanted her fans to know why she would have to leave.
After Asuka came down to the ring, Lynch opened the briefcase to reveal the RAW Women's Championship. She explained that the match on Sunday was worth more than the briefcase and that Asuka was the new champ.
"You go and be a warrior, because I'm going to go be a mother," Lynch told the new champion.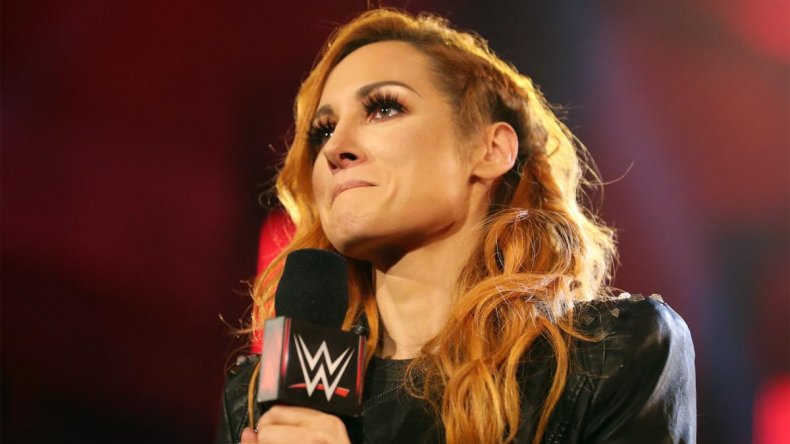 "I've always, always wanted kids," Lynch told PEOPLE following her announcement on RAW. "I'm just so career-focused that it became one of those things that, when you're chasing a dream for so long, I always wondered, 'Am I going to get around to it? Is it going to happen for me?' "
Lynch and Rollins confirmed their relationship in May 2019 after months of speculation. The two would even have their relationship used in WWE storylines following the reveal, even having the two defend their titles against Baron Corbin and Lacey Evans at the Extreme Rules pay-per-view in July 2019.
Lynch's last match was at WrestleMania 36 in early April when she defeated Shayna Baszler, who had an interesting response to the news.
Asuka climbed the "corporate ladder" on Sunday, defeating Baszler, Nia Jax, Dana Brook, Carmella and Lacey Evans to win the Money in the Bank briefcase.
When asked about her future, Lynch remained candid saying, "I don't know what the next chapter is because I only know what it's like to think for myself when I'm by myself. So I don't know what it'll look like and how my priorities shift and what I'm going to want in the future. So, everything's open."
Following the news of Lynch's pregnancy, other WWE Superstars took to Twitter to congratulate the expecting parents.