It's the Monday Night RAW after the Money in the Bank pay-per-view and the WWE is looking to start off this next chapter with a bang.
According to the WWE, RAW Women's Champion Becky Lynch will return to make a massive announcement. Fans have speculated for hours what Lynch's message will be, ranging from Becky announcing a pregnancy to her dropping the title.
The WWE promoted this week's Monday Night RAW to have a face-to-face with Women's Money in the Bank winner Asuka. Is this part of her message or will there be two parts to her announcement?
And what does Asuka's win mean for the rest of the RAW Women's division? Nia Jax and Shayna Baszler will want a shot at the title, but will they have to go through Asuka first?
RAW Tag Team Champions, The Street Profits, have been engulfed in a feud with The Viking Raiders for weeks. After being defeated last week, what's next for Angelo Dawkins, Montez Ford, Ivar and Erik? It would seem that a tag title opportunity is in the stars for The Viking Raiders, but is that a certainty?
Drew McIntyre defeated Seth Rollins on Sunday to retain the WWE Championship. Now that the "Monday Night Messiah" has been vanquished, who's next for Drew or is Seth just getting started?
Also, Edge returns to Monday Night RAW and the official RAW preview states that the "Rated R Superstar" is on the hunt for Randy Orton. After defeating Orton at WrestleMania 36 in a Last Man Standing Match, what more will Edge need in his rivalry and feud with "The Viper"?
It's expected to be a big night on Monday Night RAW, here's everything that happened.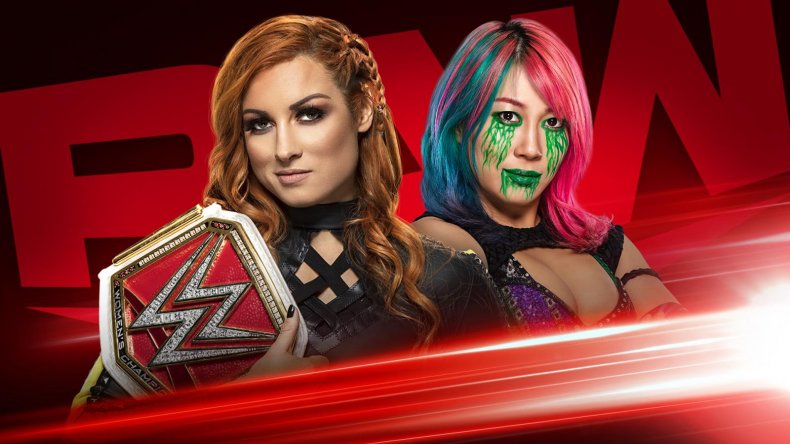 WWE MONDAY NIGHT RAW RESULTS
Becky Lynch Promo
Lynch comes out with the women's Money in the Bank briefcase and no RAW Women's Championship
She says that she's torn between joy and sadness. She talks about how she came to America and wasn't sure if she'd make it and whether the fans would like her. She says that the fans deserve to hear this from her first and that she has to go away for awhile.
Asuka comes out and says that the briefcase is hers.
Becky says that Asuka beat her when no one else could. She tells Asuka that the Money in the Bank match was for much more. Becky says that she can't fight any more and opens the briefcase to reveal the RAW Women's Championship. Becky announces that Asuka is the champion.
Asuka grabs the title and starts to dance. Asuka comes backs to the ring and Becky says go be happy as the champ, and "I'll be happy being a mother."
Becky Lynch Interview
Becky is about to be interviewed backstage, when she was mobbed by the rest of the locker room who congratulate her on the announcement.
Bobby Lashley vs Humberto Carrillo - No DQ Match
Lashley wins via submission
Asuka Interview
Asuka is asked about becoming the new RAW Women's Champion, but she gets excited when Kairi Sane comes out and the two dance and walk out of frame.
Backstage
Zelina Vega and her crew are seen fighting backstage before Angel Garza's match.
Angel Garza (with Zelina Vega, Austin Theory and Andrade) vs Akira Tozawa
Garza wins via pinfall after a Wing Clipper
Throughout the match, Garza was taunting Austin Theory. Zelina Vega breaks up the two when Drew McIntyre comes out
McIntyre comes in and hits Austin Theory and Angel Garza with the Claymore. McIntyre gets in Andrade's face and tells him to do something about it. Andrade says he's the best champion.
Drew McIntyre vs Andrade (with Zelina Vega)
McIntyre pins Andrade after a Claymore
After the match, McIntyre gets on the mic and says that he wasn't expecting to fight but that's why he's the champ and comes to Monday Night RAW. He puts over Seth Rollins for his match on Sunday and then introduces the cross-brand invitational.
He says that someone on SmackDown has already challenged him and he accepts. Next week, he'll take on King Corbin and says he'll bring a Claymore fit for a king.
Backstage
MVP talking to Bobby Lashley backstage when he tells him that he shouldn't be wrestling fools like Carrillo. He asks when Lashley had a WWE Championship opportunity. He says he's back in the WWE and Lashley is in the same spot as before and asks when is he going to let the real Lashley out.
He walks past Lana and tells her that if Lashley wants to get out, to hit him up. Lana screams at MVP as he walks away
Moment of Bliss
Alexa Bliss congratulates Becky Lynch when they are interrupted by The IIconics.
Bliss says that a baby stole their thunder. The IIconics say there's nothing special about a baby and nothing can steal the thunder of their return.
The IIconics say that Bliss and Cross need to be ready to defend the titles. Alexa and Nikki say they don't deserve a title shot. The IIconics say that they are not leaving until they get a match with them even if it's not for the titles because
The IIconics vs Alexa Bliss and Nikki Cross
Peyton pins Bliss after a tag team maneuver
Rey Mysterio Interview
Mysterio is interviewed backstage about MITB. He says he survived being tossed off the roof because there was another level six feet below. Aleister Black landed next to him and they'll team up tonight against Seth Rollins and Murphy.
Seth Rollins comes into frame and Mysterio congratulates him on becoming a father and sticks his hand out for a handshake. Rollins doesn't say anything but walks away
R-Truth, Cedric Alexander and Ricochet vs MVP, Shane Thorn and Brendan Vink
R-Truth pins MVP
After the match, Bobby Lashley comes out and Spears Truth. He then holds him up for MVP to hit him. The two talk and walk out together.
Jinder Mahal Interview
Jinder says he's happy to be back on RAW and is happier to see McIntyre as the champion. He says that he's learned from his mistakes and his journey will be a hero's journey.
Shayna Baszler Interview
Baszler is asked about Becky's pregnancy. Shayna says that Becky is so stupid for getting pregnant while being the champion. She says her kid is going to suck
Undertaker "The Last Ride" Clip
AJ Styles is watching backstage and when the clip is over, he looks visibly upset and throws his popcorn at the television and walks away.
Rey Mysterio and Aleister Black vs Seth Rollins and Murphy
Rollins is completely silent and unresponsive to everything in the match. Murphy is trying to tag Rollins in, but Seth doesn't do anything
The referee calls for the bell when Mysterio and Murphy run into Seth in the corner by accident. Then when Mysterio goes for the 619, Rollins grabs him and throws him to the floor.
After the bell, Rollins beats down Mysterio and Black and ends when he jabs the corner of the steel steps into his eye
Backstage
Aleister Black is in the medical wing as Rey Mysterio is getting tended to. Seth Rollins and Murphy come to the back and asks to see Mysterio. Black goes for Rollins when Murphy gets in the way and the two brawl while Rollins walks away. The two are pulled apart.
Backstage
Natalya walks up to Shayna Baszler backstage and says she can't wait to get in the ring with her after she disrespected the "miracle of motherhood."
Baszler says that Natalya doesn't know anything about motherhood because she'll never have kids. And the Hart dynasty will end with her
Street Profits and Viking Raiders Basketball Game
The two teams have a basketball game with the Profits destroying the Viking Raiders.
Afterwards, Erik and Ivar say that they let the Profits win and then show them how well they can play leaving Ford and Dawkins stunned.
Shayna Baszler vs Natalya
Baszler wins via pinfall after a knee strike
King Corbin Interview
Corbin is asked about MITB. He says he's willing to do anything in that moment and that Rey Mysterio and Aleister were fine after landing on a secondary roof. He says that next week he'll prove to the WWE Universe why he's the king and he had Drew McIntyre following on his coattails for months last year.
Edge Promo
Edge comes out and says that after WrestleMania he'll retire on his terms. He says that WrestleMania is not the end for him, but he's not here to hunt Randy Orton. He's ready to move on.
Randy Orton interrupts and comes to the ring. He congratulates Edge for winning at WrestleMania and walks out of the ring, but he comes back. He says that he wishes they can be friends again and while the better man won at WrestleMania, but the better wrestler didn't. He says that Edge chose their stipulation at WrestleMania, and while he didn't get up to the count of 10 it didn't take him nine years to get back.
Orton says Edge hasn't had a regular wrestling match since he came back. It's just been the Royal Rumble and the Last Man Standing match. He says there is doubt in his eyes. If Edge has the guts, then at Backlash it'll be Orton vs Edge in a straight up wrestling match.
Edge is asked by Charlie Caruso for a response, but he doesn't have one as the show goes off the air.
Uncommon Knowledge
Newsweek is committed to challenging conventional wisdom and finding connections in the search for common ground.
Newsweek is committed to challenging conventional wisdom and finding connections in the search for common ground.
About the writer
Phillip Martinez is a game and culture reporter for Newsweek. Prior to joining Newsweek in 2018, he was a reporter and editor for iDigitalTimes and Player.One. A Bronx native, he graduated with his Bachelor's degree in Journalism from St. John's University in 2010. An avid Nintendo fan and wrestling mark, he's always looking to become a Pokémon Master while fantasy booking this year's WrestleMania. You can contact him at p.martinez@newsweek.com