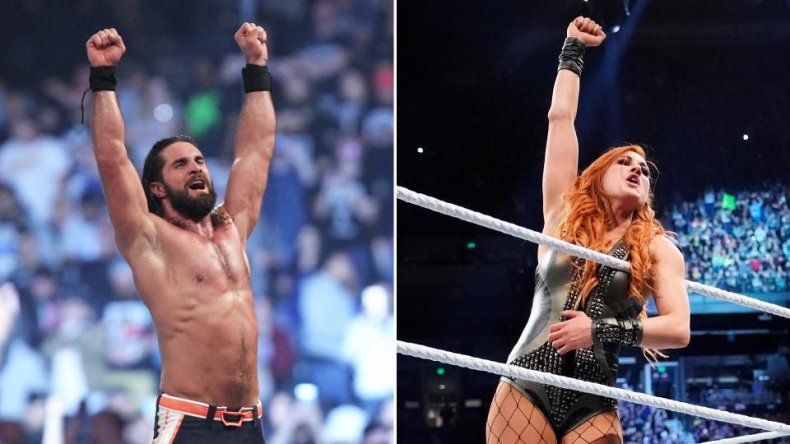 After weeks of speculation, WWE superstars Becky Lynch and Seth Rollins confirmed their relationship on social media.
On Monday, Rollins posted a photo of him and Lynch kissing backstage on his Instagram and Twitter accounts with the caption, "I guess I'm allowed to post this now?" He also tagged Lynch in the photo.
Lynch got the reveal rolling on Saturday when she posted a photo with WWE Hall of Famer Beth Phoenix on Twitter, telling Beth not to get too close to her titles. Phoenix said she's not worried, and is glad they are not arguing over having the same number of title reigns.
Becky responded by saying she and Beth are "neck and neck," while posting a photo of Lynch and her husband, retired WWE superstar Edge. Edge was forced into retirement after suffering several neck injuries in his career. Edge responded to Becky, which led to Beth telling Lynch, "Wait, wait. Are we involving our men now?" Lynch replied saying "I'll ask him" before tagging Universal Champion, Seth Rollins.
Lynch's tweet was the first public confirmation of Rollins and Becky's relationship. Fans speculated they were dating after photos of them getting cozy at a concert and sitting next to each other at this year's Hall of Fame emerged earlier this year.
In a recent interview, Rollins played coy when asked about his relationship with Becky, telling Irish Mirror, "I'll leave that one up to you."
Rollins is the current Universal Champion, the top title on Monday Night RAW. Lynch is both the RAW and SmackDown Women's Champion and frequently appears on both shows. Lynch is set to defend both titles in two separate matches at Sunday's Money in the Bank pay-per-view. She will defend the RAW Women's Championship against Lacey Evans and the SmackDown Women's Championship against rival, Charlotte Flair.
Rollins is set to defend the Universal Championship against AJ Styles on Sunday.
Are you surprised the superstars confirmed their relationship? Let us know in the comments section below.
About the writer
Phillip Martinez is a game and culture reporter for Newsweek. Prior to joining Newsweek in 2018, he was a reporter and editor for iDigitalTimes and Player.One. A Bronx native, he graduated with his Bachelor's degree in Journalism from St. John's University in 2010. An avid Nintendo fan and wrestling mark, he's always looking to become a Pokémon Master while fantasy booking this year's WrestleMania. You can contact him at p.martinez@newsweek.com