Becky Lynch Wins Both Women's Championships in the Main Event of WrestleMania 35
Becky Lynch made good on her promise to capture both WWE Women's Championships by defeating Charlotte Flair and Ronda Rousey in the main event of WrestleMania 35.
All three women went back and forth throughout the match to be the first dual women's champion in WWE history but the Irish Lasskicker bested Ronda Rousey by reversing the Piper's Pit into a roll up that took the former MMA champion and the MetLife Stadium crowd by surprise.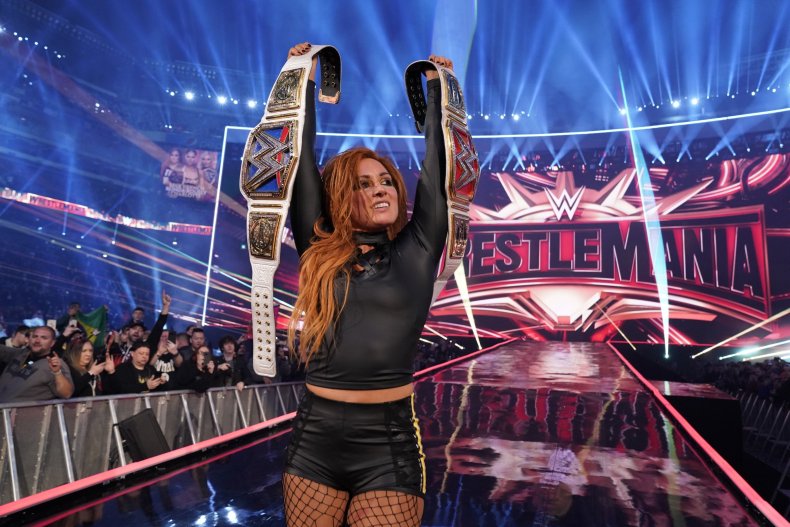 The road to the main event of WrestleMania goes all the way back to SummerSlam 2018 in August when Lynch - frustrated with Charlotte Flair's inclusion in her SmackDown Women's Championship match - turned on her friend. Both women would feud over the next few months, which saw Becky win the title off of Charlotte at the Hell in a Cell pay-per-view and retain it at the Evolution show.
Becky was on her way to facing RAW Women's Champion Ronda Rousey at Survivor Series, but an untimely injury to Lynch made Charlotte her replacement. Charlotte would take Ronda to the limit at the pay-per-view but would get herself disqualified out of frustration.
Returning from injury, Becky and Charlotte would feud once again for Lynch's title. Asuka was added to the feud as the three women fought in a Ladder match at TLC in December thanks to Ronda Rousey.
Lynch would win the Royal Rumble in January 2019 and choose Ronda Rousey as her opponent at WrestleMania 35. However, Triple H and Stephanie McMahon - concerned for her knee, after suffering a kayfabe injury at the Rumble - suspended Lynch until she got checked by WWE doctors. After a week, Lynch relented and got the clear from the WWE only for Mr. McMahon to suspend her again for failure for her actions in prior weeks, and replacing her with Charlotte.
Lynch would raid RAW and SmackDown, being arrested in the process, to get herself back in the WrestleMania match. Lynch would go one-on-one with Charlotte at Fastlane to make the 'Mania match a Triple Threat. When it seemed that Charlotte was going to take Becky out, Ronda who turned heel that week, struck Becky causing a disqualification and Lynch to be reinserted.
Charlotte would challenge Asuka - who was SmackDown Women's Champion - to a match on an episode of SmackDown Live and win the title off the "Empress of Tomorrow." Stephanie McMahon would announce the next Monday that the main event of WrestleMania 35 would be a "winner take all" match.
What did you think of Becky Lynch's win at WrestleMania? What do you think happens next for Lynch, Ronda and Charlotte? Let us know in the comments section below.