Before-and-After of Ukrainian Office Reveals Devastating Impact of War
A Ukrainian company has shared videos of what it says is its office space before and after the war in Ukraine, gaining thousands of views on TikTok.
EnjoyTheWood creates handcrafted wooden world maps that can be hung on walls and customized with pins to mark your own adventures.
CEO and creator of EnjoyTheWood Igor Fostenko described in a 2021 sponsored article for Newsweek how he started his company after turning his life around. When Igor's mother died when he was 11, he found himself homeless as a teenager—turning to drugs and begging. But later, with his wife Maryna, with whom he shares four daughters, he founded a business which eventually grew to serve over 100,000 customers around the world.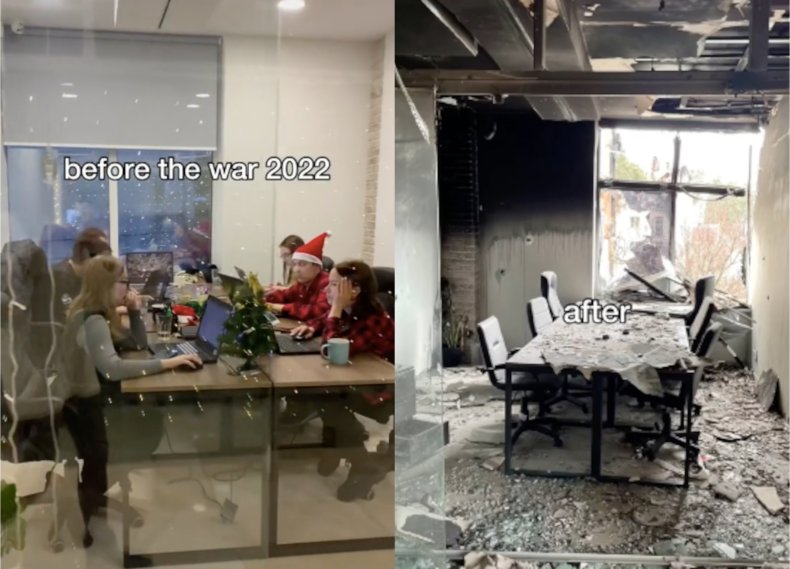 But on February 24, 2022, Russia's Vladimir Putin began a military invasion of Ukraine, creating the largest military conflict in Europe since World War II.
In the now-viral videos shared by the team at EnjoyTheWood, footage of their office space in Irpin, Ukraine—located just ouside of Kyiv—the video flicks from polished office interiors to devastated spaces.
Since the beginning of the war, Irpin has seen intense fighting and heavy bombardment from Russian forces. The Russian troops have recently left areas surrounding Kyiv, including Irpin, leaving Ukrainians to witness the aftermath of the fighting.
Shared on Wednesday, the videos now have over 690,000 views combined, with TikTok users reacting with heartfelt messages. The footage shown could not be independently verified.
"I hope you're all safe," wrote one commenter who is also a customer of EnjoyTheWood: "Heartbroken for you. We think of you every time we look at the beautiful map you made."
Co-owner of EnjoyTheWood Maryna told Newsweek: "Last eight years we've been giving coziness & inspiration to more than 100,000 homes all around the world. And Russia has taken away our homes, destroyed everything and made us move from our city."
"As we lived in Irpin, all of the team has left the city and moved to different locations, some to the western Ukraine, some abroad," explained Maryna. "It's a real challenge for us and heartbreaking to see how damaged and destroyed our office."
"We already know about the death of two colleagues and we still haven't got in touch with some others. We're the lucky ones."
"This is so sad to see," wrote another TikTok user. While another comment said: "This was hard to see. How can we help? Could we someday come and help you rebuild?"
On Wednesday, EnjoyTheWood started a Kickstarter fundraiser—the seventh project the company has launched in this way. This one had a twist. Named "Restart," the Kickstarter aimed to raise around $5,000 to help restart manufacturing in Ukraine with a new line of wooden products.
On the Kickstarter page, EnjoyTheWood wrote: "We are not gonna give up. We will restart, rebuild and renew everything that was destroyed! Don't even doubt it. Do you know our superpower? We're Ukrainians!"
In just a few hours, the team reached their funding goal, and at the time of writing has received a pledged $69,000 from over 400 people around the world.
Maryna said: "The main goal of this project now is not only to launch the new products, but also to restart our manufacturing, give jobs to our teammates and support the economy of Ukraine."
"I'm so sorry," wrote one TikTok user: "My heart is with you and all the other Ukrainian people."
Another user wrote: "How do you come back from that? Devastating."
"We need worldwide support in order to win this war—the war where our homes are being destroyed, people are killed and every day we get information about hundreds of victims," said Maryna. "Nowadays, in 2022. It's just terrible and someone should stop Russia."
The latest UN figures report that over 4 million refugees have fled Ukraine since the conflict began. As of April 5, 2022, the Office of the UN High Commissioner for Human Rights (OHCHR) has recorded 3,776 civilian casualties in the country with 1,563 killed and 2,213 injured.
Update 04/07/22, 1:13 p.m. ET: This article was updated to include UN figures.