Beijing to Try Publicly Shaming Citizens Into Stopping Smoking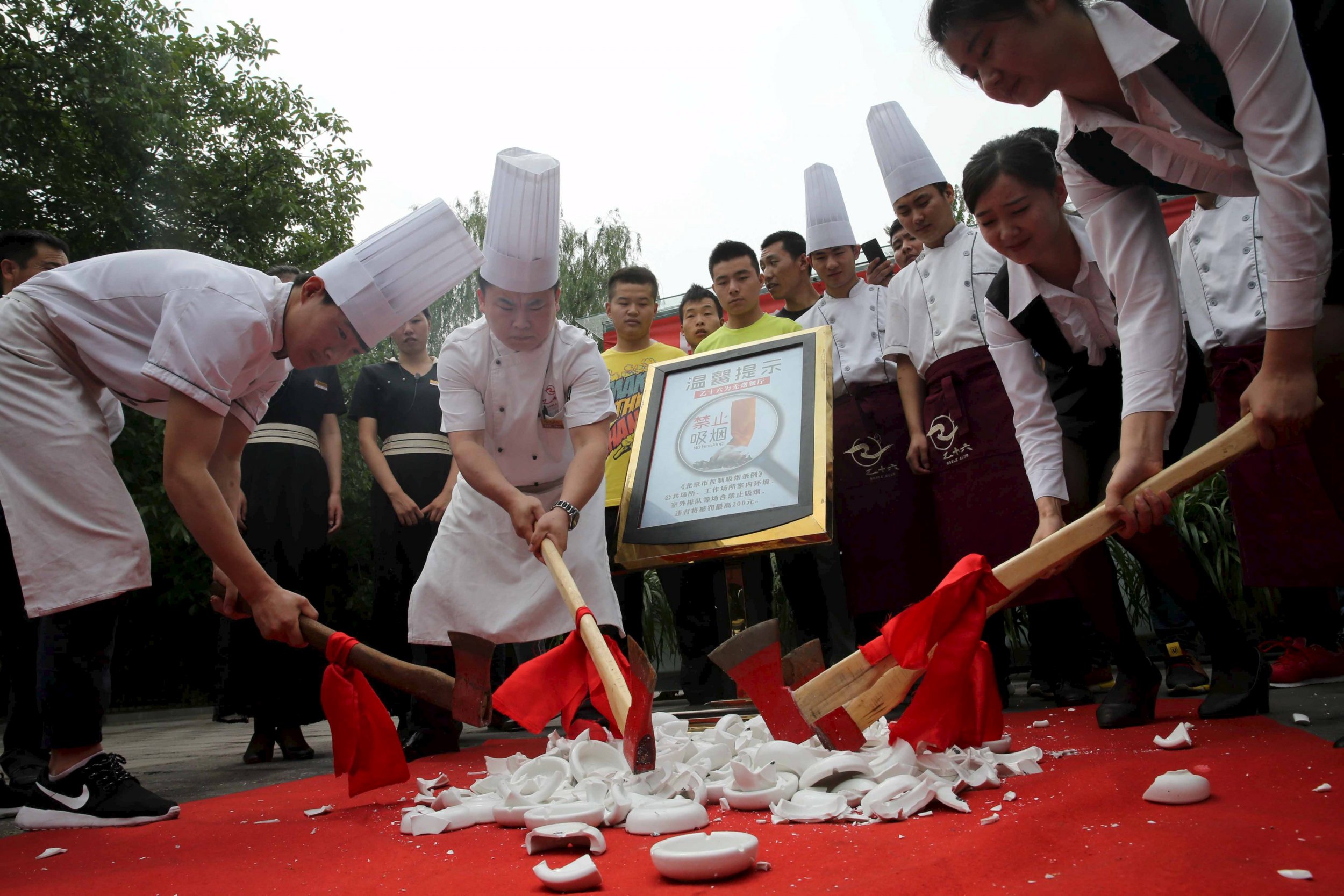 Beijing, a city grappling with high levels of air pollution, has implemented a new law banning smoking in certain public areas and is using public shaming tactics for repeat offenders, according to media reports.
People who are caught smoking in Beijing's hotels, schools, restaurants, hospitals and certain outdoor public areas face a 200 yuan ($32.25) fine. Those who break the law three times will be "named and shamed," with their photo published on a government website, Reuters reports. Businesses that haven't abolished smoking on their grounds can be fined up to 10,000 yuan ($1,600).
There is also a hotline for residents to report smoking offenders, Agence France-Presse reports. No-smoking signs are being used to enforce the ban as well as volunteers, with reports of dozens of middle-aged women performing a dance and using hand gestures like a mock cough to caution people against smoking in public, Reuters reports. Banners featuring no-smoking signs were recently hung from the giant Bird's Nest stadium that was built for the 2008 Olympics, according to Reuters.
There have been previous attempts to stop smoking in China, but guidelines that banned smoking in all public spaces across the country in 2011 were not widely or successfully enforced, the BBC reports. The new, stricter regulations were agreed upon last November and went into effect on Monday.
Newsweek subscription offers >
More than 300 million people smoke in China, and one in every three cigarettes smoked worldwide is consumed in the country, according to the World Health Organization (WHO). The habit has been described as something like a "national pastime" by the BBC's Martin Patience. According to data from the World Bank, 47 percent of adult men age 15 and over in China smoke tobacco, and around 70 percent of adults are exposed to secondhand smoke every week, the WHO says.
Along with the health problems brought on by smoking, China is grappling with a pollution problem caused by industrial output and cars: The city has around 3.5 million drivers, but cars travel, on average, only 7.5 miles per hour, Quartz reports. A study published in April showed that during the 2008 Olympic Games, from August 8 to September 16, when strict air pollution guidelines were introduced in Beijing, babies were born heavier than in the same period in 2007 and 2009, indicating reduced air pollution led to healthier newborns.
Air pollution in a number of Chinese cities is tracked by the U.S. embassy in Beijing and numerous consulates. Air quality levels are frequently classified as "unhealthy" in Beijing by the State Department, with a warning that children should limit their activities outdoors.
Beijing to Try Publicly Shaming Citizens Into Stopping Smoking | World