Belarus' Exiled Leader on Protests and the End to Lukashenko's Putin-Backed Dictatorship
The presidency of Belarus' Alexander Lukashenko was once described by the country's opposition figure Andrey Sannikov as an "accidental dictatorship." Now Svetlana Tikhanovskaya is the accidental politician fighting to change that.
She describes as "fate" the moment when she submitted her documents to register as a presidential candidate after her husband, Sergei Tikhonovsky, was barred from running in May and jailed. Unexpectedly, Lukashenko allowed Tikhanovskaya to run in what he thought would be a typically post-Soviet Potemkin plebiscite.
But the strongman leader disparaged her as a housewife, underestimating the wish among Belarusians to end the Groundhog Day feeling of kowtowing to the only leader they had known since 1994.
After the ballot on August 9, Lukashenko claimed an improbable 80 percent of a vote, which was viewed by the EU and the U.S. as rigged. Tikhanovskaya was lauded as the real winner by the opposition and internationally.
But the outgoing White House administration's resistance to leaving office is nothing compared with what followed in Belarus. Lukashenko said he was going nowhere and ordered a crackdown, so Tikhanovskaya went to neighboring Lithuania.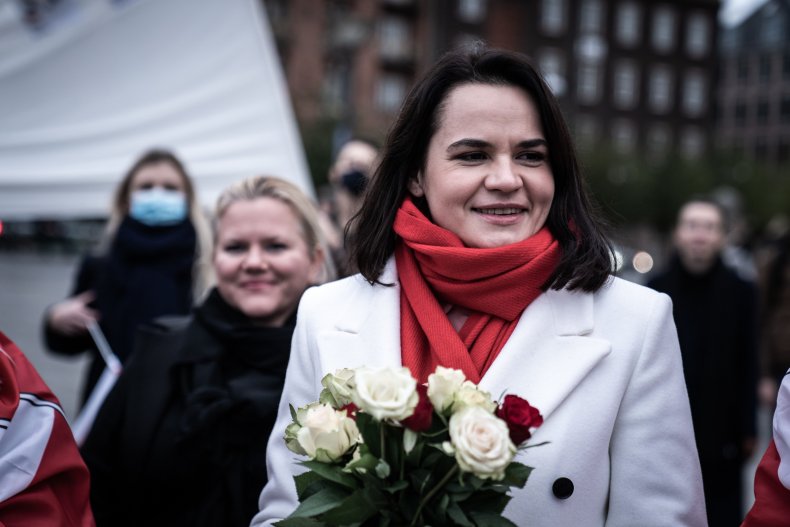 "On the one hand of course I am happy that I am safe," the 38-year-old opposition leader told Newsweek from the Lithuanian capital, Vilnius. "But I feel guilty that I am not with the Belarusian people. I can justify this with the fact that if I stayed in Belarus, I would absolutely be in jail already."
Tikhanovskaya is with her two children, whose welfare was behind her decision to leave her country, following threats by its authorities. She gets updates about her husband's condition from a lawyer who visits his cell twice a week.
Her 10-year-old son follows developments in their country on YouTube. But her five-year-old daughter believes that her father is on a business trip and thinks the reason they cannot return to Belarus, for the time being at least, is due to the coronavirus.
However, Tikhanovskaya's exile has allowed her to argue her cause with European leaders. Among them were French president Emmanuel Macron and German and Austrian chancellors, Angela Merkel and Sebastian Kurz. On November 6, the EU added Lukashenko to a sanctions blacklist of 59 officials. But she wants tougher measures to come soon on Lukashenko to starve his regime of funds.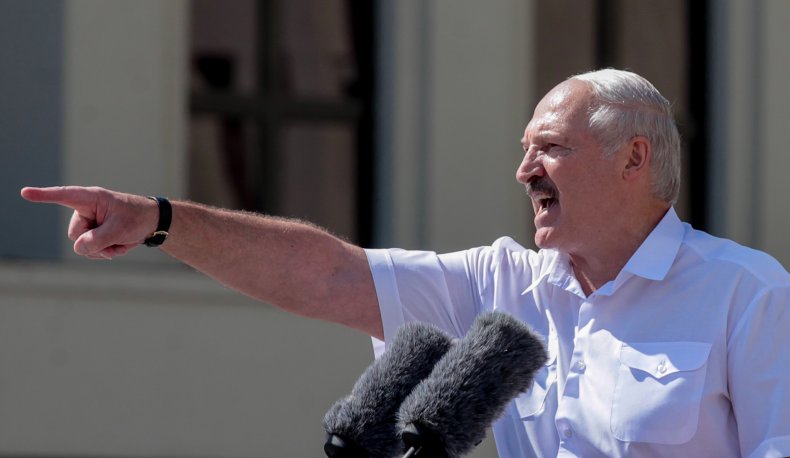 "Europe has a strong position on the Belarusian question, but there are so many countries to have agreement so sometimes it is a little bit too slow and difficult," she said. "If the USA put pressure on the regime, I am sure Europe will be more active."
Before the U.S. election, Biden promised tougher measures against Lukashenko. "I am sure that Joe Biden will fulfill his promises about his attitude to Belarus and this regime, we know that he is standing for democracy and he will support Belarusian people and Belarusian society," she said.
On the campaign trail, red and white flags of independence decorated Tikhanovskaya's rallies, which grew bigger by the week. Alongside her on stage were two women also thrust into the political fold due to Lukashenko's banning of opposition figures.
Maria Kolesnikova had worked on the campaign of Viktar Babaryka, and Veronika Tsepkalo was the campaign head for her husband, Valery Tsepkalo who had also been barred from running. Both Kolesnikova and Babaryka are currently in prison.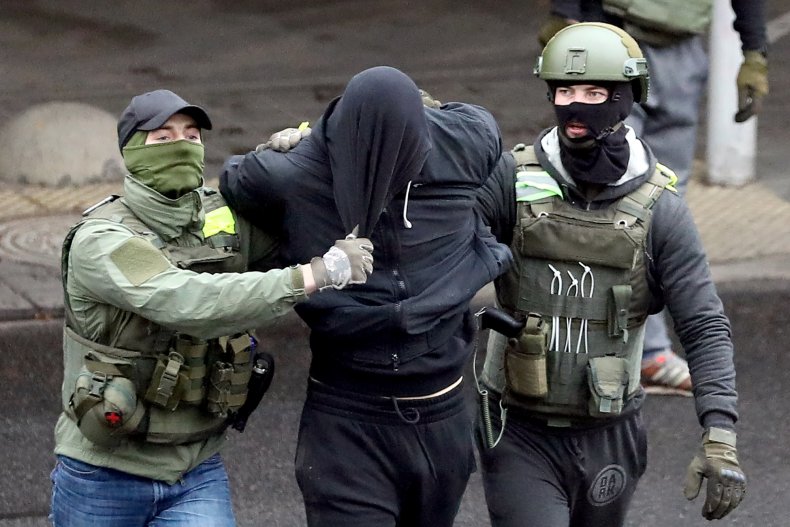 "This was a really crucial moment for Belarusian society. Three streams of people united in the fight against dictatorship which was a really strong movement in the minds of people," Tikhanovskaya said.
In August she did not consider herself a politician, rather a symbol for change. But after months of meeting world leaders, demanding sanctions and championing democracy, she feels more like a politician now.
"I have to take such a big responsibility for the decisions I make. Sometimes there are questions I can answer as a person, or as the democratically elected leader of Belarus, and it would be much better to answer this question as a person, but you can't."
Lukashenko relies on the Russian president to keep him in power, despite Vladimir Putin having reportedly lost patience with him. In September, Moscow pledged a loan of $1.5. billion, although a large portion of this went to refinancing debt.
Russia is facing financial hardships of its own, but the Kremlin wants to keep Belarus close. On Thursday, Russian foreign minister Sergei Lavrov told Lukashenko to press ahead with constitutional reforms. On Friday, Lukashenko hinted he may be prepared to leave power and that after constitutional changes he would "not be president" but gave no time scale.
"This is not a fight against Russia... it is against one person, a dictator," she said, "I hope that the Kremlin understands we are neighbors... we don't want to lose this.
"A change of president does not mean breaking a relationship with Russia."
Tikhanovskaya's demand to Lukashenko to step down by October 25 or face a nationwide strike was part of a strategy dovetailed with sanctions to paralyze production and hit businesses whose exports prop up the regime.
The more than 100,000 people who gathered in Minsk and other cities demanding the president's resignation were met with stun grenades and rubber bullets.
Now the crackdown against protests ongoing for more than 100 days is increasing in brutality. On November 12, Raman Bandarenka, 31, died after he was beaten by police, sparking outrage internationally and showing just what kind of mortal risks people are taking.
"People are going out to protest knowing that they could be put in jail by the evening, knowing what is waiting for these people in jails beatings and torture," she said.
"People are tired because you see how many people are put in jail and brought to court. You can't imagine how psychologically and physically people are when they are released from jail."
The protests form the shop window of the opposition's resistance and are key to attracting international attention. However, more than three months on and with thousands in jail, she admits, "I think it's high time to change tactically."
"People are becoming inventive," she said, insisting that while theirs is a peaceful movement, protesters "may have to change tactics during winter time. People will use underground methods, like partisan methods."
Taking cues from the actions that took place in Hong Kong in 2019, the protests have become more decentralized. This frustrates riot police who are unable to bring in heavy equipment into residential areas, like armored vehicles and water cannons.
A protest last Sunday saw people gather in different parts of Minsk to dilute the police's response. The actions have also become more dynamic, appearing and disappearing like quicksilver and organized by encrypted social media which keeps the authorities guessing.
For those who do not want to put themselves at risk, she says rebellion can take other forms. From displaying red and white flags or balloons, sharing messages on social media, or printing messages for others, she says "You can do a very small thing—a small drop, but many drops make a big ocean."
The opposition is confident that the combination of the protests, the strikes paralyzing production and sanctions can lead to the collapse of Lukashenko's regime and usher in a freedom most others in Europe take for granted.
Tikhanovskaya, the woman once dismissed by Lukashenko, is now a global figure and was named by the BBC as one of the 100 most inspirational women of 2020.
She recounts how during a visit to one European country, she heard from people complaining that due to the coronavirus, they were forbidden from going out into the streets without masks. "They said 'we are in dictatorship.' I said, 'Listen, you don't know what a dictatorship is.
"Look at Belarus, now value what you have. Democracy is extremely important, because there are countries with wonderful people who have to suffer, who have to be tortured and injured because they want to live with the same principles that you have been living with for years."
"Belarus will change in the nearest future, I don't want to say the date, but it will be soon, very soon."
The graphic below provided by Statista gives a snapshot of the vote that Belarus' president Alexander Lukashenko has claimed during his time in power.