Biden Says Trump Refuses to Speak Out Against 'Brutal Dictatorship' of Russia-Allied Belarus
Democratic presidential candidate Joe Biden has said that should he take the White House, he would ramp up pressure on the strongman leader of Belarus, whose disputed election victory in August led to daily protests and a violent crackdown by the authorities.
Protests have drawn hundreds of thousands into the streets across the east European country since Alexander Lukashenko claimed a landslide victory in the ballot on August 9, which opponents and the international community deemed to be rigged.
In a sign of what his approach might be to the crisis in Belarus, and as a corollary, his future policy towards Russian president Vladimir Putin, who is propping up Lukashenko, Biden called for tougher sanctions against the Minsk regime and said he would work to usher in a transition government.
"Although President Trump refuses to speak out on their behalf, I continue to stand with the people of Belarus and support their democratic aspirations," Biden said in a statement.
Newsweek has contacted the Trump campaign for comment.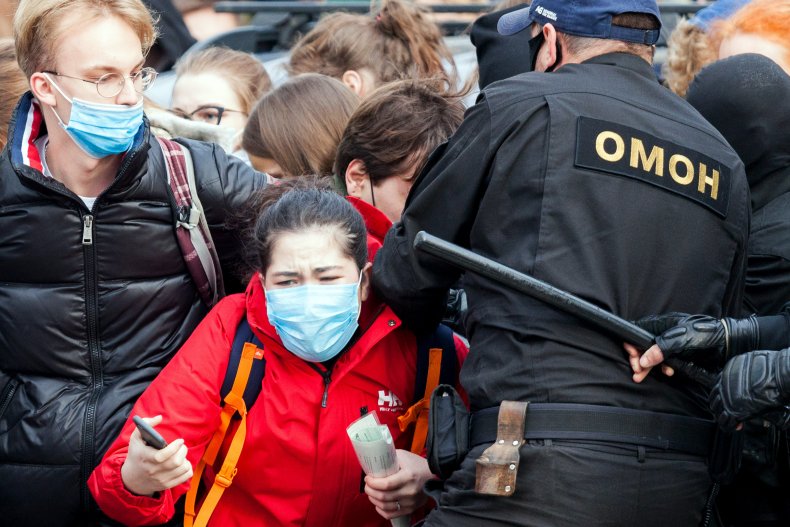 On Monday, students joined thousands of staff at Belarus' state-owned factories and private companies in a national strike at the behest of exiled opposition leader Svetlana Tikhonovskaya.
They are demanding that Lukashenko resign, release political prisoners and end the crackdown on protesters, which has led to 10,000 arrests, hundreds of injuries and several deaths.
Biden went on to condemn "the appalling human rights abuses committed by the Lukashenko regime," and said that the international community "should significantly expand its sanctions on Lukashenko's henchmen and freeze the offshore accounts where they keep their stolen wealth.
"As president, I will also work with our European partners and allies to lay out a plan of economic support for a truly sovereign, democratic Belarus.
"Until then, I will continue to join Svetlana Tikhanovskaya and the people of Belarus in calling for the peaceful transfer of power, the release of all political prisoners, and free and fair elections so the Belarusian people are finally able to exercise the democratic rights for which they have sacrificed so much."
A former U.K. ambassador to Belarus, Nigel Gould-Davies, told Newsweek that should Biden take the White House, Washington's policy towards Minsk would dovetail with a tougher approach to Russia.
"There is no doubt that Biden would take a firmer line on Belarus, as on Russia. He is committed to restoring democracy and human rights in U.S. foreign policy, principles largely absent under Trump," he said.
"He will also take a much firmer and more consistent line towards Russia, which in recent days has hardened its rhetoric and threats against peaceful change in Belarus," the former diplomat added.