Putin Is Playing Kingmaker in Belarus. He May Not Crown Lukashenko Again
Days of protests and a brutal crackdown following the election in Belarus have swivelled attention towards the next move Russian President Vladimir Putin might make and whether he will try to keep his wayward frenemy Alexander Lukashenko in power.
Images uploaded to social media and tweeted by journalist and conflict analyst, Julian Ropcke, suggested that unmarked Russian military vehicles may be heading to Belarus.
Not independently verified, the images hark back to what happened before Russia annexed Ukraine's Crimean Peninsula in 2014, although direct Russian military intervention in Belarus would come at a considerable economic cost for Putin, risking inflation and inflaming further protests in Russia.
"Even the threat itself of having Russian troops scares a lot of people both among the Belarus opposition and the west. But Putin does not want to do this," Franak Viačorka, Belarusian journalist and nonresident fellow at the Atlantic Council's Eurasia Center told Newsweek.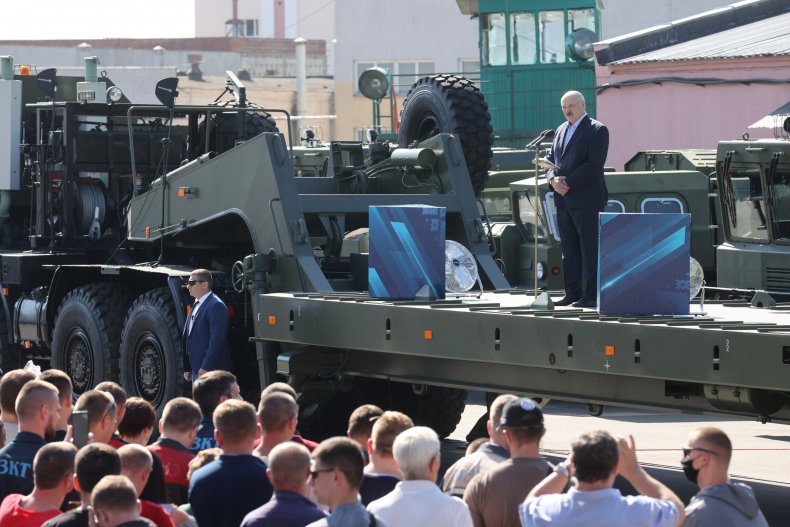 "The probability of this scenario is very low that Russia will invade but its interference is already there," he added.
Senior government officials are still siding with Lukashenko such as Senate speaker Natalya Kochanova, Prime Minister Roman Golovchenko, and presidential chief of staff Igor Sergeenko, Meduza reported. It is those close to the president, and the loyalty of the police and security services which may keep Lukashenko's regime in power, even if he has in effect lost the support of the country, according to Dmitry Trenin, director of the Carnegie Moscow Center.
This week, Trenin wrote that the Kremlin is looking "beyond Lukashenko" and trying to "manage a transfer of power in Minsk," which may involve the president retiring in exile.
However Viačorka believes a transition will be tricky for Lukashenko, who will not want to face the same fate as Viktor Yanukovich, ousted from his post as Ukrainian president in 2014.
"Lukashenko needs to save face, he is really worried about his reputation. Yanukovich was ignorant, he didn't care what people thought, or the PR but Lukashenko wants to be a popular leader.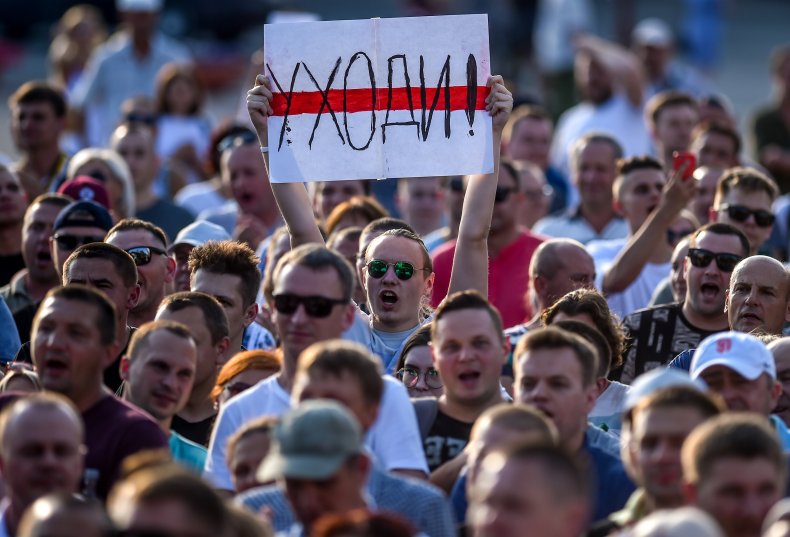 "He wants to be known as the creator of Belarusian statehood, as the father of the nation and even the idea of fleeing the country is like a horror for him. He still believes he can get back to normality," Viačorka said.
On Tuesday, Putin discussed the crisis with German Chancellor Angela Merkel, with state news agency Tass reporting the Kremlin's position that it was unacceptable for external forces to "interfere" and that "hope was expressed for an early normalization of the situation."
Although Lukashenko has fallen out of favor with the Kremlin, Russia will not want Belarus to go down the same route as Ukraine and become an ally of NATO on its borders.
"I really don't think Putin has any desire to intervene. If Lukashenko survives, he'll be weak and that works for the Kremlin," honorary professor at University College London's School of Slavonic and East European Studies, Mark Galeotti said.
"If he falls, so long as the opposition remains anti-Lukashenko and not pro-West—and so far they are being scrupulous in maintaining that position—then the Kremlin can live with that," Galeotti told Newsweek.
"For me the interesting question is whether Putin will actually be willing to play a part in easing Lukashenko out of office, which I think would be a smart move on his part. I'm not sure if he will take that option, though," he added.
Svetlana Tikhanovskaya, the unlikely candidate who entered the election race after her husband was barred from running, has said that where votes were properly counted, she won 60-70 percent, while her official tally is only 10 percent.
Already, around 7,000 people have been arrested across the country but police brutality has not deterred protesters, whose vast numbers on Sunday in the center of the capital stood in contrast to the much smaller gathering in Minsk, which heard Lukashenko vow that the result of the election would stand "until you kill me."
Lizaveta Merliak, the international secretary of the Belarusian Independent Trade Union, believes that for change to happen, it will require the continued support of students, workers and intellectuals, as well as the continued momentum of protests. "Belarus will never return to what it was before. There is no way back," she wrote in a commentary.
However, the opposition—and no doubt Putin—are weighing up their options. On Wednesday, a transition committee of seven people is expected to be chosen by key opposition figures to lead a transitional government, with Tikhanovskaya, who has fled to Lithuania, as its figurehead. This will also require the protests and strikes to continue to apply pressure on the ruling elite.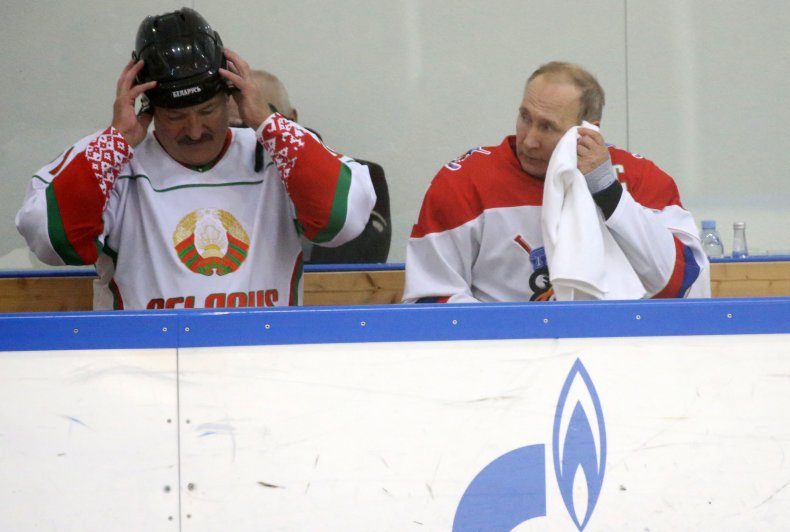 Alex Kokcharov, country risk analyst for the London-based consulting and information firm IHS Markit said that the Kremlin is still trying to figure out its next move.
"On the one hand, it is much easier to work with an authoritarian leader, on the other hand, Russia is probably not particularly keen to support a leader who no longer enjoys public support and is facing large-scale protests," he told Newsweek.
He believed that there are three scenarios that could play out, the first being that if protests and labor strikes started to hurt the economy, it would cause fractures in the Belarusian elite which might see them withdraw their support for Lukashenko and work together for a peaceful transition.
Another possibility is that if the protests become more entrenched and more violent, they could lead to a violent overthrow of the government, although this would require significant numbers of military officers defecting to the opposition.
"The third scenario is that Lukashenko stays in power," Kokcharov said.
"If the elites, police and security services keep their allegiance to Lukashenko and Russia decides to support him more publicly, there is still the possibility that he will hang on. A weakened Lukashenko, especially with western sanctions against him, will work well for Russia.
"Another issue for Russia is that the Kremlin doesn't want to give Russian people ideas that an authoritarian leader can be ousted by peaceful protesters," Kokcharov added.