Can a Housewife Stop Putin from Getting What He Wants in Belarus?
In 2015, the Belarusian designer Julia Halovina created a version of her country's coat-of-arms with a female knight, brandishing a sword. Half a decade on, the image was prescient as the country dubbed the "last dictatorship in Europe" now has a housewife taking on with warrior-like determination the only president Belarus has known since the end of the Soviet Union.
On the campaign trail, hundreds of thousands have attended rallies to hear a message of change from Svetlana Tikhanovskaya, a 37-year-old who only decided to run after her husband, the popular blogger Sergei Tikhanovsky, was barred from registering as a candidate.
Now the stand-in candidate has called on people to stand up. Her appearances at rallies alongside two other women connected with barred opposition figures, form a formidable feminine tableau at odds with the male-dominated Belarus ruling class headed by Alexander Lukashenko since 1994.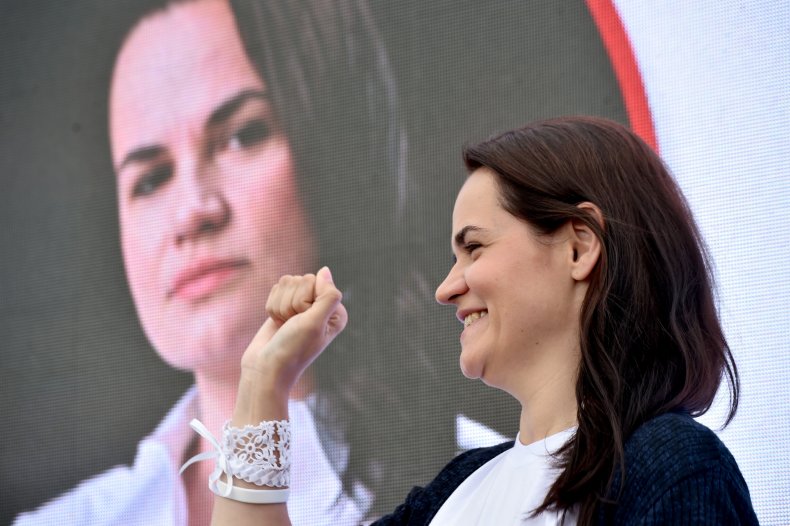 "He completely underestimated her. He thought that she was a housewife and she would not be a threat. On a number of occasions, he said 'women are not fit for this job,'" Alex Kokcharov, a country risk analyst for the London-based consulting and information firm IHS Markit, said of Lukashenko.
"This caused a backlash. Women said, 'What is he talking about? Of course we are capable of running,'" he told Newsweek.
At the rallies, Tikhanovskaya appears alongside Veronika Tsepkalo, the campaign head of her husband, Valery Tsepkalo, who was also banned from running. Making up the trio is Maria Kolesnikova, the head of the presidential campaign for Viktor Babariko, who was arrested on charges of money-laundering and tax evasion.
"All these three ladies are the face of the campaign and it was a very good idea to do that," said Valiantsin Stefanovic, from the Minsk-based rights group Viasna.
"There is a lot of sympathy for Tikhanovskaya. She says she is an ordinary woman, that she is nothing special. She said 'I came to be a candidate because I want to release my husband.' It's a very beautiful story," he told Newsweek.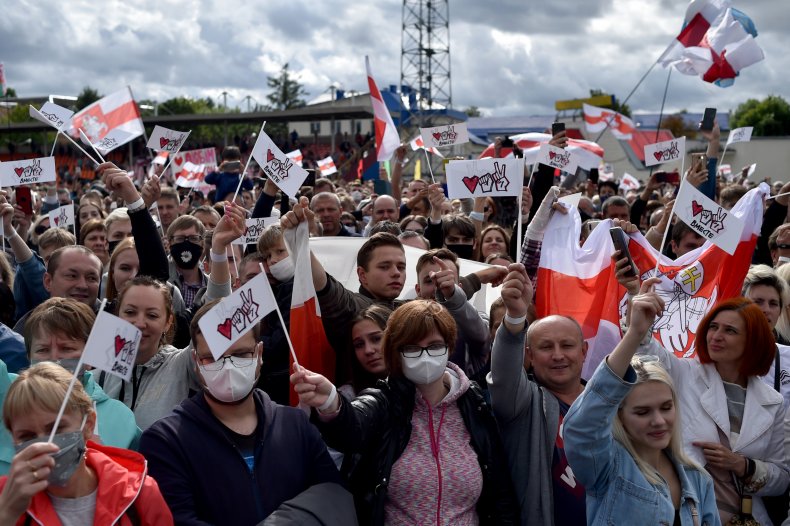 The campaign logo of Tikhanovskaya's punched fist, Kolesnikova's fingers in a heart shape and Tsepkalo's victory sign, is a prominent image among supporters at rallies which are festooned with the red and white flags—the colors of an increasingly emboldened opposition.
At a campaign event in Maladzyechna, a city of around 100,000 people northwest of the capital Minsk, Tikhanovskaya told those present: "Do you think I'm not scared? I'm scared every day. But I muster my courage, get over my fear and go to you and go for victory."
Her children, aged five and 10, have been taken out of the country for their safety. According to the Viasna rights group, at least 1,100 people have been arrested since May during pre-election rallies.
"It's the time of women. Now there is that momentum when the essence of women's power and wisdom might bring change," said Natalia Kaliada, co-founding artistic director of Belarus Free Theatre.
Her group has relaunched a campaign which includes celebrities such as Stephen Fry and Emma Thompson, calling for the election on Sunday to be free and fair. The main policy Tikhanovskaya is standing on is to hold genuine elections within six months.
"It is a very empowering moment, because what unites people now are political candidates who are in jail, and women who are leading and making the voices of those who are in jail heard. It is beautiful and such a strong combination," Kaliada told Newsweek.
"As always during wartime, and this is a war, women stand up and lead. There has always been a leading role for women in Belarus. We strongly believe in our power. It was that particular power that awakened Belarus. The people of Belarus see those strong women who are able to stand up against a dictator and repressions."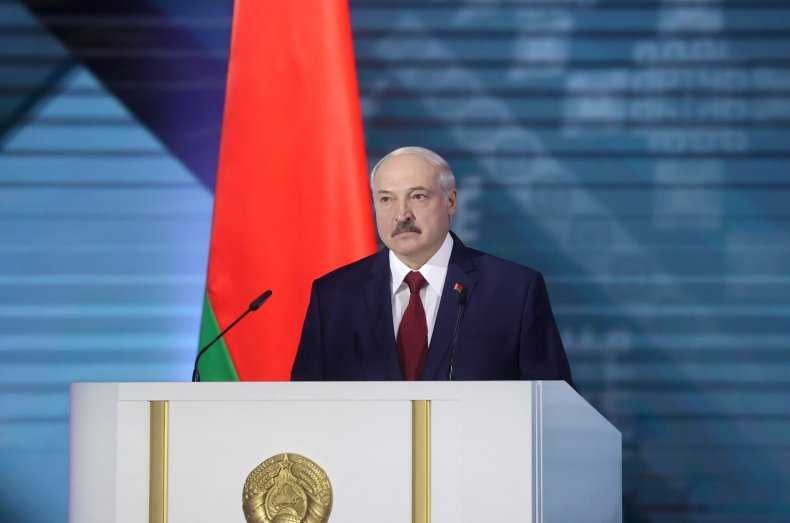 The likelihood that anyone other than Lukashenko will be declared the winner by the country's Central Election Commission on August 10 is low, given the levers at his disposal to rig the vote.
But if Tikhanovskaya gets enough votes and the momentum behind her is strong enough, it may galvanize an opposition movement disgruntled at being disenfranchised. Color revolutions in other post-Soviet states have been started on less.
Meanwhile, Russian president Vladimir Putin is keeping a close eye on developments in Russia's neighbor.
Tensions between Lukashenko and Putin have sometimes spilled over. Last week, the Belarusian leader accused a group of Russians detained in a sanatorium outside of the capital of being mercenaries from the notorious Wagner Group, a private military company blacklisted by the U.S. State Department, who had been sent to destabilize the country ahead of the vote, which the Kremlin denies.
Lukashenko linked the group to Tikhanovskaya's husband, raising concerns that he will use it as an excuse to clamp down on her campaign, or more widely, across the country.
Weighing heavily on Lukashenko's mind is Ukraine's Maidan movement, which he referred to when he threatened to expel foreign journalists from the country. On Tuesday as early voting got under way, he alleged his opponents were plotting deadly violence in Minsk, news agency Interfax reported.
Not keen to see a repeat in Belarus of the so-called color revolutions in Ukraine and Georgia, Putin will want to keep Lukashenko in power, amid just the right amount of turbulence to keep him looking towards Moscow for stability.
Tatiana Stanovaya, head of R.Politik and nonresident scholar at the Carnegie Moscow Center, said that Putin's plan is to integrate Belarus into Russia and that the mercenaries may have been in Belarus, not necessarily with the Kremlin's knowledge, to scope out the lay of the land.
The move for integration is one that Lukashenko has resisted. The former Russian ambassador to Minsk, Mikhail Babich, spoke of greater integration when he started the post in 2018. He has since been dismissed by the Kremlin after he annoyed the Belarusian president by meeting with representatives of the opposition.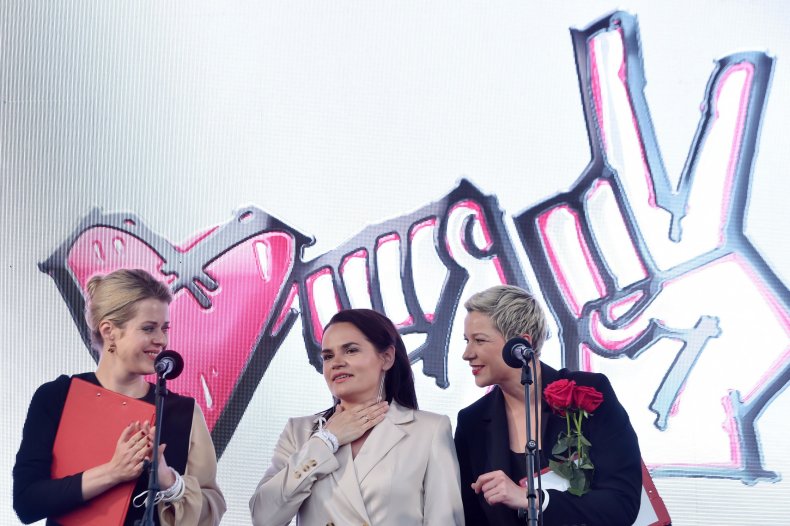 "The problem is that Putin is afraid that Lukashenko might not be strong enough to manage the situation in case there is a color revolution, So he is saying, 'We are here to help,'" Stanovaya told Newsweek.
"Lukashenko was not very happy with this help and he thinks he can manage. He doesn't want Russia to get involved like this. He has shown that Russia must stay at a distance, that he can manage himself."
What is almost certain is that Lukashenko will be declared the winner on August 10. Less certain is what will happen after that.
The banned opposition candidate Tsepkalo believes the president will flee the country if faced with hundreds of thousands of protesters in the ballot's aftermath. This would mirror the fate of ousted Ukrainian president Viktor Yanukovich in 2014.
"I don't believe that the Belarusian Army will be capable of using arms against its own people," Tsapkala told Current Time TV.
By that stage, an opposition figure would jeopardize Putin's plans for integration.
"There are some risks we will see some mass protests in Minsk and in this case, Russia will have to get involved, but not military involvement," Stanovaya said.
"They are afraid this Western part of society—as they see it—may steal Belarus from Russia. Putin is worried that now we have a rather a short amount of time to secure Belarus as a zone of Russian influence," she said, adding that Putin is thinking, "If not now, we may lose Belarus forever."
"I am afraid there are some forces in the Russian elite who might propose to Putin to get involved more closely," she added.
It could also lead to many people reconsidering their futures in Belarus. Kaliada told Newsweek: "If Lukashenko continues to stay in power, there is the possibility a lot of young people will leave the country. For the next five years there would be no development for the country if there is no hope there."