Could Belarus Join Vladimir Putin's Troops in Ukraine?
Two years ago, Sasha* was organizing election rallies to try to oust the only post-Soviet president Belarus had ever known. The Minsk native is now fighting against Alexander Lukashenko dragging her country into Russia's invasion of Ukraine.
"Belarusians just want to live peacefully, earn some money and develop their lives and families —this is all they want," she told Newsweek. "They don't want to go to war, they don't have these ambitions, this is why they don't want to be part of it."
While their relationship has ebbed and flowed, Vladimir Putin has propped up Lukashenko—especially after the August 9, 2020 Belarusian election internationally condemned as rigged. It was followed by a brutal crackdown, with political prisoners still languishing in jails.
The leaders' ties highlight the ambiguity of the role Belarus plays in the war raging beyond the 674-mile border to its south. While not a full participant, Lukashenko has provided Putin's army with a staging ground for an offensive towards Kyiv, including areas for Russian missile launches and aircraft sorties.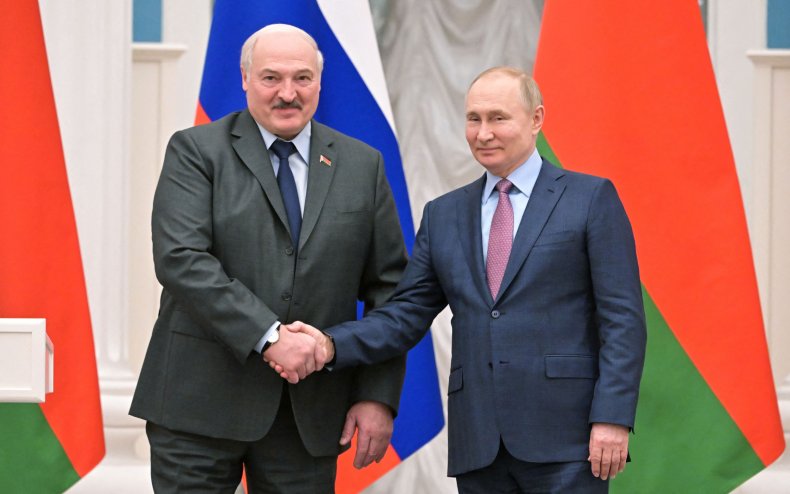 Having Lukashenko in power has proved useful for Putin but there are concerns that the Russian leader might use his leverage to force his ally to make a more firm commitment to his invasion, which would involve Belarusian troops.
"We are not sure that Lukashenko is in control of everything in Belarus," said Sasha, a 30-year-old former account manager who is now in Poland and did not want her real name published.
"It's not only about Lukashenko now in Belarus, because they have a lot of Russian officers now in Belarus who are making orders."
"It's like a double occupation in Belarus now. We have Lukashenko who is actually beating people and there is a lot of repression," she said, "and we have Russians who are even much worse than Lukashenko."
Since the start of the war on February 24, children in Belarusian schools have faced an onslaught of pro-Russian propaganda. There have always been ideology classes but over the last six months, a new version of history is on the syllabus.
"Soldiers and even generals come to explain how beautiful and how good war is and it's the duty of every Belarussian to go to the war—all of this bull****," said Sasha.
Reports state that in theatrical productions, pupils are asked to play the roles of Russian liberators and Ukrainians living under Nazi occupation, reflecting the Kremlin's justification for the invasion.
Songs about patriotism and war are also a daily staple, as are lessons in which Ukraine is portrayed as an enemy.
Sasha is working with a group called "The Union of Mothers" to fight such indoctrination.
Their Telegram social media channel lists instructions for both Russian and Belarusian parents on how to counter propaganda, avoid conscription for their sons and how they can surrender in Ukraine if they are deployed.
The group urges members to write to any relatives in the military to urge them not to go to Ukraine. Sasha also helps the group organize anti-war flash mobs throughout the country with the familiar anti-invasion slogan "no to war" seen in Russian protests posted next to toys and teddy bears.
They have to take care. Protesters who shared images of their rebellion on social media in 2020 were rounded up by the authorities who used facial recognition technology to identify them.
Anyone openly speaking out against Putin's war will be treated like an opponent of the regime, posing danger in a country that retains the death penalty and has seen regular reports of protesters dying in custody.
"It's very dangerous for them," Sasha said, "we are afraid but we are so tired of being afraid, so we want to do something."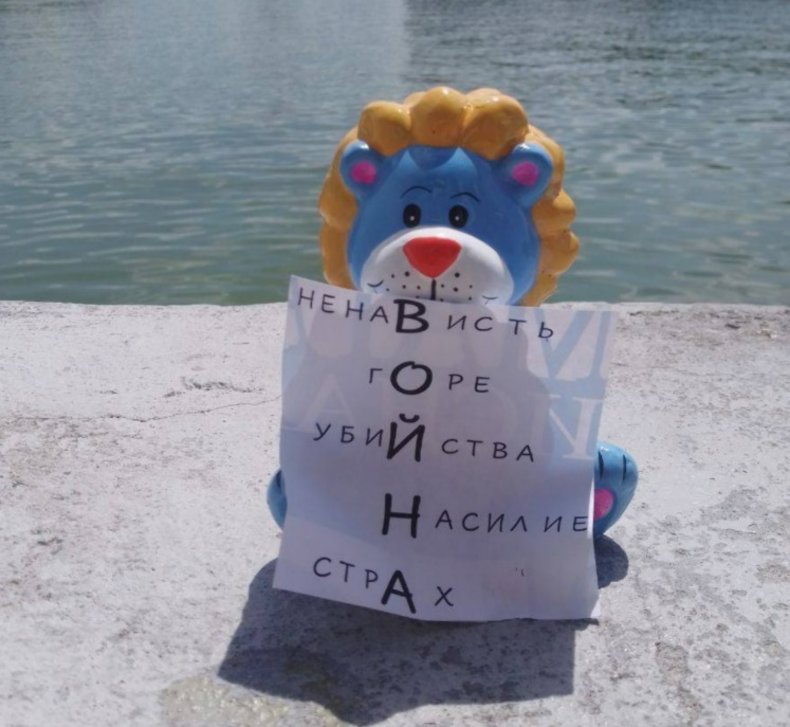 Opposition leader in exile
Sviatlana Tsikhanouskaya is considered to be the legitimate winner of the 2020 election. Lukashenko has tried to declaw her opposition movement but it still operates from abroad and its defiance to the Belarusian regime includes anger at the war.
"People at the beginning were really scared seeing Russian troops and military going through our country," she told Newsweek from Vilnius.
She said Belarusian partisans sabotaged railway lines against important supply routes at the start of the invasion, when Russian missiles were fired from Belarus' territory toward Ukraine.
Information was also passed on to Ukrainian forces about bases from where the Russian missiles were fired and this resistance would be repeated if Belarusian troops were forced to fight.
Ukraine hinted at Belarusian partisan involvement behind explosions on Wednesday at the Ziabrovka airfield, in the Gomel region, where Russian aircraft are reportedly stationed.
Tsikhanouskaya said the first reaction among Belarusians to Putin's invasion was "shock, because we actually also couldn't expect that such a thing in the 21st century could happen."
"The second shock was that our country was tricked into this war against our brotherhood nation, against people with whom we have a wonderful relationship," she said, adding that the Belarusian authorities are aware that the people "do not want this war."
Polling bears this out, with a Chatham House survey in March showing as many as 97 percent of Belarusian people oppose the involvement of their troops in the war.
Tsikhanouskaya says her opposition movement must "show reality to Putin...and that there is no necessity for our country to participate in this war."
"However, there is no anti-Ukrainian mood within the Belarusian army and if Lukashenko were to deploy them, he would be risking their defection, which would be seen as a failure because it would show that he could not control his own troops."
Although Tsikhanouskaya believed there were no imminent signs pointing to Belarusian army involvement, "the situation is unpredictable, and if the pressure on the regime is strong enough or if such an order will be given by the Kremlin to the regime, so maybe they could make the step."
"We understand that the Lukashenko regime doesn't make these decisions itself and is obliged to fulfill what the Kremlin wants," she added.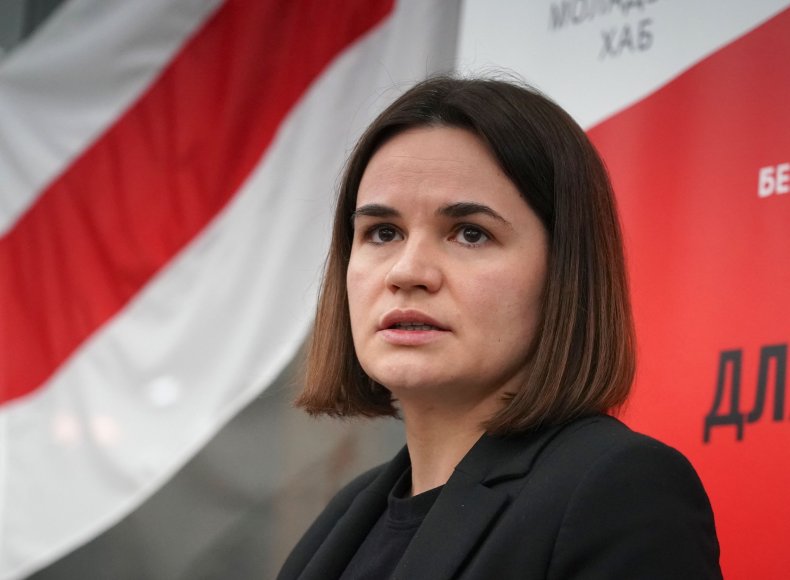 Border military activity
An increase in military activities along the border with Ukraine has raised alarm that Belarus could sooner or later play a more direct role in Putin's invasion. In May and June, Russia reportedly deployed Iskander, Pantsir and S-400 missile systems there.
Lukashenko has also reportedly decided to create a southern command and expand the country's armed forces from 65,000 to 80,000, hinting that his troops might have to "fight for western Ukraine" so that it is "not chopped off by the West."
The General Staff of the Ukrainian Army said that Belarusian troops had been testing their readiness in the Brest and Gomel border regions.
However, senior officers from Belarus's special forces have warned in an open letter to Lukashenko that sending Belarusians to fight alongside Russians would be "pure suicide." Also, deploying troops who are not considered to be combat ready to a war Belarusians do not want risks further unrest for Lukashenko.
Konrad Muzyka, a defense analyst who focuses on Belarus and Russia, expected Lukashenko to recognize the independence of the separatist Donetsk and Luhansk People's Republics at the start of the war and then send in his troops to Ukraine.
"But neither of these things happened," he told Newsweek, "I was very surprised by this. As the war has dragged on, my assessment has changed. Now I don't expect him to commit troops, if it hasn't happened already."
Muzyka, who is the director of Rochan Consulting, said that he has tracked Belarusian troops near the border where they have been undertaking "serious" exercises, albeit on a small scale.
This could point to not preparing for war but a plan to "tie up Ukrainian forces near the border with Belarus to make sure that these guys are not deployed to Donbas or Kherson or anywhere else."
He said there are likely between four and seven company tactical groups but these were "really small detachments."
"You are certainly not going to go to war with these guys, plus they are spread out across the entire border with Ukraine," he said.
"Lukashenko will allow Russia to use its airspace as grounds for missile attacks on Ukraine. Russia continues to maintain some sort of presence in the south eastern parts of the country," he said, "but it's obviously nothing comparable to what was there in February or March, it's more like a token presence," he added.
Newsweek has contacted the Belarusian Foreign Ministry for comment.
*Sasha is not her real name.