Belarusian President Alexander Lukashenko might be bracing for a revolt from his own military officers after they recently expressed their opposition to the Russian war in Ukraine, according to a report published by the Express on Saturday.
Senior officers from a brigade of the Special Forces warned in an open letter to Lukashenko, who is a close ally of Russian President Vladimir Putin, against sending troops to fight in Ukraine, arguing that such a decision is "pure suicide," the Express reported.
Newsweek has not been able to independently verify the letter.
"By entering the war against Ukraine, Belarus will be evicted from the community of civilized states and will be an international outcast for many years to come," the military officers reportedly wrote.
Belarus has allowed Russia to station its troops and carry out large-scale military drills in the country since the beginning of the war, which started in late February. Meanwhile in May, Belarus launched large-scale drills of its military forces in order to test its army's combat readiness, according to the Belarusian defense ministry.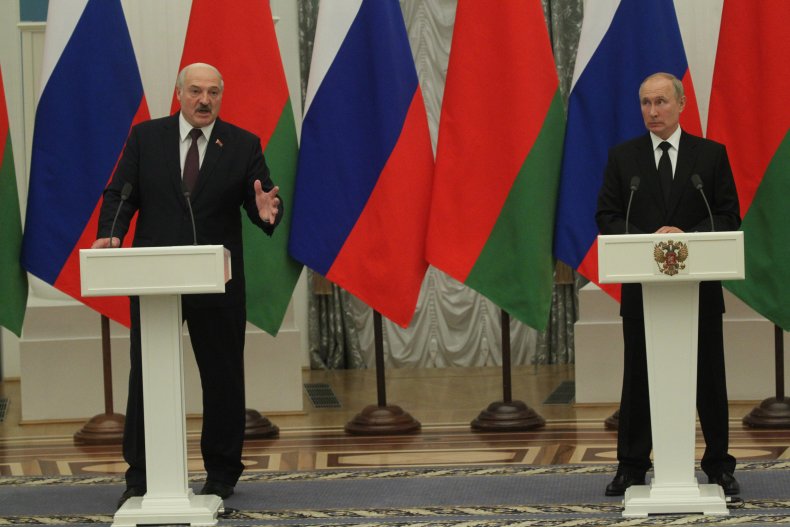 However, some members of the Belarusian army reportedly still denounced the war and wrote in the letter to Lukashenko: "Russia's occupation of the internationally recognized territory of Ukraine, which is [a] friend of our state, and its attempt to pull Belarus into a completely unprovoked war against a sovereign state can only be seen as the destruction of the sovereignty of Belarus."
They continued: "At the present moment officers from the fifth brigade of the Special Forces have observed the most serious infringement of Clause One of the Belarus Constitution by Russia's highest political leadership. According to this Clause, the Belarus Republic maintains supremacy and full authority on its own territory. It also enjoys independence over its internal and foreign politics."
Most Belarusians don't support the war in Ukraine, according to a new poll published by the Chatham House. The poll found that in June only 23 percent of people supported Russia, compared to 28 percent in March. Meanwhile, only 5 percent of the population think that Belarusian soldiers should join Russia to fight in the war, according to Rygor Astapenya, who is the director for Chatham House's Belarusian Initiative.
Earlier this month, Lukashenko warned other former Soviet Union nations against drifting away from Russia following its invasion.
"The countries of the post-Soviet space should be sincerely interested in rapprochement with the union state, if, of course, they want to preserve their sovereignty and independence," the Belarusian president said, according to an English translation of a report from the state-run BelTA news agency. "We are convinced that only together can we resist global challenges."
Putin also emphasized the Belarus-Russia alliance when he told a bilateral forum in the Belarusian city of Grodno on July 1 that the sanctions from the West "is pushing Russia and Belarus to speed up the unification process."
Newsweek reached out to the Belarusian Ministry of Foreign Affairs for comment.