Putin Says Russia and Belarus Moving Towards Unification
Russian President Vladimir Putin has claimed that the Western response to his war in Ukraine is pushing Russia and Belarus towards unification.
"Unprecedented political and sanctions pressure from the collective West is pushing Russia and Belarus to speed up the unification process," Putin told a bilateral forum in the Belarusian city of Grodno on Friday.
"After all, it is easier to minimize the damage from illegal sanctions, it is easier to master the production of demanded products, develop new competencies and expand cooperation with friendly countries," the Russian leader added.
In 1997, Belarus and Russia signed a treaty that sought to mend relations that disintegrated following the collapse of the Soviet Union six years earlier. Days after Putin invaded Ukraine, the neighboring countries reaffirmed their commitment to boost state cooperation amid Western sanctions.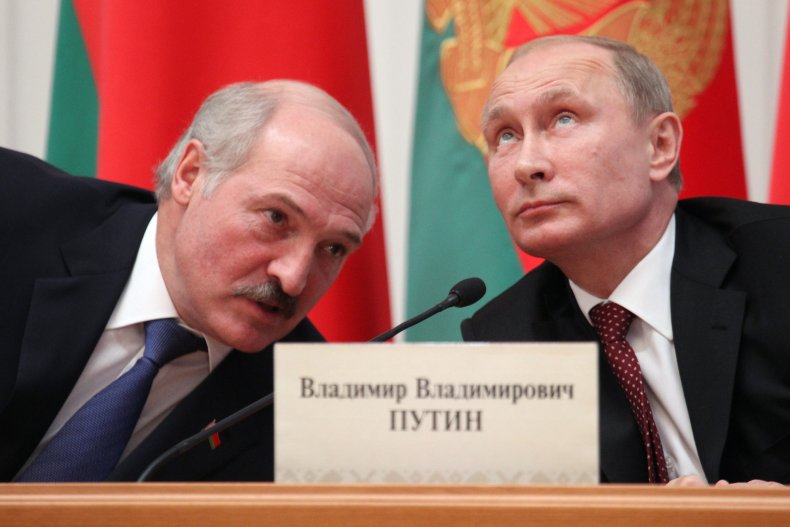 "We are taking coordinated measures to protect our economic security and the technological sovereignty of Russia and Belarus," Russian Prime Minister Mikhail Mishustin said after meeting his Belarusian counterpart Roman Golovchenko in Moscow on March 14.
"Above all, we consider it necessary to strengthen integration in the union state," he added.
Talks of possible unification between Russia and its ally Belarus gained momentum in late 2020 when Belarusian President Alexander Lukashenko was supported financially and politically by Putin amid protests that broke out after allegations of voter fraud during the country's presidential election.
Putin didn't elaborate Friday on the possible unification process between the two countries.
His remarks come days after Ukrainian President Volodymyr Zelensky warned Belarusians not to allow Putin to drag their country into his war against Ukraine.
"You are being drawn into the war. The Kremlin has already decided everything for you," Zelensky said during a video address on Sunday night. "But you are not slaves and cannon fodder. You don't have to die."
Zelensky suggested that Belarus was being drawn into the war more actively than at the beginning of the invasion, which Putin launched on February 24.
"Your lives are worthless to them," the Ukrainian leader continued. "And you cannot let anyone decide what awaits you next."
A day earlier, Putin told Lukashenko that Russia will in the coming months provide the country with missiles capable of carrying nuclear warheads, specifically, Iskander-M tactical missile systems, which the Russian leader said "can use both ballistic and cruise missiles, both in conventional and nuclear versions."
Lukashenko has allowed Moscow to station its troops in Belarus and conduct large-scale military drills in the country.
Newsweek has contacted the foreign ministries of Russia and Belarus for comment.