Russia, Belarus Call on Former Soviet Nations to Help Form USSR-Style Union
Russia's President Vladimir Putin and Belarus' President Alexander Lukashenko reportedly have plans to strengthen the "Union State" stipulating the close cooperation between the two independent states to attract other countries into the supranational organization, according to Belarusian media.
Belarus' state-owned news agency BelTA reported that Lukashenko said he met with Governor of Russia's Voronezh Oblast Aleksandr Gusev in Minsk on Thursday, where the two discussed their interest in further developing the cooperation between Belarus and Russia.
"Thanks to you we have this cooperation," Lukashenko said, according to BelTA.
"We are building a single Union State on the new principles to ensure that everyone's interests are respected, that the sovereign independent states—Belarus and Russia—keep developing. I am sure that this union will attract other republics of the former Soviet Union."
The claims made by the Belarusian news agency have not yet been confirmed by Russian media or either Belarusian and Russian authorities.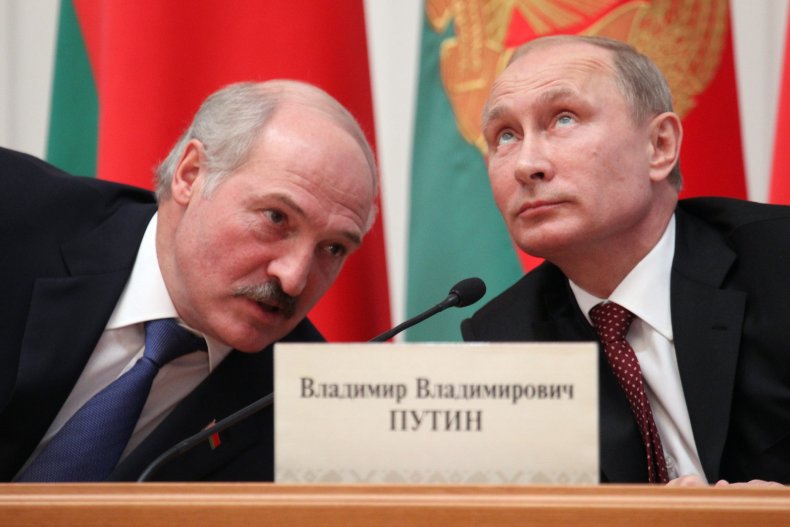 What's the Union State?
The idea of a union between Belarus and Russia originated back in 1996 and took shape a year later, when the two countries signed a treaty that had the aim of certifying cooperation and integration between the two countries, without any more specific goal or structure given to the alliance.
In 1999, the two countries signed the Treaty on the Creation of a Union State of Russia and Belarus with the goal to recreate a federation of states like the Soviet Union, although no other state joined the union.
Over the years, Russia has pressured Belarus to transform the union into a truly unified state, but Lukashenko has resisted the option, which would likely represent a loss of power for the country's leader.
But talks of strengthening the union have recently been revived by the war in Ukraine. Already back in mid-April, Russian Prime Minister Mikhail Mishustin said the two countries were "taking coordinated measures to protect our economic security and the technological sovereignty of Russia and Belarus," as reported by Reuters.
"Above all, we consider it necessary to strengthen integration in the union state," Mishustin said after meeting Belarusian Prime Minister Roman Golovchenko in Moscow.
An Unwavering Partnership
Lukashenko has been in power in Belarus since 1994. His grip on the country is highly dependent on Russia, which has provided critical political and financial support through the years of Lukashenko's regime.
Putin's critical backing is also considered to have helped Lukashenko maintain control of the country during the massive protests following the contested 2020 presidential elections in the country.
Since the beginning of the war in Ukraine, Lukashenko has remained supportive of the Russian partner, despite being hit by the same sanctions Western countries imposed on Moscow.
On Thursday, BelTA reported that Lukashenko said Belarus is willing to cooperate with Russia any time and in any area, offering any equipment Russia might need to make up for supply disruptions caused by Western sanctions.
"Western countries are a sort of partners who will not stop at anything until you are on your knees. We are ready to cooperate with Russia on any front today," the Belarusian president told Gusev on April 28, according to BelTA.
Newsweek has reached out to Russia's Foreign Ministry and Belarus' Foreign Ministry for comment.
Update 4/28/22, 9:40 a.m. ET: This article has been updated with additional information.

Update 4/29/22, 6:29 a.m. ET: This article has been updated to modify the headline for clarity.