Belarusian President Alexander Lukashenko on Friday gave a stern message to other former Soviet Union nations keeping their distance from Russia following its invasion of Ukraine.
"The countries of the post-Soviet space should be sincerely interested in rapprochement with the union state, if, of course, they want to preserve their sovereignty and independence," Lukashenko said, according to an English translation of a report from the Belarusian state-run BelTA news agency. "We are convinced that only together can we resist global challenges."
Lukashenko was meeting with Russian President Vladimir Putin on Friday in Grodno, Belarus, as part of the ninth Forum of Regions of Belarus and Russia when he made the comments.
"Those who still have doubts should understand: Without the speedy unity and rallying, strengthening of interstate ties and simply normal human relations, we may not exist tomorrow," added Lukashenko, who has been an outspoken supporter of Russia's military efforts in Ukraine.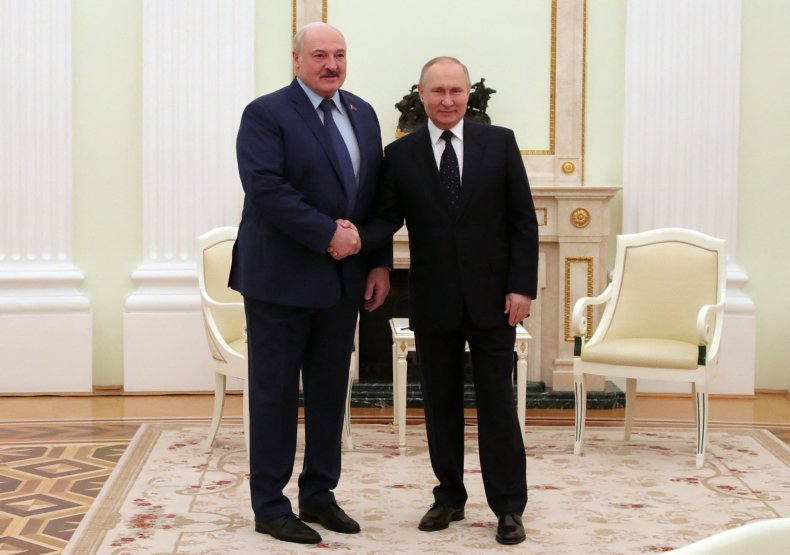 Also on Friday, Putin claimed that the Western response to his war in Ukraine was pushing Russia and Belarus toward unification.
"The unprecedented political and sanction pressure from the so-called 'collective West' is pushing us to accelerate the unification processes," Putin said, according to a Kremlin transcript. "After all, together it is easier to minimize the damage from the illegal sanctions imposed, easier to launch the manufacturing of popular products, develop new competencies and expand cooperation with friendly countries."
Since the start of the invasion in late February, Belarus has permitted Moscow to station its troops and conduct large-scale military drills in the country. In return, Putin has made mention of Belarus and Lukashenko having access in coming months to missiles capable of carrying nuclear warheads, notably Iskander-M tactical missile systems.
On Sunday Ukrainian President Volodymyr Zelensky addressed Belarusians in his own video message, telling citizens that "the Kremlin has already decided everything for you."
"But you are not slaves and cannon fodder," Zelensky added. "You don't have to die."
Sanctions are having adverse effects on the Russian economy, including a lull in vehicles and domestic appliance production in addition to decreased consumer demand that is likely a reflection of lower wages amid high inflation in the country.
In May, Russia's industrial production index—a monthly economic indicator measuring real output in the manufacturing, mining, electric, and gas industries—dropped by 1.7 percent compared to May 2021.
Economic uncertainty has caused some of Putin's allies, such as oligarch Oleg Deripaska, to say that the complete destruction of Ukraine would be a "colossal mistake" for Russia.
"I'm troubled by how quickly we abandoned everything that was achieved (economically) in the '90s, then we abandoned everything that we achieved in the 2000s, and now we are sitting and waiting for victory. Victory of what? Whose victory?" Deripaska recently said.