U.S. Sends Heavy Weapons to Ukraine After Putin Ally Warns of World War
A Ukrainian government official on Tuesday publicly expressed gratitude for what he called "heavy" weapons the U.S. was sending to his country. The message came a day after Belarusian President Alexander Lukashenko, a staunch ally of Russian President Vladimir Putin, warned that international efforts to bolster Ukraine's security could result in a "full-scale world war."
Ukrainian Foreign Minister Dmytro Kuleba tweeted that he spoke with U.S. Secretary of State Antony Blinken "to thank the U.S. for its ironclad support of Ukraine." He also said that "[m]ore weapons, including heavy, are headed to Ukraine as Russia continues its devastating attacks in the Donbas."
Though Kuleba did not specify the weapons, the U.S. has recently increased the amount of armaments it has been sending to Ukraine. Last week, the Senate approved a $40 billion aid package for Ukraine that The Washington Post reported includes almost $20 billion in Pentagon funding to send additional weapons to the country. On Monday, The New York Times reported that American-made M777 howitzers had recently arrived in Ukraine, which the paper called "the most lethal weapons the West has provided so far."
During a Monday news conference, U.S. Defense Secretary Lloyd Austin also said the U.S. and 19 other countries had pledged to provide Ukraine with more military assistance, including high-tech weapons.
Austin's announcement came on the same day that Belarusian state media outlet Belta reported Lukashenko had sent a letter to United Nations Secretary General António Guterres that warned of international interference in Ukraine.
Lukashenko reportedly wrote that Belarus "calls on the countries of the world to unite and prevent the regional conflict in Europe from escalating into a full-scale world war!"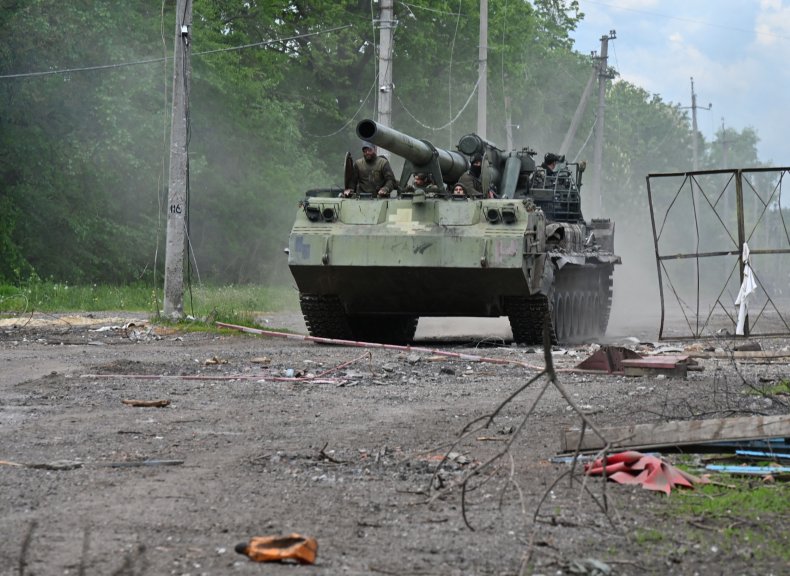 While many other European countries have publicly supported Ukraine while condemning Putin for invading the country, Belarus has maintained its long-held position as a close ally of the Kremlin. Lukashenko had largely remained silent about the war—aside from some veiled criticisms—until the contents of Monday's letter were released.
Lukashenko had also previously called for an end to the conflict and said Belarus was working to broker peace between Russia and Ukraine during an interview with the Associated Press in early May.
"We categorically do not accept any war. We have done and are doing everything now so that there isn't a war. Thanks to yours truly, me that is, negotiations between Ukraine and Russia have begun," he said.
In a later tweet on Tuesday, Kuleba wrote that "[f]our letters can help Ukraine" fight back against Russian forces while also stopping "horrific human rights abuses in the occupied territories." He said those letters are "MLRS."
Ukrainian officials have asked the U.S. multiple times to send Multiple Launch Rocket Systems, or MLRS, since the beginning of the war in late February. Politico reported last week that while Washington has provided Ukrainian President Volodymyr Zelensky's troops with older rocket launchers, it has resisted sending the more-precise MLRS. According to Politico, the White House is concerned that providing such powerful weapons could be seen as an escalation by Putin.
Newsweek reached out to Ukraine's Ministry of Foreign Affairs and the Russian Foreign Ministry for comment.
Update 5/25/22, 1:30 p.m. ET: The headline was updated for the sake of accuracy.