Putin's Top Ally Issues Veiled Criticism of Russia's Attack on Ukraine
The top ally of Russian President Vladimir Putin voiced veiled criticism for the leader's war in Ukraine by stressing that he didn't anticipate the invasion to "drag on this way."
Belarusian President Alexander Lukashenko made the comments during an interview Thursday with the Associated Press while also defending Putin's reasons for initiating the conflict.
Lukashenko's indirect criticism of the war signifies a shift, however slight it may be, in rhetoric that has largely centered on solidarity with Russia and its actions. Belarus has so far refrained from sending troops into Ukraine, though it has been accused of helping Russia launch the attack. However, it has been hit alongside Russia in a wave of condemnation and sanctions from the west and Europe.
During the interview at the Independence Palace in the Belarusian capital of Minsk, Lukashenko said that Russia was forced to take action against Ukraine because it was "provoking Russia," according to the AP.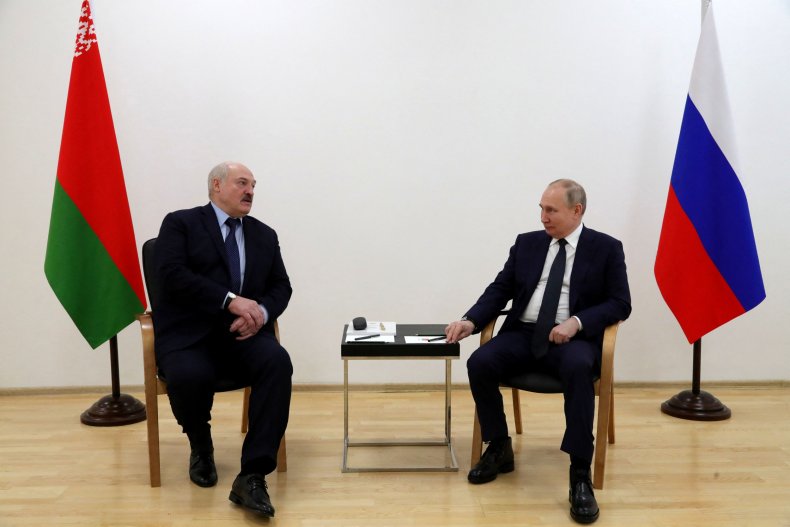 He said that he was not "immersed" enough in the issue to say whether he believes the war is going to plan, but stressed again that he feels like the operation "has dragged on."
While Lukashenko declined to comment on Russia's progress, some reports indicate that the war is not going to plan for Moscow.
NATO estimated about a month into the war that Russia had already lost between 7,000 and 15,000 soldiers. Ukrainian President Volodymyr Zelensky said last week that Ukraine believes the count is over 23,000.
Russian command is also reportedly contending with low morale among troops, and some instances of rebellion were detailed in calls and messages from Russian soldiers and commanders that Ukraine claims to have intercepted.
In another break with Putin during the interview, Lukashenko repeatedly referred to the conflict in Ukraine as a "war." Putin and the Kremlin have shied away from using the term, instead referring to it as a "special military operation."
Lukashenko called for an end to the conflict and said that Belarus was working to help the involved parties reach peace, the AP reported.
"We categorically do not accept any war. We have done and are doing everything now so that there isn't a war. Thanks to yours truly, me that is, negotiations between Ukraine and Russia have begun," he said.
He called any use of nuclear weapons "unacceptable," but declined to speculate on whether Russia may resort to such a move.
"Whether or not Russia is capable of that—is a question you need to ask the Russian leadership," he told the AP. Lukashenko also said that Putin "most likely" does not want a direct conflict with NATO, but warned that "the military will react" even if he is likely against it.
Experts have speculated that recent threats by Russian leaders may show that it is preparing for an all-out war with NATO. Additionally, Ukrainian officials reported Wednesday that Putin has been building up Russian troops on the border of Ukraine,
Newsweek reached out to the foreign ministries of Russia and Belarus for comment.