Russian Soldiers in Ukraine Rebel Against Their Generals
Some Russian soldiers in Ukraine have been rebelling against their generals, or teetering on the edge of rebellion and taking active steps aimed at halting the offensive, according to calls Ukraine says it has intercepted from Russian troops and commanders.
The Security Service of Ukraine (SSU) frequently shares findings from the purportedly intercepted calls on its website, many of which demonstrate discontent and poor treatment of troops from the Russian command. Russia has not publicly confirmed the content of any of the alleged intercepted calls.
The supposed brewing rebellions among Russian soldiers in recent weeks highlight reports that the nation's troops are suffering from low morale. Additionally, while different groups and leaders have reported varying numbers of Russian troop losses, some counts claim more than 20,000 Russian soldiers have been killed. NATO estimated in late April up to 15,000 Russian troops had been killed.
Ukrainian President Volodymyr Zelensky said during an address Saturday that Russia has lost more than 23,000 soldiers in the conflict.
"The Russian command is well aware that thousands more Russian soldiers will be killed and thousands more will be wounded in the coming weeks," he added.
Coupled with what a Defense Department official described on Monday as "minimal" progress in Donbas more than two months into the war and indications that Russian forces have a risk and casualty aversion, the circumstances many Russian troops are experiencing may not facilitate high spirits.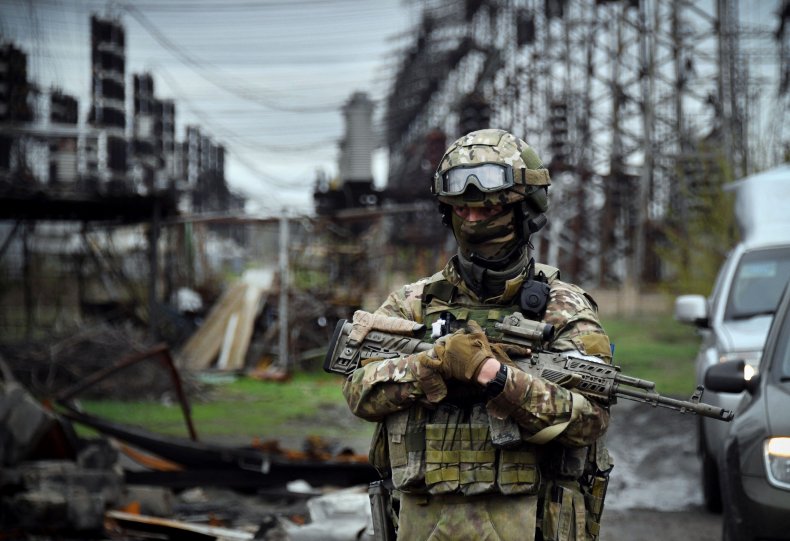 The SSU reported Monday that it intercepted a call in which a Russian soldier in Ukraine allegedly told an acquaintance back in Russia about their refusal to begin a new offensive in Ukraine's Kharkiv region.
In the call, which the SSU said it intercepted near Izium in the Kharkiv region, the soldier allegedly said: "In short, we refused to take part in this sh*t, get it? And they treat us here really tough in general, almost to the point of execution. We want to leave, but they don't let us. He says: 'We were told to shoot you.'"
The SSU said that when the soldier was asked why they refused, he answered: "Well, they send us directly to the front line, to real hell. There we're cannon fodder... There is just the artillery... and to go under the artillery fire – it's a f**king suicide."
Other purported intercepted calls or messages reported by the SSU since the start of the war demonstrate similar sentiments among Russian soldiers.
In an April 28 report, the SSU detailed text messages it said were sent by a commander in a Russian regiment fighting near Izium.
The commander said that his soldiers were "very scared" and "tired out," so much so that he "can't get them up morally or physically."
"I even shoot some. And to no avail," the SSU quoted the commander as saying.
"Everyone here is completely demoralized. There are 10 to 15 people left in the companies at best. About 60 young servicemen have been added... half of them are cowards, dammit, and panickers," he added.
In another telephone conversation, the SSU said it intercepted, a Russian soldier in Ukraine allegedly told his brother back in Russia about how commanders ordered them to shoot civilians and threatened them with a criminal case for desertion if they left their posts.
The SSU said the soldier's brother suggested he shoot the commanders, but the soldier objected because he would have to write a "whole volume" of statements to the Russian military prosecutor's office.
Another call reported by the SSU featured a Russian soldier, who allegedly refused to carry out orders, speaking to his mother. The soldier said that he is tired of "sitting and watching us being beaten and doing nothing in response." He added that about 90 percent of his colleagues, a group he said numbered about 150, had refused to go on a new offensive.
The SSU has reported at least one instance of Russian soldiers purposefully breaking their equipment so that they cannot fight against Ukrainian forces.
"We have one tank left in the regiment. So, we ourselves broke our tank in the morning not to go [to battle]," a Russian soldier said in a call with his father, according to the SSU.
Several SSU reports have also indicated that some Russian soldiers are considering harming themselves to be sent home from Ukraine. In a call listed on April 30, a Russian soldier allegedly mulled whether he should "hammer" a shrapnel fragment into his leg so that he can return to Russia.
In response, the soldier's girlfriend suggested he shoot himself in the leg instead, but the soldier later concluded that a self-inflicted wound would not work.
Newsweek reached out to Russia's Defense Ministry and the SSU for comment.