Russia on Wednesday announced it had conducted simulated nuclear missile strikes near a region between Poland and Lithuania, according to a report.
The Moscow Times wrote Russia's defense ministry released a statement that said its forces carried out the strikes in a western part of the Kaliningrad province. Kaliningrad is a small Russian enclave separated from Russia's mainland. It lies on the Baltic Sea and borders the European Union countries Poland and Lithuania.
Since Russian President Vladimir Putin began his military assault on Ukraine on February 24, he and other Russian officials have made statements that contained threats of retaliatory strikes against countries that interfere with his war. Putin has also been at odds with Poland and other EU nations since the invasion. Last week, Russia stopped supplying natural gas to Poland and Bulgaria due to the countries' support of Ukraine.
Russia's nuclear-capable Iskander mobile ballistic missile systems went through a series of electronic launches during Wednesday's simulation without actually firing any missiles, according to the Times. The news website also wrote the defense ministry's statement reported that the Russian forces in Kaliningrad also conducted various types of strikes at targets that emulated enemy airfields, military equipment and command posts.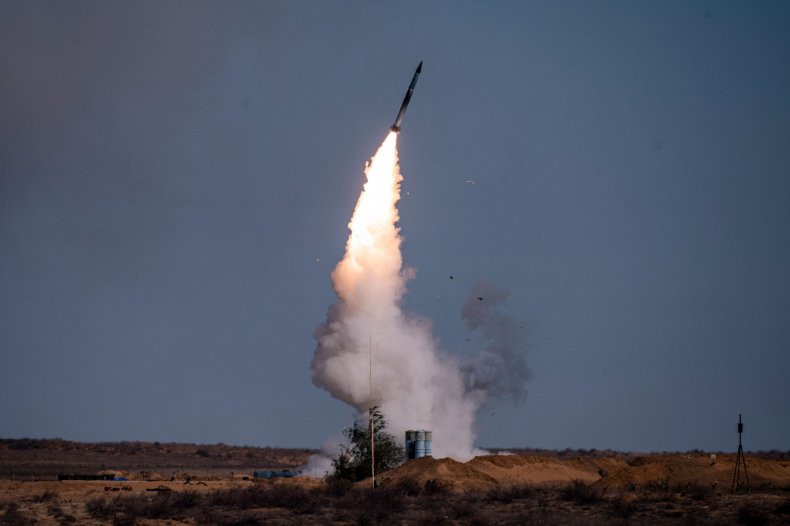 The Times reported the foreign ministry's statement said units that participated in the exercise also practiced "actions in conditions of radiation and chemical contamination." The outlet also stated more than 100 soldiers were said to have taken part in the simulation.
Putin placed Russia's nuclear forces on high alert soon after attacks began in Ukraine, saying "aggressive statements" issued by NATO and tough financial sanctions warranted him issuing the directive.
During a May 1 appearance on Fox News Sunday, Democratic Senator Bob Menendez of New Jersey warned the threat of Russia using nuclear weapons grows as Putin's forces continue to face losses in Ukraine.
"Well, one of my concerns is that, ironically, the more success that the Ukrainians have, the greater the risk that Putin will do something because he's losing and has to save face at home," Menendez, who serves as the chairman of the Senate Foreign Relations Committee, told host Bret Baier. "And so the potential of a chemical, biological or tactical nuclear weapon may grow as a result of that."
During a speech last week, President Joe Biden downplayed the recent comments from Russian officials threatening war with the U.S. and NATO, calling such rhetoric a sign of "desperation that Russia is feeling about their abject failure."
Newsweek reached out to the Russia ministry of defense for comment.