Vladimir Putin Gambles Russia's Grip on Europe
Russia's decision to stop supplying natural gas to Poland and Bulgaria is a further test of European Union unity in support of Ukraine, which continues to resist President Vladimir Putin's invasion after 64 days of fighting.
The decision of Gazprom—Russia's state-owned energy giant—to freeze supply to the two EU and NATO nations, both of whose energy networks depend heavily on Russian imports, was condemned as "blackmail" in Brussels.
Putin is long accused of weaponizing Russia's energy exports. This freeze has been interpreted as a threat to all of Europe that Moscow is willing to turn off the taps and choke Western economies, even at great cost to its own revenue.
But with EU nations rapidly turning away from Russian energy and mulling sanctions on Moscow's oil exports, Putin's gamble might also galvanize the West's economic siege.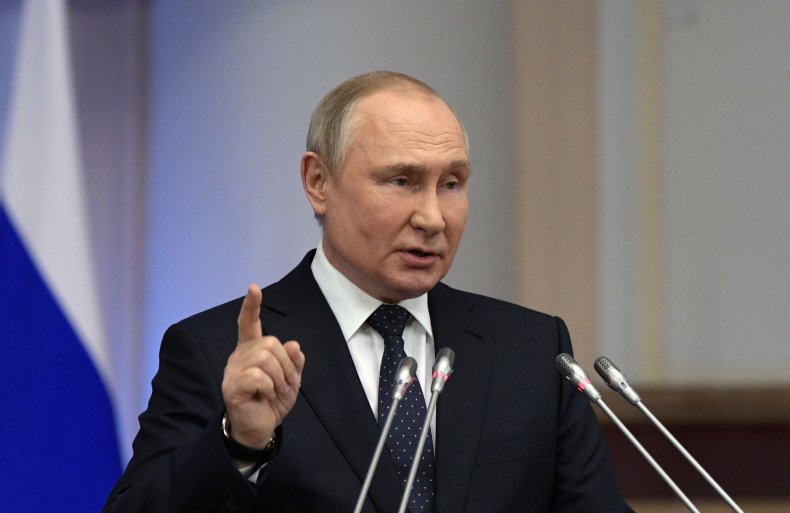 In the Baltic states—which have traditionally called for a tougher line on Russian aggression—some believe Putin's gas gambit will accelerate the EU's gradual phasing out of Russian natural gas.
One Latvian diplomatic official, who did not wish to be named, told Newsweek that the gas freeze could "absolutely" undermine Russia's strategic position.
"It is also a nice greeting to our German friends, I think," the diplomat said, referring to Berlin's opposition to energy sanctions on Moscow.
'No Turning Back'
The Latvian diplomat added that the Russian move "comes too late" to seriously impact the price and availability of gas in the EU, given that nations have been reducing dependence on Russian imports for some time already.
Whether the decision represents Putin's confidence or desperation is unclear. "A bit of both, I assume," the Latvian diplomat said.
"My hope is that those around him soon realize that these changes are turning into ones that cannot be reversed. Those markets will be forever closed and profits will never be seen again. What else is there left for Russia?
"Let's remember, huge investments will have been made. There will really be no turning back."
Poland had already announced its intention to end all purchases of Russian gas by the end of 2022. Deputy Foreign Minister Marcin Przydacz said the freeze represented Moscow trying to "foster divisions" between the Western allies.
Bulgarian Prime Minister Kiril Petkov, meanwhile, said that "one-sided blackmail was not acceptable."
Ivan Krastev, the chairman of the Centre for Liberal Strategies think tank in Sofia, Bulgaria, told Newsweek that Russia chose Poland and Bulgaria for different reasons.
"Russia selected Poland as a way to punish it for the active support of Ukraine, Bulgaria is selected because of its vulnerability," Krastev said.
The gas freeze has already driven a wedge between Petkov and President Rumen Radev, the latter suggesting that Petkov's government had provoked Putin by sending weapons to aid Ukraine.
"If the Bulgarian government collapses as a result of the crisis or the president attacking it aggressively, then than Putin will feel encouraged to use the energy weapon as a way to influence domestic politics of the member states," Krastev said.
The decision to shut out the Polish and Bulgarian markets will be costly, but the Russian leader might see the lost revenue as a price worth paying to intimidate other European nations and countries.
Moscow is demanding that future gas exports are paid for in rubles in an effort to strengthen the national currency amid the Western sanctions campaign against the economy.
Hungary is the only EU nation that has agreed to do so, though several top companies in multiple EU nations have reportedly opened accounts to allow them to deal in rubles.
An Estonian diplomatic official, who also did not wish to be named, told Newsweek the EU must meet the Russian challenge in unison.
"It's important for the EU to stay united and find ways to help Poland, and especially Bulgaria," the diplomat said. "Cutting gas flow is a way to test the EU's unity. Also important is that countries don't give in and start doing business in rubles."
Germany's Problem
Dependence on Russian gas is a glaring strategic weakness for the EU, especially leading bloc nations like Germany, Italy, and others that are particularly reliant. Decades of investment in Russia-EU natural gas infrastructure will take time to reverse.
Unlike Russian oil and coal, weaning off Russian natural gas is not a quick fix. Putin might be betting that finding alternatives will be too difficult and too costly, or that his invasion of Ukraine ends in success before this energy realignment is cemented.
"This is a much more long-term question," Hans Kundnani, the director of the Europe Programme at the British Chatham House think tank, told Newsweek.
Germany is a good example of how difficult it is for EU nations to become less reliant on Russian gas.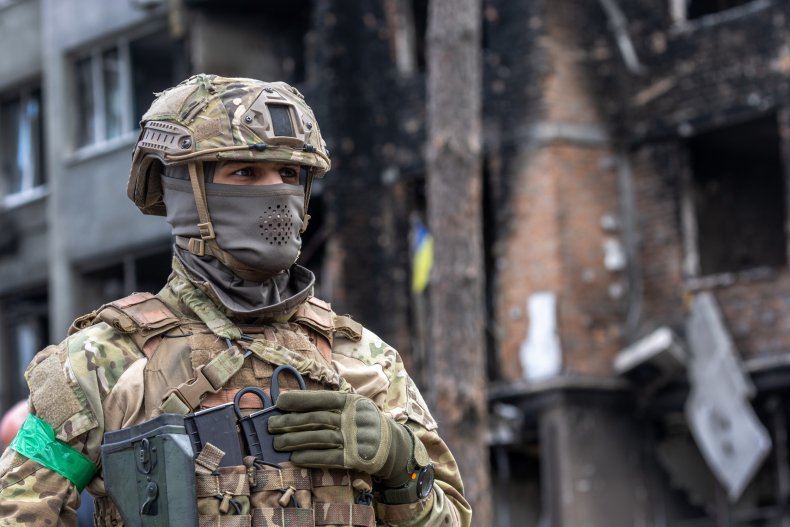 "To some extent even before the war started, a lot of people in Germany thought that Germany ought to reduce its dependence on Russian gas," Kundnani said.
"Obviously, with the outbreak of the war, that became more of a consensus. But the problem essentially remains how you do that, and I think it's very difficult to see how you do that quickly.
"That's always going to be a medium-term objective for Germany. To the extent that Germany screwed up, it screwed up a long time ago. And there's not much that Germany can do about that now.
"It can take some steps that in the medium term reduce the dependence on Russian gas, but it can't do it overnight. And I think that's where some of the criticisms of Germany have been a little bit unfair."
Germany's long-standing "Wandel durch Handel"—change through trade—Russia policy has been gravely wounded, perhaps even killed off, by Putin's aggression in Ukraine.
Still, decades of hoping for rapprochement with Moscow have left their mark on Germany's political elite. Chancellor Olaf Scholz still appears more hesitant than his EU and NATO allies to deepen sanctions and provide Ukraine with more weapons.
The chancellor has repeatedly warned of the risk of nuclear war if NATO expands support for Kyiv, and the risk of an economic crisis if Germany immediately bans Russian oil and gas imports. The Poland-Bulgaria gas freeze might be a way for Putin to sharpen these concerns in Berlin and across the EU.
"It could be that the cut-offs to Poland and Bulgaria are perhaps intended as a threat by Putin to indicate that he is willing to do this even with Germany," Kundnani said. "Even if that isn't the intention, it may have somewhat of that effect in Germany, to make that threat seem more credible."
German Economy Minister Robert Habeck said on Wednesday that the gas freeze cannot be ignored. "Russia is showing that it's ready to get serious," Habeck said. "They're ready to put a stop to gas deliveries. We have to take that seriously, and that also goes for other European countries."
'Vindication' for Ukraine
Ukrainians have been demanding a full embargo on all Russian energy exports since the invasion began on February 24. The EU, Kyiv has said repeatedly, is complicit in alleged Russian abuses inside the country because its energy purchases are feeding Russia's federal budget.
Alex Riabchyn is a former member of Ukraine's parliament and former deputy minister for energy and environment who now serves as an adviser to the Ukrainian government and Natfogaz CEO Yuriy Vitrenko.
He told Newsweek that Ukraine is vindicated by Putin's weaponization of natural gas. "It proves Ukraine's argument," Riabchyn said.
"For a decade we have been saying that Russia was using its energy to blackmail Ukraine and others. Maybe now it won't take the next decade for European countries to sanction Russian energy, to cut gas imports, oil and coal imports from Russia."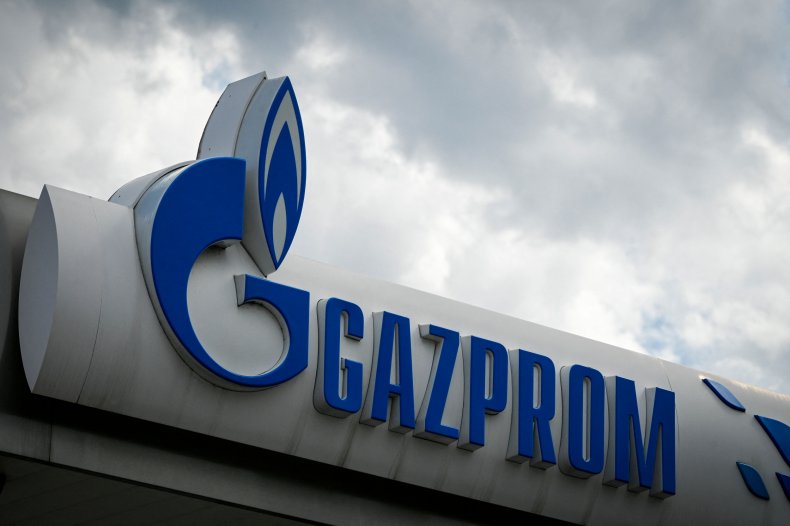 Ukraine wants an immediate EU embargo on Russian energy. Absent that, others have suggested additional taxes or levies that could be used to build up a reconstruction fund for Ukraine. EU nations like Poland and Estonia have proposed similar ideas.
Riabchyn said he hoped the Poland-Bulgaria gas freeze would accelerate Europe's slow pivot away from Russian energy.
"It helps to convince the EU to cut the gas import as soon as possible. And this definitely will help us to end this war soon," he said.
"It's nonsense when the West puts such huge sanctions on Russia but still finances its war machine, and even—according to different sources—increases the amount of money that goes to the Russian budget from its energy.
"All of these conversations about when we should do the final cut-off are not helping Ukraine to defend itself," Riabchyn continued, adding that the EU should invest more in its green energy transition and even look to Ukraine's vast natural gas reserves as alternatives.
"More sanctions will happen. But it should not be Russia's or Putin's decision to show how strong he is by stopping gas supply to Poland and Bulgaria, or maybe to Germany and other countries.
"It should be a European decision to show unity and strong leadership that will send a very strong signal to Putin."
Putin, Riabchyn said, cannot be trusted as a reliable trade partner. "He thinks that the West is very weak and that they will never become independent from Russian gas," he said.
"He sits in his bunker and he understands that he messed up. Now he is left with few options. He will either win and present a victory to the Russian population, his general, his elite, or he will lose everything. He will go as far as possible."
Newsweek has contacted the Russian Foreign Ministry to request comment.
4/29/22 4:20 a.m. ET: This article has been updated to include comment from Ivan Krastev.