An adviser to Ukrainian President Volodymyr Zelensky has scolded the European Union for its continued failure to adopt bans on Russian fossil fuels, arguing that ongoing purchases of Moscow's oil, natural gas, and coal make Kyiv's European partners complicit in alleged Russian war crimes.
Oleg Ustenko, an economic adviser to the president, told Newsweek on Thursday that Kyiv is "extremely disappointed" in the EU's fifth package of Russia sanctions, which are pending the approval of EU ambassadors.
The measures will not include an EU embargo on Russian fossil fuel imports—which currently earn President Vladimir Putin hundreds of millions of dollars each day—despite the repeated urging of Zelensky and his top officials.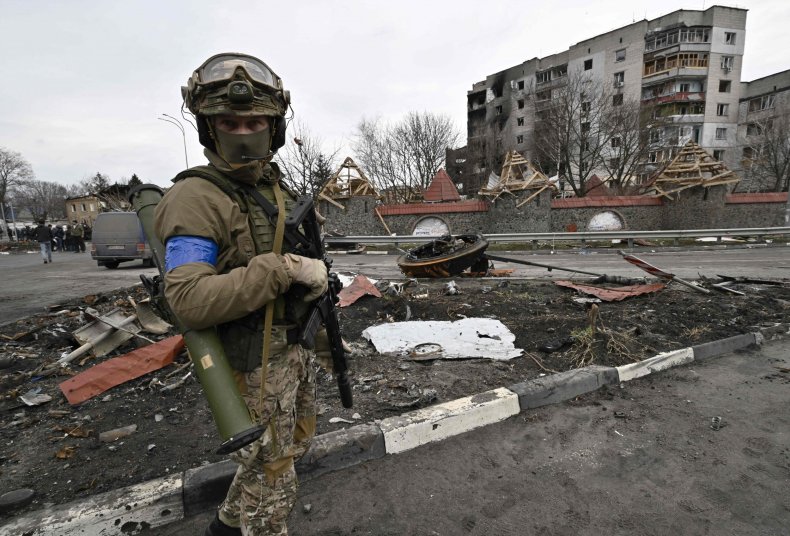 European hesitance—led by Germany, along with nations including the Netherlands and Hungary—is intolerable for Kyiv, Ustenko said.
"For us, it's completely unacceptable, impossible that Europe, which on one hand is helping us, is on the other hand sending this bloody money to Putin," Ustenko said.
Before the invasion began on February 24, Ustenko said, Russia was receiving some $700 million per day in oil exports. Rising prices mean that number is now around $1 billion each day.
"You can imagine how many missiles and how many weapons they can buy out of these receipts," Ustenko said.
European leaders have excoriated Russia for its invasion of Ukraine and the devastation and death that its forces have wrought around the country. Russian troops have been driven from positions near Kyiv and Chernihiv, and are now believed to be regrouping for a new offensive in the eastern Donbas region.
Russian troops left behind evidence of possible war crimes when they withdrew from areas near the capital including Bucha, Irpin, and Hostomel. Ukrainian and international authorities are investigating a raft of possible abuses, including the torture, rape, and summary execution of local civilians. Russia denies any wrongdoing.
Mass civilian casualties are anticipated in other settlements across the Russian axes of invasion, not least in besieged and brutalized Mariupol where the mayor said this week that some 130,000 people remain trapped.
"The logic of the president is very clear. We are in a state of war. Russia is an aggressor," Ustenko told Newsweek.
"After Bucha, the whole world already knows that they are committing war crimes against us. Women killed. children killed, civilians, all these horrible things which we already saw from Bucha and from other places which are still not publicly available.
"We do believe that whoever is buying oil from Russia is financing war crimes. Meaning for us, whoever is financing war crimes is a war criminal.
"It's unbelievable that somebody still can discuss the issue of how bad it's going to be for the economy, when our people are killed and our people are tortured by the Russian army and Putin's Russia."
European Commission President Ursula von der Leyen said this week that Russia's "cruel and ruthless war" necessitates "utmost pressure on Putin and the Russian government at this critical point."
But EU leaders have been unable to agree on action on fossil fuels, maintaining a key financial lifeline for the Kremlin.
Even Russian coal—considered a lesser hurdle than oil and gas—will escape a ban until mid-August, according to Reuters, following discussions in Brussels this week. Calls for an immediate ban were defeated, reportedly thanks largely to German efforts.
Berlin has repeatedly dismissed demands for immediate action on oil and natural gas. Chancellor Olaf Scholz told the German parliament on Wednesday that the country "will reorganize the import structures for coal, oil, and gas in such a way that we will no longer be dependent on Russian imports in the long run."
Though the changes would be made with "unprecedented speed," the chancellor said Germany's dependence on Russian energy imports "cannot be changed from one day to the next." Scholz has previously warned that an immediate ban could plunge the country into recession at the cost of hundreds of thousands of jobs.
Kyiv has little patience for German and EU hedging.
"We were expecting that this ban was going to be introduced many days ago," Ustenko said of the proposed sanctions on Russian oil.
"I wouldn't say that there is no consensus in Europe. Our belief is that Europe as a whole is already prepared, even was prepared, to do that. But we see huge barriers coming from the German side.
"We do not accept any arguments coming from the side of Germany, when Germany says that we are not able to stop buying Russian oil. In the EU and specifically in Germany, they are trying all different games, this is how we see the situation from Kyiv."
Newsweek has contacted the German foreign ministry to request comment on Ustenko's remarks.
The Hungarian government, too, is vexing Ukraine. Prime Minister Viktor Orban celebrated an election victory this weekend and took the opportunity to attack his "opponents" in Brussels and Kyiv.
Orban has said Budapest will block any EU energy sanctions and has said he is willing to pay for natural gas in rubles, per Putin's demands that have so far been rejected by fellow EU states.
"President Zelensky already several times made it clear that we are extremely unhappy with the behavior of Hungary, extremely unhappy," Ustenko said.
"It's not just about our security—of course for us it's the number one issue—but it's also about the unity in the EU. And it sounds like within the EU, they have countries which are playing on the side of the non-civilized world."
Newsweek has contacted the Hungarian foreign ministry for comment.
Ustenko acknowledged that an oil ban would come with economic costs, though argued this could prove beneficial in the long term. Ustenko predicted a correction in the market as more oil producers work to fill the gap left by Russian exports.
Reducing Moscow's market influence would also help create a more predictable, stable international environment, he said, plus give fresh impetus to the EU's green energy agenda.
Ukraine remains in peril, despite key battlefield successes. The war looks set to drag on, and a Russian victory in the east could yet reverse the momentum in Moscow's favor. Ukrainian officials have urged the West not to let up on Moscow now.
"We've already explained what we want, we've given this message to Europe, and we do believe that everything should be done immediately. We don't have time to wait," Ustenko said.
"For us, it's not the question of wanting to destroy the Russian economy. For us, it's a question of cutting them off from this bloody money in order not to give them the possibility of buying weapons and killing our people," Ustenko said.