The chilling images emerging from previously Russian-held territory to the north of Kyiv are helping drive the European Union's latest sanctions package on Moscow, though the bloc is yet to agree to a ban on Russian oil and gas imports despite growing pressure.
EU ambassadors were on Wednesday considering the union's fifth package of measures on Russia since its invasion began on February 24. The sanctions will include a ban on Russian coal imports and will stop all Russian and Russian-operated vessels from accessing EU ports.
The measures were previewed by European Commission President Ursula von der Leyen on Tuesday.
Von der Leyen noted the growing evidence of Russian war crimes, detailed in photos, videos, and satellite images of apparent torture and summary executions of civilians in towns around Kyiv that were occupied by Russian troops.
The abuses were uncovered after Russian forces were pushed out of the Kyiv region by Ukrainian counterattacks over the past week. Russia denies committing the alleged atrocities.
"We all saw the gruesome pictures from Bucha and other areas from which Russian troops have recently left," von der Leyen said.
"Russia is waging a cruel and ruthless war, not only against Ukraine's brave troops, but also against its civilian population. It is important to sustain utmost pressure on Putin and the Russian government at this critical point."
One Estonian diplomatic official, who did not wish to be named, told Newsweek that the massacres around the capital were helping move the needle on EU sanctions.
"Bucha has been quite a trigger to get things moving," the official said. "I suppose it will push big countries also to go for more sanctions...Bucha pictures really hit that nerve and put pressure on governments."
A Latvian diplomatic official, who also did not wish to be named, concurred. "I do think it has helped move the momentum even further," the official told Newsweek of the scenes emerging from Bucha and other areas.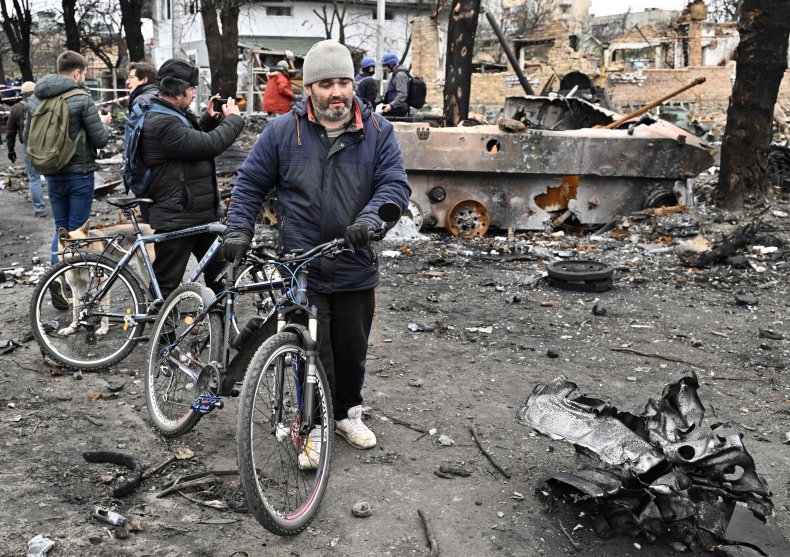 The measures expected to be approved on Wednesday will end $4.3 billion worth of EU coal imports from Russia. The package will include a full transaction ban on four Russian banks, representing 23 percent of the country's banking center.
Export bans worth almost $11 billion will target advanced Russian technology, including quantum computers, advanced semiconductors, and sensitive machinery and transportation equipment. Import bans worth some $6 billion will also be introduced, as will bans on certain Russian companies from public procurement in EU states.
The new ban on Russian shipping and road transport will have exemptions for what von der Leyen called "essentials." These will include agricultural and food products, humanitarian aid, and energy.
The bloc's continued refusal to ban Russian oil and gas imports—led by dissenters in Germany and the Netherlands—is a particular grievance for Kyiv and the union's eastern members. Though all EU member states have committed to reducing dependence on Russian fossil fuels as fast as possible, some believe the Germans and their allies are not doing so fast enough.
Ukraine's Foreign Minister Dmytro Kuleba wrote on Twitter on Wednesday that while the fifth sanctions package is welcome, "it will take a gas/oil embargo and de-SWIFTing of all Russian banks to stop Putin. Difficult times require difficult decisions."
German Chancellor Olaf Scholz faced questions from parliament on Wednesday. Scholz said Germany "will reorganize the import structures for coal, oil, and gas in such a way that we will no longer be dependent on Russian imports in the long run."
These changes, he said, would be made with "unprecedented speed." The chancellor suggested that an immediate gas ban is not realistic. "Dependencies have grown over decades and cannot be changed from one day to the next," he said.
Of the newest sanctions, Scholz said expanded measures should help make sure that "Russia feels the consequences of this war. It must remain our goal that Russia does not win this war."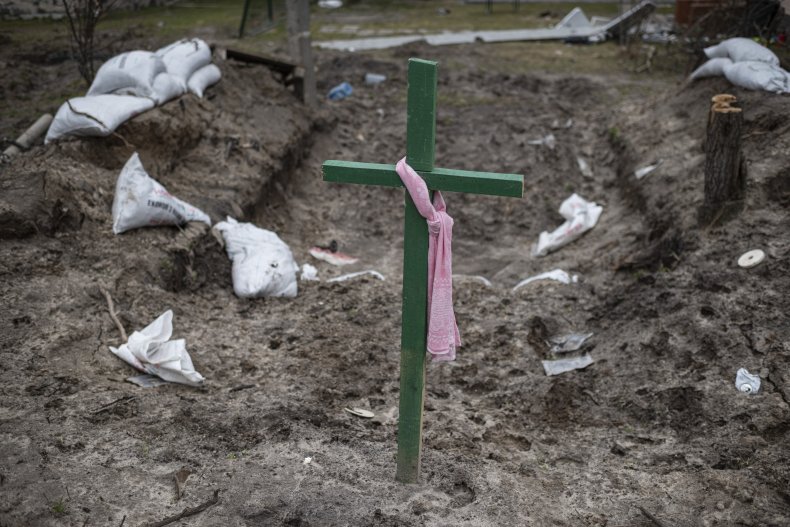 Pressure is growing on the bloc's largest consumers of Russian oil and gas to shoulder the economic pain and cut remaining ties with Moscow.
The Baltic states in the east—Poland, Latvia, Lithuania, and Estonia—have long warned their EU and NATO allies of the Russian threat. They are now leading the charge for harsher sanctions.
Lithuania's Foreign Minister Gabrielius Landsbergis told Germany's Deutsche Welle on Wednesday that EU purchases of Russian exports are "paying salaries to the soldiers who are committing those massacres in cities like Bucha."
Latvian Foreign Minister Edgars Rinkevics said this weekend that the Russian abuses "must be met with new sanctions & increased military assistance to Ukraine. Latvia will continue insisting on full EU energy sanctions against Russia & port closures."
EU foreign policy chief Josep Borrell, meanwhile, suggested that the EU's continued business with Russia is undermining its unprecedented support for Ukraine, of which EU leaders have been proud.
"We have given Ukraine €1 billion [$1.1 billion]," Borrell told the European Parliament. "It might seem a lot, but €1 billion is what we pay Putin every day for the energy he provides us.
"Since the beginning of the war, we have given him €35 billion [$38 billion], compared to the €1 billion we have given Ukraine in arms and weapons...That's, obviously, a source of income that's used to finance the war."
Ukrainian authorities have warned that the horrors of Bucha will likely be replicated elsewhere. Fierce fighting continues in the south and east of the country, ahead of an expected renewed Russian offensive in the Donbas region.
Mariupol on the southeastern coast, for example, remains besieged by Russian troops.
Civilian casualties there are expected to be high. There have been many reports of war crimes in the area, including Russians intentionally killing civilians and forcibly transporting Ukrainians into Russia.
International public anger may grow as more abuses are uncovered. "I can't see how much longer the German government can keep on taking things slow when the public in Germany will demand more action," the Estonian diplomatic official told Newsweek.
But deep EU divisions remain. The Hungarian government led by Prime Minister Viktor Orban—fresh off a landslide election victory—has signaled it will remain a problem for those pushing for a full ban on Russian energy, and for those in Brussels who hoped an opposition victory might end the bloc's long-running feud with Orban.
In declaring victory this weekend, Orban described Ukrainian President Volodymyr Zelensky and his backers in Brussels as Budapest's "opponents." Zelensky said on Tuesday that it was now time for Orban to choose between Moscow and the West.
Foreign Minister Peter Szijjarto summoned the Ukrainian ambassador on Wednesday over what he described as Zelensky's "unacceptable" remarks.
"We condemn military aggression, we stand for the sovereignty of Ukraine," Szijjarto wrote in a Facebook post. "At the same time, of course, the safety of Hungary and the Hungarian people is most important for us. This is not our war."
Orban has so far refused to commit to an EU ban on Russian fuel and refused to send weapons to Ukraine, or even let arms sent by other nations transit the country. Orban even said Budapest would pay for Russian gas in rubles, a demand made by President Vladimir Putin in an effort to prop up Russia's struggling currency. Other EU leaders have so far refused Putin's demand.