Peter Marki-Zay, the Hungarian opposition leader hoping to take down Prime Minister Viktor Orban in the coming April election, believes his victory can bring new life to his country and remove the thorns complicating Budapest's ties with its Western allies.
Speaking to Newsweek this month while campaigning in northwestern Hungary, Marki-Zay said a win for the opposition would send a message to autocratic leaders in Russia and China that Budapest will not serve as their door into the heart of Europe.
"We are of course standing with our European and North Atlantic allies, the European Union and NATO," Marki-Zay told Newsweek days before Russian troops streamed into Ukraine's occupied eastern Donbas region. More than 100,000 others remain deployed along Ukraine's borders threatening a wider invasion of Hungary's eastern neighbor.
Orban outraged Hungary's opposition at the start of February when he traveled to Moscow to meet President Vladimir Putin, even as the EU and NATO rushed to agree a response to Russia's latest round of aggression against Ukraine.
"We already expressed that he shouldn't go, and if he does go, then he shouldn't come back," Marki-Zay said of Orban's visit. "We believe that Russia is the aggressor in this Russian-Ukrainian conflict, and we should stand with Ukraine's territorial integrity."
Putin dragged Hungary into the Ukraine crisis with his demand that the NATO alliance pull out of states that joined after 1997, i.e. the central and eastern European nations that were once part of the Soviet Union and its Warsaw Pact alliance.
Orban said this week that Budapest would be part of the EU's joint response to Russia's de facto occupation of the self-declared separatist republics in eastern Ukraine.
But the prime minister's chummy visit to Moscow in February concerned his allies, as did comments sympathizing with Russian demands. "Russia's needs are known to the whole world, and it is clear that the response to them does not meet them," Orban said.
Foreign Minister Peter Szijjarto later said Hungary would accept no new NATO troops, as the alliance looked to bolster its eastern flank in the face of Russian aggression. "We don't need additional troops on the territory of Hungary," he said.
Marki-Zay said Orban's response has been unacceptable.
"We are outraged that Orban didn't protest when Putin raised the issue of Hungary exiting NATO," he said. "He should have protested loudly and vehemently against such proposals. That one is really outrageous."
He accused Orban of "making decisions based on Chinese and Russian interests, and not Hungarian interests."
Marki-Zay, currently serving as the mayor of his hometown of Hodmezovasarhely, carries the ambitions of six opposition parties on his shoulders, all hoping that the next election will mark the end of almost 11 years of Orban governments.
If he does win, Marki-Zay will need to handle a dispute over the language rights of Ukraine's Hungarian minority, which erupted in 2017 after Ukraine's parliament overturned legislation allowing minorities to introduce their languages in regions where they represent more than 10 percent of the population.
The disagreement is hindering Ukraine's EU and NATO integration efforts.
Natalia Galibarenko, Ukraine's ambassador to NATO, told Newsweek earlier this month that Budapest "is blocking political dialogues here in the NATO headquarters...It's a real blow to Ukraine, especially as we are now witnessing the danger coming from the Russian Federation."
"Unfortunately there is no progress on that," Galibarenko said. "Hungary will proceed with blocking Ukraine's Euro-Atlantic integration."
Marki-Zay committed to addressing the impasse outside of NATO and EU forums. "Of course, we also support the Hungarian minorities' rights to their use of their language or any other human and minority rights," he said.
"This doesn't prevent us from supporting Ukraine's Western integration and Ukraine's territorial integrity...I think if we have a peaceful, brotherly, friendly cooperation with Ukraine, we can sort out any outstanding issues for the Hungarian minority in Ukraine much easier and much faster.
"I did meet with the Ukrainian ambassador—he speaks Hungarian, by the way—in Budapest. And I reassured Ukraine and the Ukrainian people of our support. We will do everything in our capacity to support their efforts."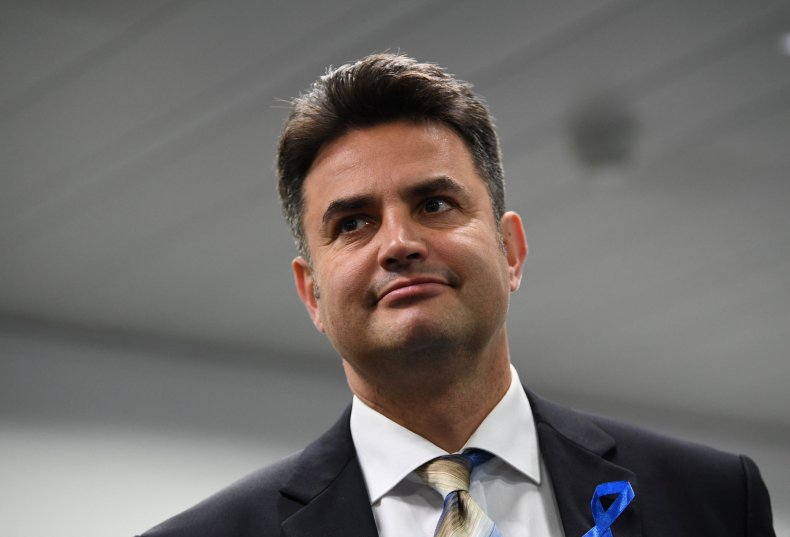 The combined opposition is currently behind Orban and his Fidesz party in the polls, though only slightly. One February 16 survey put Orban and Fidesz on 49 percent versus the combined opposition's 45 percent.
The opposition believes it can overcome the gap by appealing to Fidesz-leaning voters tired of Orban. "According to our polls, there are more people supporting a change in the government than those who want Orban to stay," Marki-Zay said.
"However, it's true that the turnout is likely to be higher among the Fidesz supporters than in the opposition. So now we are working on changing that tendency."
Their campaign has been hindered by Orban's allies who dominate the Hungarian media landscape. According to the London School of Economics, it is estimated that as much as 90 percent of Hungary's media is either directly or indirectly controlled by state bodies and Orban allies.
"I am the opposition candidate and I have not been invited to speak on television once," Marki-Zay said. "There's absolutely no media freedom, freedom of the press in Hungary, including public media, which we finance from our taxpayers' money."
Social media is one area where the opposition can break through, though Marki-Zay said they are still outspent 10-to-one by Fidesz in this arena. "Our message has to be very precise, very pointed," he said. "We have to break through bubbles to get our messages to people who normally would not follow us."
The opposition is now trying to force Orban into a televised debate, framing his apparent reluctance as cowardice. "We are now focusing on telling people that Orban is lying to them, and Orban is not willing to come to a public debate," Marki-Zay said.
"This public debate is one thing that resonates even for Fidesz voters. They are ashamed that their leader is not open to a public debate with the opposition's primary candidate."
Marki-Zay accused his Fidesz opponents of "ridiculous, sometimes outrageous, lies and false allegations, smear campaigns." Such tactics are particularly effective in Fidesz's rural heartlands, he said, but can even touch opposition supporters.
"They start to fear us shutting down hospitals, for example, which only Fidesz has been doing over the last 12 years," Marki-Zay said.
"We of course have no such intentions. And yet, even our supporters are scared now because they heard it on television on the news. We're pointing out that Fidesz is spreading lies and people should not believe it, they should believe their eyes."
Orban's office did not respond to Newsweek's request for comment on opposition allegations of smear campaigns, or request for comment on Orban's refusal so far to agree to a televised debate with Marki-Zay.
It is Orban—for supporters the prime crusader for traditional Christian values, and for opponents an autocratic Trojan Horse in the heart of Europe—that Marki-Zay believes will be the most motivating issue for voters.
"The whole election should be a referendum on Orban," he said. "If we cannot get rid of him, there will be no bright future for Hungary."
Marki-Zay continued: "I talked about the media power, about the lies and fake news campaign, but also...there is a structure from gerrymandering, to electoral law, to influencing public workers—blackmailing them with their jobs, their salary—even buying votes, using Hungarians living outside of Hungary.
"This election is not about sex change operations performed on kindergarteners without the consent of their parents—which Orban alleges."
The opposition wants to shine a light on Hungary's high rate of COVID deaths through 2021, high inflation, high corruption, and the number of Hungarians living at risk of poverty.
Few expect the Hungarian election to be clean. The Organization for Security and Co-operation in Europe (OSCE) said this month that a full-scale team should be sent to Hungary to monitor the polls, an unusual level of scrutiny for an EU member's election.
The OSCE said of the 2018 Hungarian election that "intimidating campaign rhetoric limited space for substantive debate and diminished voters' ability to make an informed choice." The government's campaign, the body said, had "significantly compromised" the fairness of the election.
"I totally agree with them," Marki-Zay said of the OSCE. "And I'm very happy to see that they are as concerned as we are."
Marki-Zay and the combined opposition expect deceit but say their recourse is limited. "Fidesz is prepared for all kinds of electoral fraud, fake news, propaganda, and everything else," Marki-Zay said.
Any post-election challenge of the results, even if based on legitimate irregularities, would be "rather hopeless, at least in this system," he said. "If you are against Fidesz you have practically no chance of winning in any Hungarian court."
"No outside force can change Orban's system, Orban's elaborate one-party state or electoral laws," Marki-Zay said. "We cannot change that because we don't have the power. We can either accept it or start a revolution to change it."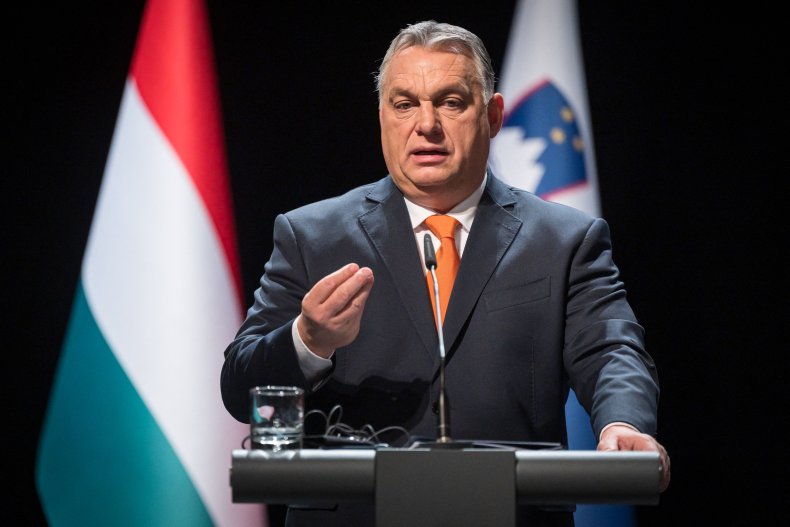 "We are still pursuing peaceful ways of regime change. It's not just an election. It's not just a government change. It's regime change. It will have to have very wide consequences, for sure. We have to restore democracy, rule of law and media freedom as well."
American conservatives have fawned over Orban, captivated by his tough line against immigration—which included a controversial border fence—and his ferocity in culture wars, particularly against the LGBTQ community and other minority groups.
Fox News host Tucker Carlson—who presents America's most-watched cable news show—recently traveled to Budapest to interview Orban, lauding his government's work and framing him as an example to the American right.
Former President Donald Trump endorsed Orban earlier this year, writing in a statement: "He has done a powerful and wonderful job in protecting Hungary, stopping illegal immigration, creating jobs, trade, and should be allowed to continue to do so in the upcoming election. He is a strong leader and is respected by all."
There are even reports that Trump might visit Hungary before the election to boost Orban's campaign, perhaps as part of the Conservative Political Action Conference (CPAC), which will be held in Budapest in March.
Marki-Zay said he is not worried about the impact of the American right: "I'm not particularly concerned about that, to be honest with you. Orban is concerned about Western interference. I'm much more concerned about Eastern interference.
"The fact that Tucker Carlson loves the Chinese and Putin puppet Orban—who interestingly is absolutely pro-choice, who started his political career in the Communist Party and was a very proud liberal, even the vice president of the Liberal International—it's their own business.
"I don't think many Hungarians care about this either. Even their supporters, they might be very proud that the former American president is Orban's friend, but I don't think it convinces any undecided voters to support Orban. Trump is not particularly popular in Hungary."
Influence from the east is more worrying for the opposition. Orban has already agreed a cheap gas deal with Russia, shoring up the agreement earlier this month in Moscow to the fury of Ukraine and Budapest's NATO partners.
Chinese investment, too, is pouring into Hungary, partially via Beijing's mammoth Belt and Road Initiative. Hungary received more than $4 billion in Chinese investment last year, per the Center for European Policy Analysis, and Beijing is the country's third-largest source of imports, accounting for 6.1 percent.
Orban's nascent friendship with Beijing has not been all smooth sailing. The prime minister faced criticism for breaking EU ranks on China's human rights abuses in Hong Kong, and for censoring sensitive information about a taxpayer-funded Chinese university in Budapest.
Opponents have also attacked Orban for the Chinese BRI railway running from Serbia's Belgrade to Budapest. The $3 billion project has landed Serbia and Hungary with massive debt, but its route avoids every major Hungarian city after Budapest.
"The Chinese only provided the loan, but Orban didn't have a say in defining the route," Marki-Zay said.
Orban's office did not respond to Newsweek's request for comment on the railway line.
Marki-Zay thinks Orban's China posture might cost him among voters: "Those who have ears and eyes and can see this are probably ashamed, just the way I am."
The Hungarian opposition is steeling itself for the final months of campaigning, stressing the message that Orban is the country's biggest obstacle to progress.
"We think that the opposition voters are already convinced, and even undecided voters are convinced Fidesz is extremely corrupt," Marki-Zay said.
"Now we have to convince them we will stop not only corruption, but...there would be significant benefits and the country would develop much faster if we defeated Orban."
Perhaps to the disappointment of Western liberals, Marki-Zay is not promising a pivot away from Orban's anti-immigration stance.
"There's one thing which was important in the last four years, even in October and November, and that was to convince people that only Orban is bringing in migrants, and you shouldn't be scared of the opposition," he said.
"We will not bring in migrants, we will not give up your country. We will definitely keep the border fence. They can rest assured that there will be no more migrants."
Other populist elements of Fidesz policy will also remain, Marki-Zay said: "Family tax credits, utility bill reduction programs, and such things—we will definitely keep those."
Defeating Orban will be difficult, but so too will holding together such a diverse opposition coalition in the event of victory. That, Marki-Zay said, is a problem to face after the election.
"That's a challenge, and that remains to be seen. I'm optimistic, of course, but it will be difficult no doubt about it."