Who Is Azatbek Omurbekov? Commander Believed To Be Behind Bucha Killings
A Russian commander who headed a unit suspected of committing war crimes in the Ukraine war has been identified by a group that uses open source intelligence to monitor Moscow's forces.
InformNapalm revealed on its Telegram account the email address, phone number and home address of Lieutenant Colonel Azatbek Omurbekov of the 64th Separate Motorized Rifle Brigade which occupied Bucha, the city 15 miles outside of Kyiv where Russian forces are accused of committing atrocities against the civilian population.
Believed to be about 40 years old and dubbed by media outlets "the butcher of Bucha," Omurbekov was awarded for outstanding service in 2014 by Russian deputy defense minister Dmitry Bulgakov.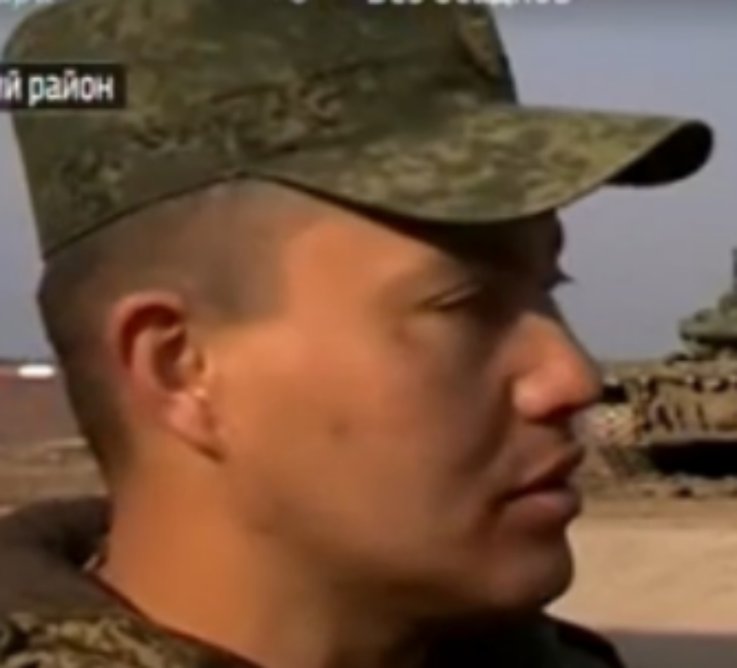 A screen grab of Lieutenant Colonel Azatbek Omurbekov was shared on social media by InformNapalm. The Ukrainian volunteer group has said he is behind the killings at Bucha which has shocked the world community.
Twitter
InformNapalm, a Ukrainian volunteer initiative, said it used open-source intelligence to identify Omurbekov, the commander of unit 51460 which is based in a town outside Khabarovsk in the Russian Far East.
It shared images of the senior officer in which he was wearing two stars on his shoulder epaulets, signifying his rank.
Omurbekov was blessed by an Orthodox priest in November 2021 before his deployment to Ukraine, The Times of London reported. The head of the Russian Orthodox Church, Patriarch Kirill, has faced global condemnation for supporting Vladimir Putin's war.
After a service led by the Bishop of Khabarovsk, Omurbekov said: "History shows that we fight most of our battles with our souls," the paper reported.
He said that "weapons are not the most important thing" and that "with the blessing of the Almighty, we hope to achieve the same things that our forebears achieved."
In an interview he gave to a local news outlet in 2017, Omurbekov described military exercises in the Amur region and the difficulties of operating in winter conditions. He said it would take "a month or two" for troops to be able "to act confidently in these conditions."
The Russian defense ministry said that Omurbekov's battalion left Bucha on March 30 and was now in Belarus. But intelligence reports suggested it is preparing to head to Belgorod in western Russia before being redeployed to hotspots such as Kharkiv in Ukraine.
On Monday, Ukrainian President Volodymyr Zelensky was moved to tears when he visited Bucha, where unarmed civilians were allegedly murdered.
Before the United Nations on Tuesday, Zelensky described horrific details of war crimes allegedly committed by Russian troops in the town, saying that civilians had been tortured and women raped.
The scenes of bodies littering Bucha have sparked some Western leaders in joining Zelensky in calling it genocide.
Zelensky said that "the Russian military and those who gave them orders must be brought to justice immediately for war crimes in Ukraine."
Ukrainian Defense Minister Oleksiy Reznikov called the Russian troops in Bucha "utterly inhuman" and compared them to Nazis.
The Kremlin has denied such accusations and has called the images from Bucha fake, suggesting the scenes were staged by the Ukrainians. Russia has said it will present "empirical evidence" that its forces are not behind the killings in the town.
Newsweek has contacted the Russian defense ministry for comment.