Russian Brutality Worse Than Nazi Occupation in Ukraine, Zelensky Says
Ukrainian President Volodymyr Zelensky said Russia's recent atrocities have in some ways been worse than the violence that occurred when Nazis occupied the country during World War II.
This weekend, Ukrainian officials accused Russia of committing brutal war crimes near the nation's capital, Kyiv, when they withdrew troops from the region. Zelensky said more than 300 people were tortured and massacred in Bucha alone, a town located northwest of the capital, where graphic images have emerged showing mass graves and corpses with their hands tied behind their backs. Today marks the 41st day of Russia's war in Ukraine.
"The bodies of killed people, killed Ukrainians have already been taken from most streets. But in the yards, in the houses, the dead still remain," Zelensky said in a Tuesday address to the nation. "The cities are simply ruined. Burnt military equipment on the roads, destroyed cars. It is especially hard to look at the traces of bullets on cars with the inscription 'children.'"
"In many villages of the liberated districts of the Kyiv, Chernihiv and Sumy regions, the occupiers did things that the locals had not seen even during the Nazi occupation 80 years ago," he added.
However, officials said that while hundreds of victims were already discovered in Bucha, there is evidence to suggest that other areas will have higher death tolls. In the town of Borodyanka, located 15 miles west of Bucha, the atrocities may have been even more gruesome, Ukraine's prosecutor general, Iryna Venediktova, said Monday.
"We can speak of Kyiv region because yesterday we got access to these territories and are currently working in Irpin, Bucha, Vorzel," Venediktova said, according to The Guardian. "In fact, the worst situation with civilian victims is in Borodyanka. I think we will speak of Borodyanka separately."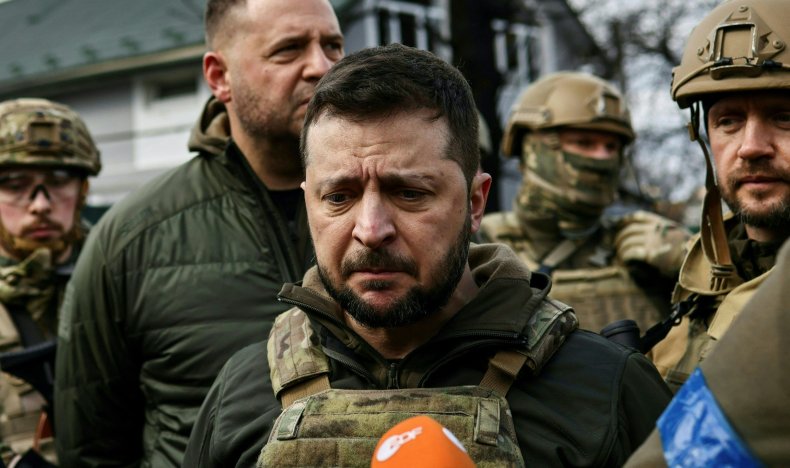 Ukrainian officials said that during Russia's rampage, some civilians were shot in the head at close range, and women were raped before they were killed. In one instance, the government said they found a torture chamber in Bucha where at least five men were found dead with their hands bound.
The atrocities have sparked international outrage, with President Joe Biden and several other world leaders labeling Russian President Vladimir Putin a "war criminal." Eugene Finkel, a Holocaust expert, told Newsweek that Russia's actions were akin to genocide, a term Zelensky has used to describe the carnage.
"I am actually a firm believer that we are dealing with a genocide," Finkel said. "For me as an external but well informed observer, the tipping point was yesterday morning," he sai in reference to the killings in Bucha.
The White House, however, stopped short of labeling the crimes "genocide," stating that it did not rise to a "level of systematic deprivation of life of the Ukrainian people." Instead, Biden's administration said Russia's actions were "outrageous war crimes" and that Putin must be held accountable.
"We have to continue to provide Ukraine with the weapons they need to continue the fight, and we have to get all the detail so this can be an actual...wartime trial," the president said.
Russia has denied the accusations and said that footage of dead bodies was a "staged performance" by Ukraine, a claim that Newsweek has fact-checked to be false.