Russia Soldiers Executed, Raped Ukraine Civilians: Human Rights Watch
Russian soldiers have carried out grave war crimes against civilians, including rape and executions in areas they controlled, according to a human rights advocacy organization.
Human Rights Watch (HRW) alleged it has documented numerous cases of Russian soldiers committing war crimes against Ukrainian civilians in the occupied areas of Chernihiv, Kharkiv and Kyiv.
In an April 3 report, the HRW said it had found a case of "repeated rape," two cases of "summary execution"—one of six men and the other of one man—and unlawful violence and threats against civilians between February 27 and March 14.
The group also claimed Russian soldiers had also looted civilian property, including food, clothes, and firewood.
HRW said it learned of the war crimes after interviewing 10 people, including witnesses and residents in Russian-occupied areas of Ukraine.
One woman told HRW a Russian soldier repeatedly raped her in a school in the Kharkiv region where she had been sheltering. She alleged he also beat her and cut her face, neck, and hair with a knife before she was able to flee and get medical treatment.
HRW said it examined photographs of the woman's facial injuries.
A 60-year-old man told the organization that Russian soldiers threw a smoke grenade into a basement in the village of Vorzel, north of Kyiv, then shot a woman and a 14-year-old child as they emerged into the open.
Another man who was in the same basement said the woman died of her injuries two days later while the child died instantly.
Hugh Williamson, Europe and Central Asia director at HRW, said: "The cases we documented amount to unspeakable, deliberate cruelty and violence against Ukrainian civilians.
"Rape, murder, and other violent acts against people in the Russian forces' custody should be investigated as war crimes."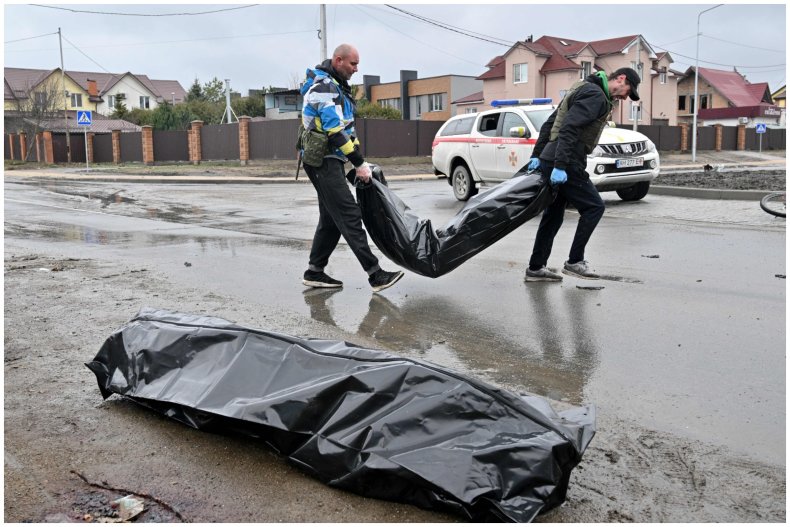 Newsweek has contacted the Ministry of Foreign Affairs of the Russian Federation for comment.
Russian forces have withdrawn from Kyiv and its neighboring areas in order to consolidate its efforts in the east of Ukraine, parts of which have been controlled by Kremlin-backed separatists since 2014.
Ukrainian President Volodymyr Zelensky said in a video address on Saturday morning that Russian troops had placed mines near the bodies of the dead as they retreated.
He added: "They are mining the whole territory. They are mining homes, mining equipment, even the bodies of people who were killed. There are a lot of tripwires, a lot of other dangers."
Zelensky's claims have not been independently verified.
Ukrainian forces have since moved to reassert control around Kyiv and have liberated several areas after Russian troops left.