Vladimir Putin Guilty of Genocide in Ukraine: Kyiv Mayor Vitali Klitschko
Kyiv Mayor Vitali Klitschko accused Russian President Vladimir Putin of "genocide" after numerous bodies of civilians were discovered in the now-liberated city of Bucha, just northwest of Kyiv.
Klitschko described the killings in Kyiv and Bucha as a war crime and held Putin personally responsible for what happened.
He told German newspaper BILD on April 3: "What happened in Bucha and other suburbs of Kyiv can only be described as genocide. These are cruel war games that Putin is responsible for there. Civilians shot with their hands bandaged."
Journalists were shown dead bodies in civilian clothes with their arms bound in the city, north of the capital, on Sunday, according to Reuters.
The news agency reported one body had its hands bound by white cloth and had been shot in the mouth.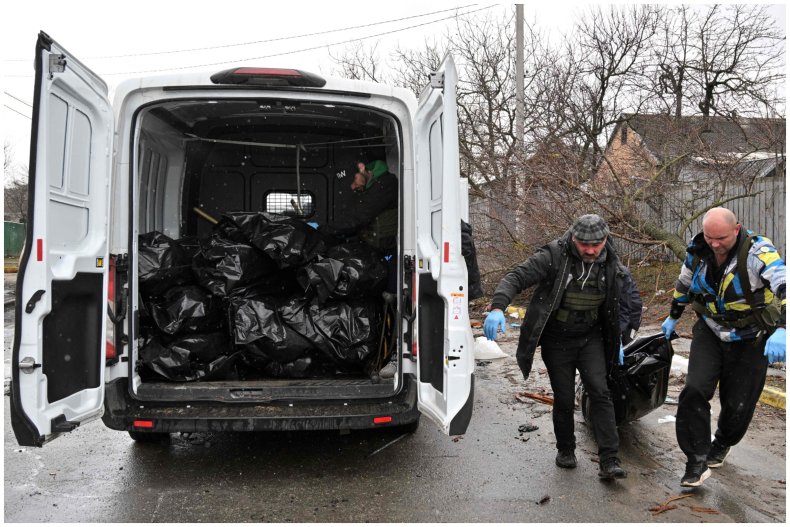 Bucha Mayor Anatoliy Fedoruk said Chechen fighters, from a region in southern Russia, had occupied the city before it was liberated.
He told Reuters: "Any war has some rules of engagement for civilians. The Russians have demonstrated that they were consciously killing civilians."
The news agency was not able to confirm Fedoruk's allegations leveled at the Russian soldiers.
Reports of civilians being massacred drew condemnation from members of Congress, who called for further sanctions.
Rep. Peter Meijer, a Michigan Republican, said on Twitter: "War crimes. We cannot turn away from this horror. We cannot let those who perpetrated such unspeakable violence against civilians escape justice."
Rep. Ted Lieu (D-CA) tweeted that Russian forces had "committed depraved war crimes knowing Ukrainians and the world would see the images."
Similar accounts of war crimes allegedly committed by Russian soldiers were shared on Twitter by the Ministry of Defense of Ukraine on Saturday.
The graphic post read: "Dead civilians are seen near a highway 20 km [12.4 miles] outside of Kyiv. Under the blanket are four to five dead naked woman whom the [Russian] barbarians tried to burn right there on the side of the road."
The post included an image taken by photojournalist Mikhail Palinchak that showed a blanket covering something by the side of the road.
Klitschko later told BILD: "Putin has changed his strategy for the time being because he was unable to take Kyiv, our resistance is too strong for that.
"Now the Russian army is trying to continue first in the east. But the danger for Kyiv remains because it was and is Putin's goal to conquer the capital.
"He has now postponed this goal for tactical reasons. We urgently need further support from the West to be able to defend ourselves."
Newsweek has contacted the Ministry of Foreign Affairs of the Russian Federation for comment.
Russian forces have pulled away from Kyiv and areas surrounding the capital. After failing to capture Kyiv, Russian troops have redeployed to the east of Kharkiv.
The war, which Russia continues to call a "special military operation," has led to a refugee crisis with millions of Ukrainians fleeing the country.
More than 4 million Ukrainian residents have fled the country into neighboring countries in Europe.