Bucha: U.S. Congress Reacts to Russia's Alleged Ukraine Massacre
U.S. lawmakers have accused Russia of war crimes after reports that Russian forces massacred civilians in the Ukrainian town of Bucha.
Ukraine's defense ministry alleged that civilians in Bucha, northwest of Kyiv, were "executed arbitrarily" while it was occupied by Russian troops for several weeks.
Some were killed with their hands tied behind their backs and their bodies were left scattered in the streets, the ministry claimed.
The ministry described Bucha as the "new Srebrenica," referencing the town where more than 8,000 Muslim men and boys were massacred in July 1995 during the Bosnian War.
As Ukrainian forces regained control of territory near the capital of Kyiv, photos and videos have emerged showing the scenes of devastation left behind in Bucha.
Warning: The content of this tweet is disturbing.
Journalists from the AFP news agency reported seeing the bodies of at least 20 men in civilian clothes in a single street on Saturday. Bucha's mayor Anatoly Fedoruk told AFP that they had all been shot in the back of the head by Russian forces.
The town has buried almost 300 people in mass graves, he said.
Journalists with The Associated Press watched Ukrainian soldiers using cables to pull the bodies of civilians off streets in Bucha out of fear that Russian forces may have left them booby-trapped.
Locals told the AP that the dead were civilians who had been killed without provocation by Russian soldiers as they departed.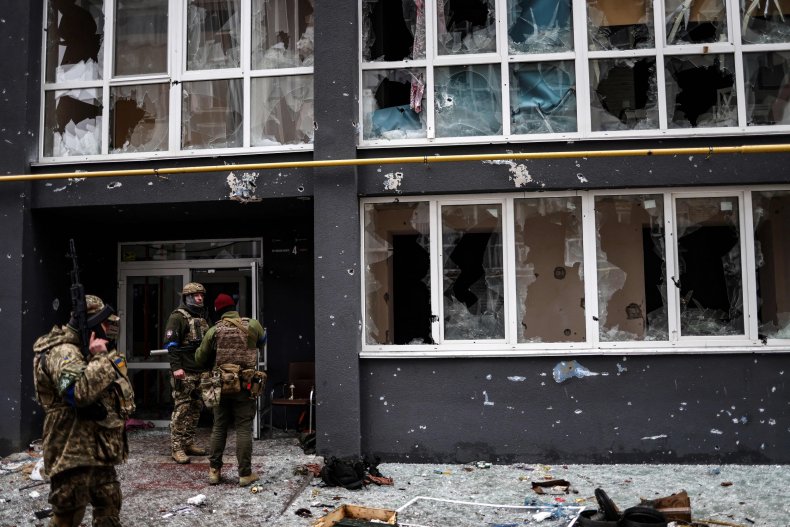 The reports prompted members of Congress to accuse Russia of committing war crimes and call for further sanctions.
"War crimes. We cannot turn away from this horror," Rep. Peter Meijer, a Republican from Michigan, wrote on Twitter. "We cannot let those who perpetrated such unspeakable violence against civilians escape justice."
Rep. Ted Lieu, a Democrat from California, tweeted that Russian forces "committed depraved war crimes knowing Ukrainians and the world would see the images."
Lieu said the U.S. must "respond in the military, economic and diplomatic domains" and should sanction all Russian banks, give Ukraine all of the weapons that have been requested and expel the Russian ambassador.
The Russian embassy has been contacted for comment.
Rep. Bill Pascrell, a Democrat from New Jersey, decried "barbarous atrocities by Russia butchering Ukrainian civilians as part of putin's continuing campaign of murder."
Rep. Dean Phillips, a Democrat from Minnesota, wrote on Twitter: "I will not post photos of the shocking depravity of Vladimir Putin and his pathetic Russian army killing civilians during their embarrassing retreat from Kyiv Oblast, but I will do everything I can to ensure these despicable war criminals feel the full force of Earthly justice."
Sen. Rob Portman, a Republican from Ohio, tweeted: "We need to do more to help Ukraine, and we need to do more quickly. Vladimir Putin and the war machine are firing missiles and artillery into cities in Ukraine and killing innocent civilians - let's provide more surface to air missiles to counter these attacks."