Grisly details continue to emerge from the reported slaughter in Bucha, Ukraine, with the government now claiming the discovery of a "torture chamber" in the area.
The Office of the Ukrainian Attorney General made the claim via its official Telegram account on Monday. In the post, the office stated that prosecutors investigating potential Russian war crimes alongside Kyiv police found the chamber in the basement of a children's sanatorium in Bucha, a suburb northwest of the capital city, with the dead bodies of five men with their hands bound inside.
Ukrainian officials said Sunday that Russian soldiers killed at least 400 Bucha residents as they withdrew from the region, with disturbing photos of the carnage circulating worldwide. During the weeklong occupation of the area, the Ukrainian government claimed that soldiers "executed" residents "arbitrarily." Russia has yet to officially respond to Ukraine's accusations of "genocide," but the defense ministry did share a Telegram post from an account claiming that the massacre was staged anti-Russia propaganda.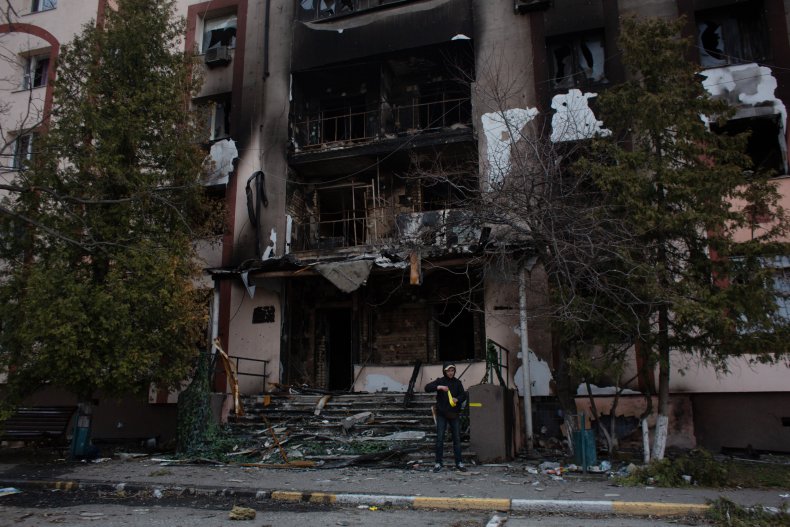 The Telegram post also included a graphic photo taken in the alleged chamber, showing several presumably dead bodies lying on a dirt floor with their faces blurred out. Splotches of red, possibly blood, can be seen around the edges of the floor and the bottom of a nearby wall.
"Prosecutors and police officers are working at the crime scene," an English translation of the post reads. "Every effort is being made to establish the circumstances of each war crime and those involved in the Russian aggression in order to bring them to justice."
This new claim from Bucha has yet to be independently verified by any foreign intelligence operation. Newsweek attempted to reach Russian officials for comment.
Newsweek's fact-checking of claims that the Bucha incident was staged or fake found them to be false. The destruction in the region has been confirmed by Ukrainian officials, dozens of international reporters on the ground, and eyewitnesses, while theories attempting to exonerate Russia have largely been based on faulty evidence, if on any at all.
The United States government has, however, backed away from Ukraine's claim that Russia's actions in Bucha constitute "genocide."
"We have seen atrocities," White House National Security Adviser Jake Sullivan said during a daily press briefing on Monday. "We have seen war crimes. We have not yet seen the level of systematic deprivation of life of the Ukrainian people to rise to the level of genocide."