White House Breaks With Zelensky, Isn't Calling Bucha Killings 'Genocide'
White House national security adviser Jake Sullivan on Monday stopped short of calling the killings in Bucha, Ukraine, a genocide.
Images showing civilian bodies in the streets of Bucha, a suburb of the capital city of Kyiv, have sparked international outrage since this past weekend. Earlier Monday, President Joe Biden called the reports of numerous dead—as many as 300, according to Bucha's mayor—"outrageous" and reiterated his belief that Vladimir Putin is a war criminal.
But the Biden administration is not going so far as to call the Bucha killings genocide, as Ukrainian President Volodymyr Zelensky has described them.
"We have seen atrocities," Sullivan told reporters at the White House's daily press briefing. "We have seen war crimes. We have not yet seen the level of systematic deprivation of life of the Ukrainian people to rise to the level of genocide."
But Sullivan did say that assessment could change as more information is gathered by U.S. officials.
The president "is not gonna hesitate to call a spade a spade, to call it like he sees it, and neither is the U.S. government," Sullivan said. "As the facts develop, could we see ourselves reaching a different conclusion on that question? Of course we could, but it's going to be based on evidence and facts as we gather it along the way."
The Russian invasion of Ukraine began on February 24, and in the five weeks since then, more than 4 million people have fled the country. According to the United Nations, 1,417 civilians have been killed in Ukraine during the conflict.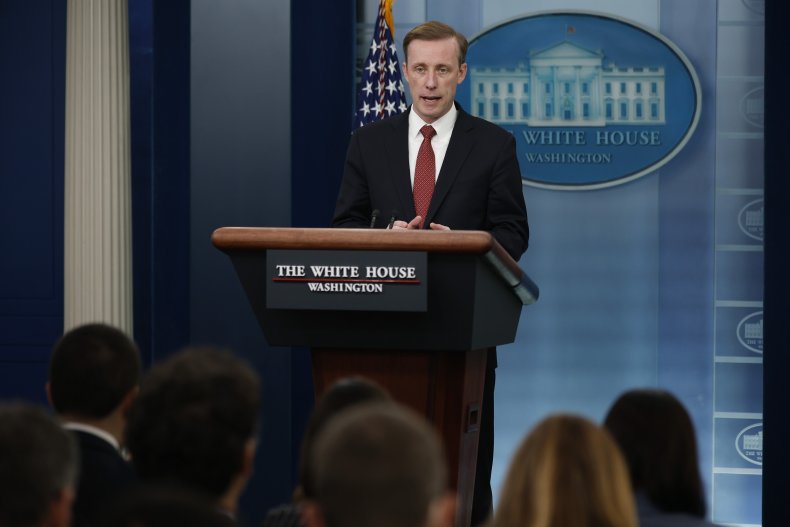 Biden told reporters on Monday that he thinks Putin should be held accountable for his actions, calling for a war crimes trial for the Russian leader. "This guy is brutal," the president said.
European Commission President Ursula von der Leyen announced on Twitter that the European Union will send investigators to Ukraine to help the local prosecutor general "document war crimes."
Biden and Sullivan both said Monday that additional sanctions against Russia were going to come sometime this week. The U.S. and European allies have issued sweeping sanctions against Russia's financial system, its oligarchs and other targets.
On Sunday, Zelensky told Face the Nation that the atrocities in Bucha were "indeed" genocide.
"We are the citizens of Ukraine, and we don't want to be subdued to the policy of [the] Russian Federation," he said. "This is the reason we are being destroyed and exterminated. And this is happening in the Europe of the 21st century."
Newsweek reached out to Ukraine's Ministry of Foreign Affairs for comment on Sullivan's remarks but didn't receive a response before publication.