Boris Johnson's Ukraine Trade Envoy Says Germany 'Not Totally Our Friend'
British Prime Minister Boris Johnson's Trade Envoy to Ukraine, Baroness Meyer, has warned German leaders that they risk being on the wrong side of history by vacillating on support for Ukraine in the ongoing Russian invasion of the country.
Meyer—a Conservative Party member of the U.K.'s House of Lords upper chamber—told an event at London's Palace of Westminster on Monday that Germany's historic pivot to increased defense spending was "dubious" given Berlin's recent hesitation to support tougher European Union sanctions on Moscow and deliver heavy weapons to Kyiv.
German-born Meyer spoke at the launch of a report by the Council on Geostrategy detailing the security situation in the Black Sea, which called on NATO nations to increase engagement with regional allies in the face of Russian aggression and destabilization.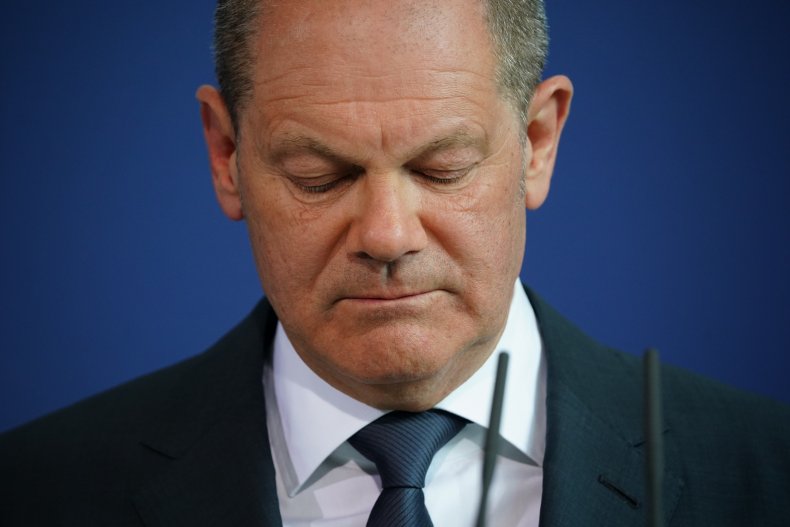 Discussing Germany's hesitance in deeper support of Ukraine, Meyer told attendees: "I think, once again, Germany is probably a little bit on the wrong side of history here."
German Chancellor Olaf Scholz announced an historic increase in defense spending in response to Russia's latest invasion of Ukraine, which began on February 24.
Berlin has also been instrumental in the series of European Union sanctions packages seeking to choke Russia's economy, though has faced criticism for opposing bloc-wide bans on Russian energy imports.
In recent weeks, Scholz has also come under fire for his refusal to provide Ukraine with heavy weapons including tanks. Sending such arms, the chancellor has argued, would pose the unacceptable risk of direct NATO-Russia conflict.
Germany, along with France and Italy, has also been criticized this week after reports suggested firms in both nations had exploited a loophole in an EU arms embargo placed on Russia after its 2014 annexation of Crimea to sell weapons to Moscow.
Scholz's resistance to sending more weapons to help Ukraine makes his pivot to expanding German defense spending "very dubious," Meyer said on Monday.
"On one hand, we've just heard that [they're] selling arms to Russia, and on the other hand they are still buying quite a lot of oil," Meyer said.
"Scholz came out and said we can't really reduce our dependency on Russia because it's going to be an economic disaster.
"It completely contradicts what he said quite recently, which was quite a big statement for Germany, to say that they wanted to increase their defense budget."
Germany has traditionally been a counterweight to more Russo-skeptic nations on Europe's eastern flank. The deep commercial ties between the two nations have long been a source of concern for some of Germany's European and NATO allies, not least the country's reliance on Russian energy imports. This dependence is standing in the way of further sanctions on Moscow.
Russia's continued aggression in Ukraine appeared to have prompted a historic re-evaluation of Berlin's ties with Moscow. In February, Scholz—the leader of the Social Democratic Party—said the invasion began "a new era."
But deep ties with Russia in Germany's political and business elites have stymied what Berlin's allies hoped would be a rapid abandonment of a decades-long policy of rapprochement with Moscow, pursued by leaders from across the national political spectrum.
Scholz has said Germany needs time to wean itself off Russian fossil fuels. An EU ban on coal imports will come into force in August, while Scholz has said he hopes to end natural gas purchases "very soon."
Russian oil imports, the chancellor has said, could be phased out by the end of this year.
But immediate embargoes could prompt a severe recession at the cost of hundreds of thousands of jobs, Scholz has repeatedly warned.
The EU is currently considering its sixth round of sanctions which is expected to include measures on oil imports. Germany is not the only nation hesitating. Hungary, Italy, and the Netherlands are all among the EU nations that have urged caution on fossil fuel bans.
"What bothers me is how long the unity of the West can survive," Meyer said on Monday.
"Cracks are already showing. As Russia raises the tempo of war, the pressure on the West to do more will grow.
"We are at a near point where our level of military support and our policy of not getting into a shooting war with Russia become a distinction without a difference.
"So here are my two big questions: How close to outright war are we prepared to go with Russia? And how much economic pain are we willing to suffer? I think these answers will make or break the Western unity.
"If he succeeds," Meyer said of Russian President Vladimir Putin, "he's on his way to turning all of Europe into a Russian sphere of influence in which NATO is neutral, and the Americans are absent."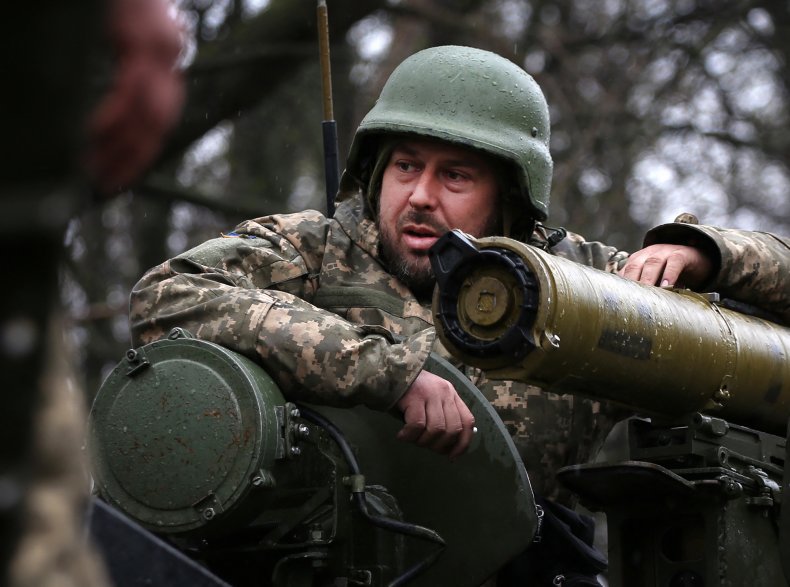 Former Chancellor Angela Merkel and her administrations have been sharply criticized for Germany's failings on Russia. In her 16 years in power, she oversaw controversial joint projects including the two Nord Stream natural gas pipelines—the second of which is now on indefinite hold due to the invasion.
Merkel was also among those who blocked Ukraine from NATO membership in 2008.
President Volodymyr Zelensky said earlier this month: "I invite Ms Merkel and [former French President Nicolas] Sarkozy to visit Bucha and see what the policy of concessions to Russia has led to in 14 years," referring to massacres in the Kyiv suburbs attributed to—but denied by—Russia.
Responding to Zelensky's message, a Merkel spokesperson said the former chancellor "stands by her decisions in relation to the 2008 NATO summit in Bucharest," AFP reported.
The spokesperson added: "In view of the atrocities uncovered in Bucha and other places in Ukraine, all efforts by the government and the international community to stand by Ukraine's side and to bring an end to Russia's barbarism and war against Ukraine have the former chancellor's full support."
Other Merkel-era officials have been more contrite. Former President Frank-Walter Steinmeier, a Social Democrat who served as Merkel's foreign minister before becoming president, said earlier this month that "I, like others, was mistaken" in his long-time advocacy of rapprochement with Russia, Euractiv reported.
Meyer said Merkel bears much responsibility for Germany's seemingly misplaced hopes that Russia could become a trusted and valued part of Eurasian cooperation.
"Chancellor Merkel was from East Germany, so her attitude to Russia was very different from our position," Meyer said.
"I think she could be blamed for a lot of the positions that Germany took on their dependency on Russia," Meyer added. "So yes, I think Germany is not totally our friend at the moment."
Newsweek has contacted the German Foreign Ministry to request comment.
Monday's event set out several recommendations for NATO nations regarding their engagement in the Black Sea region, which has been seriously destabilized by the Russian invasion of Ukraine.
The authors of the report—titled: "'Global Britain' and the Black Sea region"—urged the U.K. and its NATO allies to work with Ukraine to learn the lessons of the war; prepare to help reconstruction efforts; protect Black Sea freedom of navigation; do more to help regional nations deter external threats, including from Russia; and encourage new "plurilateral" groups and projects to improve regional cooperation.