Ukraine Diplomat Warns Nuclear Weapons in Crimea Are 'One Step Away'
Ukraine's Ambassador to the U.K. Vadym Prystaiko has warned that Russia is "one step away" from deploying nuclear weapons to the Crimean peninsula, seized and annexed by Moscow in 2014 at the start of its eight-year long aggression against Ukraine.
Prystaiko—who previously served as Ukraine's foreign minister and the country's ambassador to both Canada and NATO—issued the warning at an event at the U.K.'s House of Lords on Monday evening, marking the launch of a new report on future security in the Black Sea.
The paper—titled "'Global Britain' and the Black Sea region" and published by the Council on Geostrategy—suggests that an enhanced NATO presence in the Black Sea will be vital to the future European security, regardless of the outcome of Russia's ongoing invasion of Ukraine.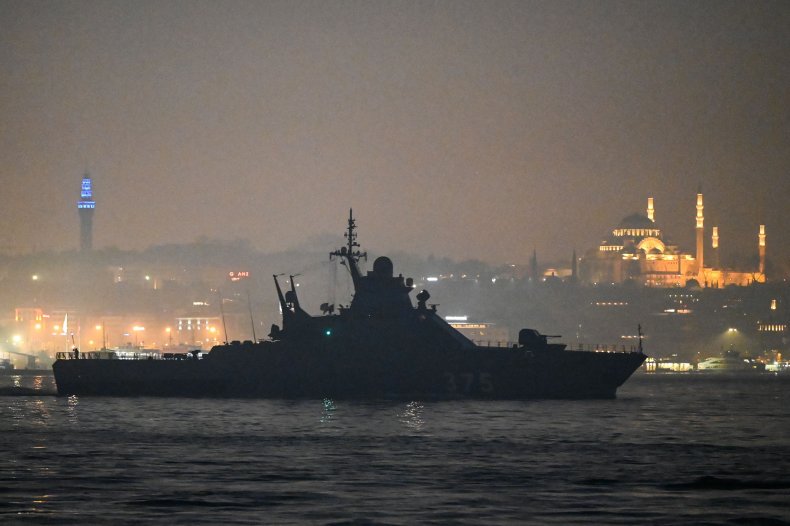 Prystaiko said that Russia's invasion has destabilized the broader region. The Black Sea is bordered by Russia, Ukraine, Georgia, and Moldova, plus NATO nations Turkey, Romania, and Bulgaria.
Since Russia's annexation of Crimea in 2014, the Black Sea has been a constant source of tensions between Kyiv, its Western partners, and Moscow.
"The security and safety of the region are shattered," Prystaiko said at Monday's event in the Palace of Westminster, home to the British parliament, describing the Black Sea's waters as "very difficult, very dangerous."
"We are one step away from the return of nuclear weapons to the peninsula of Crimea," Prystaiko said.
The ambassador is the latest Ukrainian official to sound the nuclear alarm over Crimea, which Moscow considers Russian territory and thus a legally sound place to deploy nuclear assets.
Then-Defense Minister Andrii Taran told the European Parliament in April last year: "Crimea's infrastructure is being prepared for potentially storing nuclear weapons...The very presence of nuclear munitions in the peninsula may spark a whole array of complex political, legal and moral problems."
Newsweek has contacted the Russian Foreign Ministry to request comment.
A nuclear Crimea is but one of the security issues in the Black Sea, Prystaiko said on Monday. "Freedom of navigation in these waters is just a bad joke," he added, describing long-running Russian efforts to blockade Ukrainian ports and interfere with Ukrainian shipping.
Since the start of the invasion, Russia has also been accused of mining Black Sea waters as it seeks to close Ukraine's vital import and export channels.
Such tactics, Prystaiko said, make the delivery of British-made minesweeper vessels—which the ambassador said are "right now somewhere in Scotland waiting to be finished"—even more important.
"Operations targeting mines have to be first," Prystaiko said. "Then establish the real rules and remind Russia that you are not allowed to hit commercial ships, and there have been a couple of them under different flags who have already been targeted.
"You are not allowed to block Ukrainian ports, either for Ukrainians or for the intake of humanitarian aid. We're still waiting for Ukraine to be allowed to start its operation to bring humanitarian help to Ukraine."
The invasion must prompt a broader conversation about the Black Sea, said Prystaiko and fellow panel member Michael Fallon, who served as the British defense minister from 2014 to 2017.
"Beyond the military help that we're getting to Ukraine—late in the day, but very well—beyond the financial sanctions that are slowly but surely having an effect, I think we need to work and think harder in ensuring this never happens again," Fallon said.
"And I can think of no better place where this work needs to start than the Black Sea."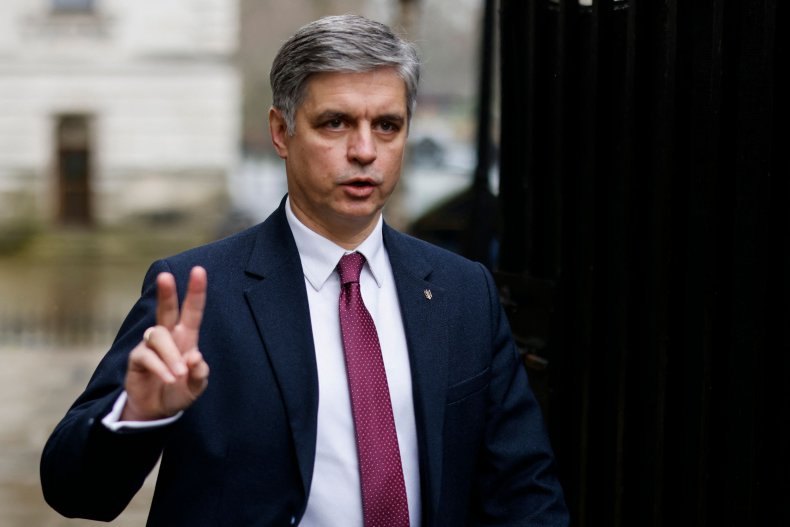 NATO, Fallon said, must focus more on Russian activity in the Sea of Azov and its stranglehold across the Kerch Strait.
The alliance should establish a permanent naval presence in the western portion of the Black Sea, he added, while the European Union should offer Ukraine more support to upgrade its aging Soviet coastal infrastructure.
Prystaiko said Turkey must answer serious questions about its Black Sea strategy. "Turkey has portrayed the Black Sea as its own backyard, where they could arrange things the way they want it," Prystaiko said.
In what the ambassador called a "complicated game," Ankara was cooperating with Russia on energy and weapons purchases while remaining a key member of NATO and expanding business with Ukraine.
But Turkey's balancing act "did not work," Prystaiko said. "It brought more complexity to the region...This is not to criticize Turkey, but it's an acknowledgment that previous plans did not work and that we have to have a new, fresh approach."
Access to the Black Sea is controlled through the Bosphorus, a narrow strait cutting through Istanbul. Under the 1936 Montreux Convention, Turkey permits the passage of all civilian vessels during peacetime and is able to limit the amount and type of warships allowed to pass.
In February, Turkey closed the Bosphorus to all warships that were not returning home to Black Sea bases. This included Russian naval forces that are not part of its Black Sea fleet.
Still, Prystaiko said he is "pessimistic" about the Montreux Convention and suggested it needs to be revisited. "First of all, it's outdated," he said. "There are a couple of types of ships which are not covered at all, like submarines, like aircraft carriers.
"I believe we have to reconsider it, but try to tell the Turks that you have to come together and start thinking about a new way of being a custodian of the Black Sea, which they failed to be."
A Turkish diplomatic source in Ankara told Newsweek: "Thanks to the Montreux Convention, the Black Sea has never been a sea of military confrontations and escalation, even during World War II.
"The Convention safeguards the security of Turkey as well as the Black Sea and its coastal states. It has successfully stood the test of time and many crises and proved its usefulness and effectiveness. That includes the current situation.
"It should be recalled that Turkey was the first country who qualified the Russian invasion as 'war' and invoked Article 19 of the Montreux Convention without any hesitation. Since 24 February, no Russian vessels of war passed through the Turkish Straits.
"Turkey's meticulous and transparent implementation of the Convention is appreciated by all including Ukraine."
The Council on Geostrategy report, written by Alexander Lanoszka and James Rogers, called on the U.K. and its fellow NATO powers to restore and uphold freedom of navigation in the Black Sea.
"Throughout its renewed assault on Ukraine, Russia has acted with relative impunity, having attacked civilian ships with little consequence while ships belonging to the littoral NATO Black Sea members remain in port," the report said.
NATO should also do more to help Black Sea states deter external threats, and encourage new "plurilateral" initiatives and groupings "to overcome their disagreements and work more effectively together to advance their shared interests."
Groups like the NATO Joint Expeditionary Force established in the Baltic states could be models for new land and sea projects, the report said.
The report's other recommendations were that NATO nations work closely with Ukraine to learn the lessons from Russia's invasion, while also preparing for the costly and long-term reconstruction of Ukraine.
4/27/22 4:50 a.m.: This article has been updated to include comment from the Turkish Foreign Ministry