Russia Promises They Don't Want to Invade Moldova
Russia said it wants to "avoid" dragging the breakaway Moldovan region of Transnistria into the Ukraine war.
Concerns that the unrecognized republic could be a potential flashpoint in the war follow two unexplained explosions in two days. Transnistria's Interior Ministry reported explosions took place at the radio-broadcast center in the village of Mayak 30 miles north of the capital Tiraspol around 7 a.m. Tuesday.
Meanwhile, on Monday, explosions struck a building housing the security services of the unrecognized republic bordering western Ukraine. While there is no information linking the blasts, they prompted Moldova's president Maia Sandu to convene a meeting of the Moldovan Supreme Security Council.
After the meeting, Sandu said: "according to our information, the escalation attempts are connected with the forces inside Transnistria, which are in favor of war and are interested in destabilizing the situation," state news agency RIA Novosti reported.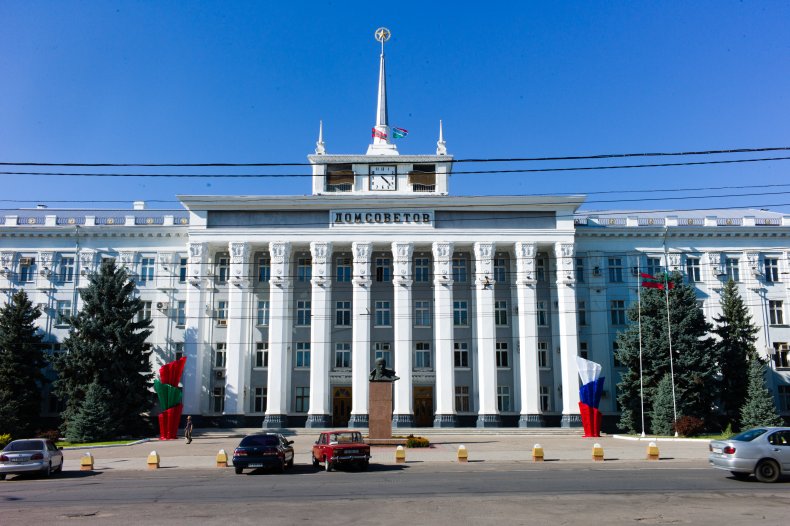 When asked about the prospect that Transnistria could be drawn into the Ukraine war, Russian deputy foreign minister Andrei Rudenko said "we would like to avoid such a scenario."
"Let's wait for the conclusion of the investigation," he said on Tuesday.
Kyiv has been warning that Vladimir Putin planned to expand his war in Ukraine into other countries.
This theory was fueled by comments made last week by Russian commander Rustam Minnekayev who said that Moscow sought to create a passage into Transnistria as part of a plan to create a land corridor to Crimea, which Russia annexed in 2014.
Following Monday's blast, the Moldovan government said in a media statement shared with Newsweek that the aim of the incident "is to create pretexts for straining the security situation in the Transnistrian region, which is not controlled by the constitutional authorities."
The statement added that the Moldovan government "calls for calm and, together with the relevant national institutions, monitors developments in this case."
Officials in Transnistria announced a number of new security measures, such as military checkpoints and the cancellation of the annual May 9 Victory Day parade, further raising concerns about a possible escalation in the breakaway state.
Transnistria is a breakaway state that is considered to be part of Moldova but is not under the control of Chisinau. Its economy is propped up by Moscow and Russian troops are stationed there.
However, experts have cast doubt on Russia's ability to stage an offensive towards the border with Moldova, given its campaign focus on the Donbas region in eastern Ukraine.
Update 04/26/22, 9 a.m. ET: This article was updated with additional information.