As NATO Weighs Nuclear War Risk, U.S. Security 'Assurances' Upset Ukraine
Under Secretary of State Victoria Nuland perturbed Ukrainians last week when she said the U.S. is negotiating future "security assurances" for Kyiv, using the same terminology as the 1994 Budapest Memorandum under which Ukraine surrendered its nuclear arsenal in exchange for the hollow Western and Russian promise of protection.
Ukrainian leaders are demanding legally-binding security guarantees as part of any deal that ends the current Russian invasion of the country. Absent NATO membership and admission into the alliance's Article 5 collective defense umbrella—which appears unlikely—Kyiv argues this is the only way to deter yet more Russian aggression.
Nuland's interview with the Ukrainian Evropeiska Pravda newspaper was not received well in Kyiv, according to current and former Ukrainian officials and politicians who spoke with Newsweek.
She told Evropeiska Pravda: "Negotiations are ongoing between governments that are not public, and I can only say that the United States is negotiating with Kyiv about the security assurances that Ukraine can receive."
Pushed on whether this meant "assurance" or "guarantees," Nuland responded: "I said exactly as I said. That's all I can say publicly."
Asked about Nuland's remarks, a State Department spokesperson told Newsweek: "We are in close contact with Ukraine and are supportive of President Zelensky's commitment to engaging in diplomacy that leads to Russia stopping its attacks and withdrawing its forces.
"We are focused on putting Ukraine in the strongest possible negotiating position by continuing to provide security assistance to help Ukraine defend itself and by increasing pressure on Putin by imposing severe costs on Russia.
"Diplomacy requires both sides engaging in good faith to de-escalate, and we have seen no signs Vladimir Putin is prepared to stop the onslaught and the atrocities.
"While we will defer to Ukraine to discuss the specifics of the negotiations, we are committed to a Ukraine that is sovereign, independent, and secure. We are in constant conversation with the Ukrainian government and our Allies and partners, but, as always, we will keep those discussions private."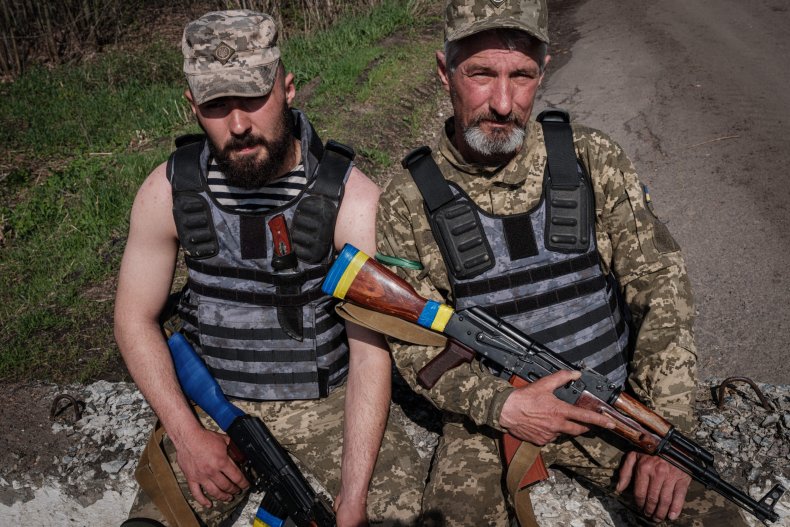 Ghost of Budapest
The ghost of the Budapest Memorandum hangs over modern Ukraine.
A source close to Zelensky, who spoke with Newsweek on the condition of anonymity, warned that the government would not sign a new deal similar to the failed memorandum, which offered vague "assurances" interpreted by the newly-independent Ukraine as genuine security guarantees.
"Ukraine wants any new agreement to be meaningful and one that decades from now people will be calling a great success and not ridiculing as a failure," the source told Newsweek.
Oleksandr Merezhko, a member of Ukraine's Rada parliament and the chair of its foreign policy committee, told Newsweek his country would not make the same mistake it made in 1994, regardless of any external pressure.
"Ukraine has already learned this lesson the hard way, and will hardly agree to be given again 'assurances' instead of firm and clear guarantees," Merezhko said.
"I'm not sure whether the U.S. is ready to give us guarantees," Merezhko added. "I'm not surprised why they are hesitant, but we need to persuade them. We just cannot afford to have a Budapest Memorandum 2."
Russia's invasion of Ukraine is a turning point in modern political history. Iuliia Mendel, who previously served as Zelensky's press secretary and retains close links with Ukrainian officials, told Newsweek that a new deal must reflect a changed political reality.
"What Ukraine wants is a change of the approach towards global security," Mendel said.
"It is clear that the well-established system of security guaranteed by documents with possibly false—as we see in the case of Russia—signatures, jovial smiles, and firm handshakes on camera are no longer relevant.
"Earlier agreements do not respond to the informational dynamics or to modern hybrid methods of warfare. Ukraine wants a security system that is effective. We hope for real instruments to face real challenges. One cannot fight the war with papers."
Russia was one of the signatories of the Budapest Memorandum, another reason Ukrainians say the agreement was worthless in the event of aggression from Moscow.
"After we gave up the nukes, they were supposed to protect our territorial integrity," Yevheniia Kravchuk, the deputy head of Zelensky's Servant of the People faction in Ukraine's Rada parliament, told Newsweek.
"Right now the government is negotiating these security issues and the security document with other countries, and it's very early to talk about the contents.
"First, we need to be sure that the Western world, civilized world, will be supplying Ukraine with weapons and building up our defensive military [capabilities] even after the war ends.
"They can invade again in two years, or three years. We need to be prepared for this, together with our partners in the West."
Mykhailo Podoliak, adviser to the Head of the Office of the President of Ukraine, said this weekend he hoped that security guarantee discussions with Western partners would produce results soon.
"We do not want to get Minsk 3, for example, to have a conflict with Russia again in a couple of years," Podoliak said, referring to the two Minsk agreements that ended fighting in Donbas in 2014 and 2015 but failed to reach a final peace deal to settle the Russia-Ukraine conflict.
The security guarantee dispute is one of few between Kyiv and Washington, D.C. In recent weeks, the U.S. had led the expansion of Western support for Ukraine as Russia seeks a much-needed victory in the eastern Donbas region.
The U.S. is providing advanced and heavy weapons while pressing its NATO allies to do the same. Meanwhile, the U.S. is reportedly providing invaluable intelligence support to Ukrainian military units helping them protect key assets and hunt Russian targets.
Secretary of State Antony Blinken and Secretary of Defense Lloyd Austin traveled to Kyiv this week to meet President Volodymyr Zelensky and underscore continued close cooperation between the U.S. and Ukraine.
The source close to Zelensky said Kyiv was very happy with the American visit. U.S. diplomats are also now returning to Ukraine, having left the country in the days leading up to the Russian invasion.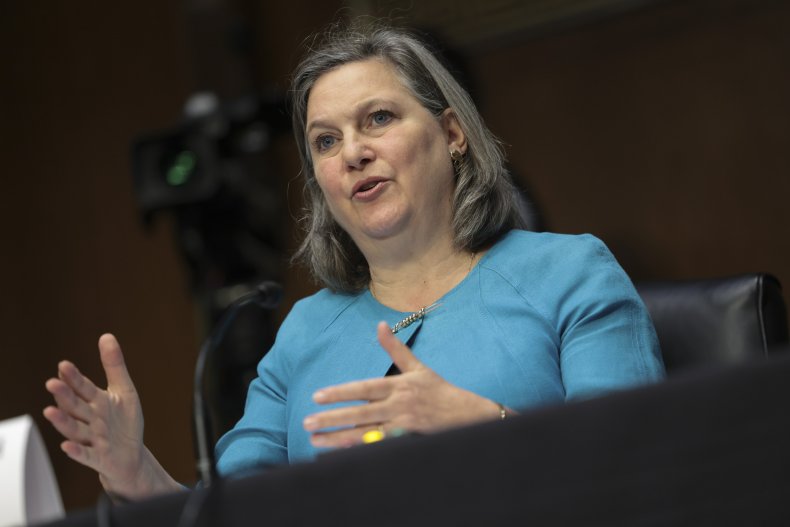 The high-level trip to Kyiv was followed by Tuesday's NATO-Ukraine conference at the U.S. Ramstein airbase in Germany, which Austin said would be the first of monthly meetings of a new "Contact Group" consisting of NATO nations and their non-alliance partners.
"The Contact Group will be a vehicle for nations of goodwill to intensify our efforts, coordinate our assistance, and focus on winning today's fight and the struggles to come," Austin said.
He added: "I know that all the leaders leave today more resolved than ever to support Ukraine in its fight against Russian aggression and atrocities."
Nuclear Threat
The U.S. and its NATO allies remain wary of being dragged into direct conflict with Russia given the risk of serious, even nuclear, escalation.
Legally-binding security guarantees for Ukraine would put leading NATO nations one step from war with Russia. Ukraine's desired guarantee has been compared to NATO's Article 5, which obliges member states to come to the military defense of an ally under external attack.
Ukraine and its partners are discussing the details of security guarantees. A French official told Reuters that a guarantee might look more like the European Union's mutual defense clause than NATO's Article 5.
"It would be military supplies so that it can deal with a new attack or, possibly, guarantees that would see us get involved if Ukraine is attacked in a way where we could assess how to assist it," the official said.
France and Germany have expressed willingness to provide such guarantees. The U.S. and U.K. have been more hesitant. Zelensky and his officials have at times also touted Turkey, Israel, and others as possible security guarantors, though the backing of NATO's most powerful militaries is paramount.
President Joe Biden has repeatedly said no American troops will fight in Ukraine due to the danger of escalation, though there have been unconfirmed reports of Western covert units operating inside the country.
In March, the president said: "We will not fight a war against Russia in Ukraine. Direct conflict between NATO and Russia is World War III, something we must strive to prevent."
British Deputy Prime Minister Dominic Raab told BBC Radio in March that the U.K. has similar reservations.
"We have been very clear we are not going to engage Russia in direct military confrontation," Raab said when asked if London was ready to provide Ukraine with a security guarantee. "Ukraine is not a NATO member," he added.
Moscow has always framed its fight with Ukraine as a conflict with NATO and the U.S. As the war drags on, the demarcation line between Ukrainian troops and their Western partners is blurring.
Russian Foreign Minister Sergei Lavrov said this week: "NATO, in essence, is engaged in a war with Russia through a proxy and is arming that proxy. War means war."
A host of NATO nations are now providing potent small arms, armored vehicles, artillery, anti-aircraft systems, and spare parts for aircraft, among other vital military supplies. Russian officials have repeatedly said they plan to destroy such NATO supplies in transit.
The U.S is also believed to be providing intelligence to assist Ukrainian battle plans and high-value target strikes, while a British defense minister said this week that London would support Ukraine using British weapons to attack targets inside Russian borders.
Russian threats of escalation with NATO appeared to hinder early Western assistance for Ukraine. But Moscow's military failings, Kyiv's determined resistance, and the atrocities committed by Russian troops in occupied areas have all galvanized international support.
While Western officials initially believed Kyiv could fall within days, they are now openly discussing a possible Ukrainian victory and how to weaken Russia in the longer term.
"We want to see Russia weakened to the degree that it can't do the kinds of things that it has done in invading Ukraine," Austin said this week.
Putin's Conscience
Rapprochement with Russia under Russian President Vladimir Putin now appears unthinkable for NATO nations.
Finland and Sweden are preparing to abandon traditional neutrality and join the transatlantic alliance despite Russian threats of retaliation.
Russia's economy is isolated, Western nations rapidly divesting from its lucrative energy exports and tightening the screws on its elites abroad whose dirty money and Kremlin links were long tolerated.
Serious divisions remain in the West, and Putin can still count on powerful friends in China, India, South America, and elsewhere. But the invasion of Ukraine is drawing a new political map on which Western democracies have more mortal motivation than at any point since the 9/11 attacks.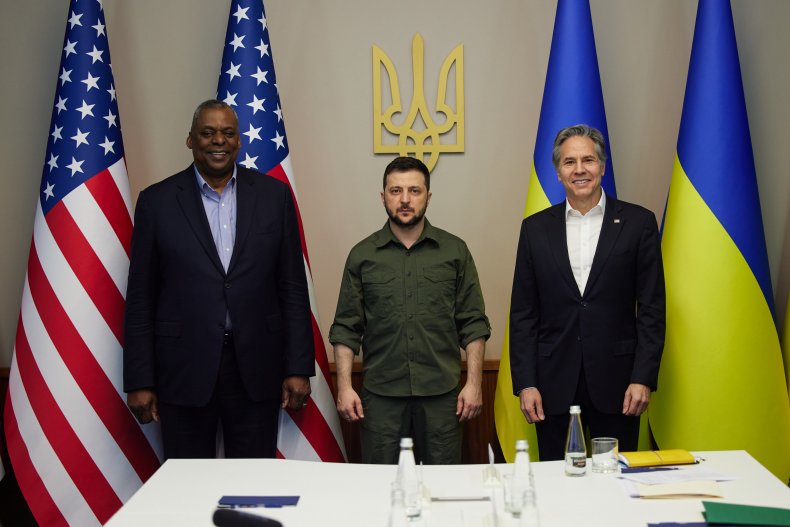 "The whole world suffers from this Russian war against the democratic order: Some militarily, some financially, some lose access to energy resources, hunger increases somewhere—this war affects the entire world economy," Mendel said.
"If the most influential people of the world engage in PR instead of building an effective modern security system, if they hide behind empty promises and shirk political responsibility, then the question of survival will be not only for Ukraine but for the whole world.
"With threats of a nuclear war, with an unpredictable and aggressive dictator trying to enslave almost half the world—look at the size of post-Soviet territory—there is no hope that Putin will abruptly start respecting the law and the Western world order, or that his conscience will awaken."
She added: "It must be made clear that aggression carries penalties, and the next aggression must be made truly impossible. Ukraine does not need the new old memorandums, which in a few years will not prevent the seizure of our territories and brutal abuse and murder."
4/27/22 10:50 a.m. ET: This article has been updated to include comments from Yevheniia Kravchuk.
4/28/22 3:30 a.m. ET: This article has been updated to include comment from the State Department.