Russia's border with NATO members would more than double should Finland decide to join the military bloc this year.
NATO's land border with Russia would increase to 1,586 miles if the Nordic country decides to pursue membership status.
Finland and Sweden are debating whether to join the military alliance, potentially ending decades of neutral foreign policy towards Russia, after the Kremlin ordered the invasion of non-NATO member Ukraine in late February.
The military alliance now shares a land border of 754 miles with Russia, according to NATO's own statistics.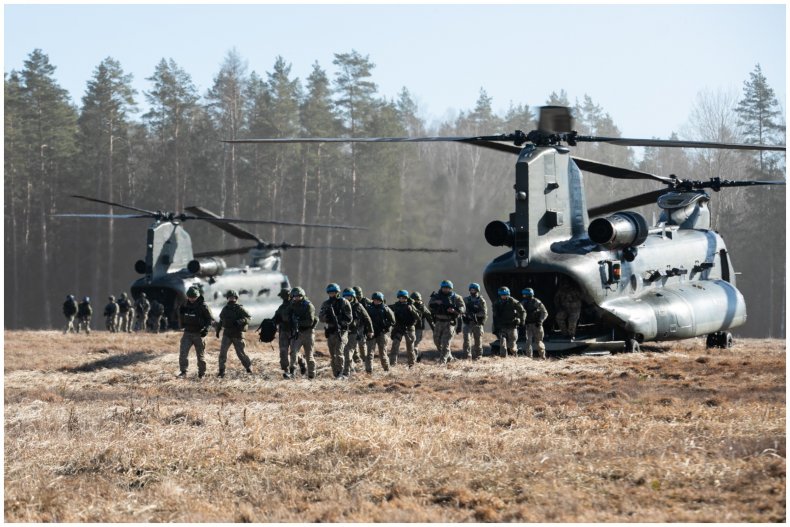 Currently, Russia borders NATO members Poland, Norway, Estonia, Latvia, Lithuania in Europe. But should Finland join the defensive alliance it would add 832 miles to NATO's existing border with Russia.
While Sweden's close proximity to Russia would prove to be a strategic asset to the bloc, it does not share a border with the country.
Tensions between NATO and Russia have risen considerably following Vladimir Putin's decision to invade Ukraine in what he continues to call a "special military operation."
Last month, NATO Secretary-General Jens Stoltenberg said the bloc had attempted dialogue with Moscow up until the invasion happened.
In a March 31 statement, Stoltenberg said: "We prepared for the worst, but worked hard for the best. We made every effort to engage Russia in dialogue, but Moscow consistently turned us down and ultimately decided to cut diplomatic ties."
Newsweek has contacted NATO and the Kremlin for comment.
On Wednesday, Swedish Prime Minister Magdalena Andersson and her Finnish counterpart Sanna Marin addressed their potential NATO membership in a joint press statement in Stockholm
Marin said she hoped to build a consensus in the Finnish parliament, but appeared optimistic an agreement could be reached quickly.
She said: "I won't give any kind of timetable when we will make our decision, but I think it will happen quite fast, within weeks not months."
The possibility of NATO adding two new members close to Russia's borders has drawn veiled threats from the Kremlin, with former president Dmitry Medvedev hinting nuclear weapons could be moved to the Baltic region.
Medvedev, now deputy chairman of the Russian Security Council, issued the warning on his Telegram channel, according to Tass, a state-controlled news agency.
He said: "If Sweden and Finland join NATO, the length of the land borders of the alliance with the Russian Federation will more than double. Naturally, these borders will have to be strengthened."
The official added: "In this case, there will no longer be any talk of a non-nuclear status of the Baltic, the balance must be restored.
"Until now, Russia has not taken such measures and was not going to take them. If we are forced, well 'note that we didn't propose it,' as the hero of the famous old film said."