Vladimir Putin Says He Was Forced To Invade Ukraine: 'No Other Choice'
Russian President Vladimir Putin has said his country had "no other choice" but to invade Ukraine and that what he has called a "special military operation" was aimed at saving people in the Donbas region.
Thousands of people have been killed and more than four million have fled as refugees since Russian troops invaded Ukraine in February, prompting sweeping Western sanctions and accusations of genocide and other war crimes, which Russia has denied.
Putin made his remarks while attending an awards ceremony at the Vostochny Cosmodrome in the far east of the country on Tuesday morning. He went on to defend Russia's goals in Ukraine.
"Its goals are absolutely clear and noble," the Russian president said.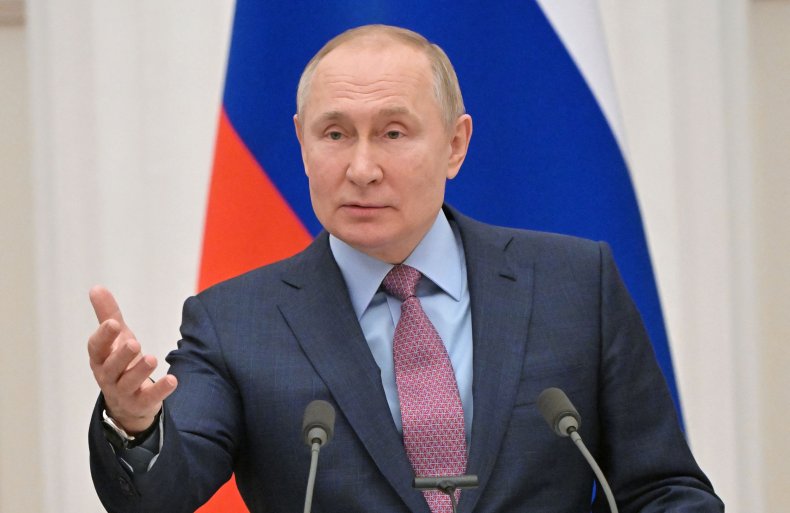 Putin said that "we had no other choice" except to take military action against Ukraine and "there is no doubt that we will achieve our goals."
"On the one hand, we are helping and saving people, and on the other, we are simply taking measures to ensure the security of Russia itself," Putin said.
His comments come amid specific concerns for the city of Mariupol, with Russian forces apparently poised to launch a major offensive. The governments of the U.K. and Australia have said they are investigating unconfirmed reports that Russian forces may have used chemical agents in attacks on Mariupol.
In his remarks on Tuesday, Putin went on to say: "They were deliberately fostering these neo-Nazi grassroots, and their clash with the Russian forces was inevitable.
"They were simply biding their time for an attack, and the ensuing events demonstrated how deep these roots go. The neo-Nazism became a fact of life for our neighboring country. It was a matter of time," the Russian president said.
Newsweek has asked the Russian Foreign Ministry for comment.
Russian-backed separatists in the Donbas region have been fighting Ukrainian forces since 2014 and the Russian government recognized the self-proclaimed People's Republics of Donetsk and Luhansk before launching its invasion on February 24.
Reports from Ukrainian authorities on Monday claimed that Russian forces had dropped toxic chemicals over Mariupol using an unmanned aerial vehicle (UAV). The leader of the country's Azov volunteer regiment, Andriy Biletsky, said three people in the city had suffered "poisoning by warfare chemicals, but without catastrophic consequences."
These claims have not been verified. U.K. Foreign Secretary Liz Truss said on Tuesday that her government was "working urgently with partners to verify details" of the alleged use of chemical weapons.
"Any use of such weapons would be a callous escalation in this conflict and we will hold Putin and his regime to account," Truss tweeted.
The U.K.'s under-secretary for the armed forces, James Heappey, said on Tuesday that "all possible options are on the table in terms of how the west might respond" if Russian use of chemical weapons in Ukraine is confirmed.
Update 04/12/22 07:50 a.m. ET: This article was updated to include more information.
Update 04/12/22 09:45 a.m. ET: This article was updated to include more information.