Russia Says Ukraine War Meant to End U.S. Quest for World 'Domination'
On Monday, Russia's foreign minister put a new spin on his country's reasoning for invading Ukraine by claiming the "special military action" is meant to put an end to the United States' quest for "world domination" and the expansion of NATO.
Speaking to the Russian state-owned television news channel Rossiya 24, Foreign Minister Sergei Lavrov accused the U.S. and other Western nations of violating international law and attempting to impose a "rules-based" global order.
"Our special military operation is meant to put an end to the unabashed expansion [of NATO] and the unabashed drive towards full domination by the U.S. and its Western subjects on the world stage," Lavrov told Rossiya 24, according to a translation from Russian state-run media outlet RT.
"This domination is built on gross violations of international law and under some rules, which they are now hyping so much and which they make up on a case-by-case basis," Lavrov added.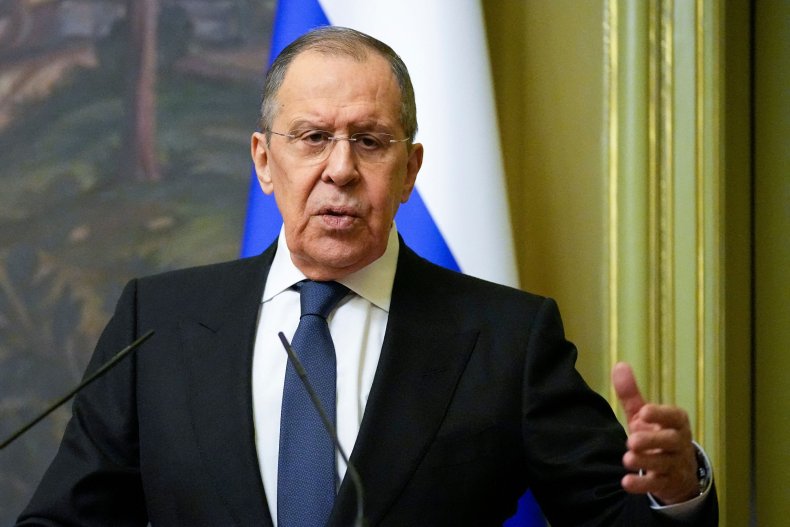 Russia has repeatedly attempted to justify its invasion of Ukraine, and has refused to call its military actions a war. When Russian President Vladimir Putin first ordered troops to attack Ukraine on February 24, he said he said he was seeking the "denazification" of Ukraine. Putin has baselessly claimed that the administration of Ukrainian President Volodymyr Zelensky—a democratically elected Jewish leader—is overrun by "Nazis" who have promoted "genocide."
Last month, Lavrov also defended the war by saying that Russia is working to prevent a separate conflict in Ukraine.
"The goal of Russia's special military operation is to stop any war that could take place on Ukrainian territory or that could start from there," Lavrov said, according to a tweet posted by the Russian embassy in London.
Putin has also used Ukraine's pursuit of NATO membership as justification for invading the country, claiming that it posed a threat to Russian security. However, in response to the war, Zelensky said last month that Ukraine will no longer seek admission to the military alliance.
Russia's invasion has so far been met with fierce resistance by Ukrainian forces. However, Russian troops have been accused of committing grim war crimes by targeting and massacring civilian populations across the country.
On Friday, a Russian missile struck a train station in the eastern city of Kramatorsk, killing at least 50 Ukrainian civilians who were attempting to flee the war-torn country. Days earlier, Ukrainian officials said Russian troops tortured and killed hundreds of citizens before withdrawing from the nation's capitol, Kyiv.
Extremely graphic images have emerged showing mass graves and corpses with their hands tied behind their backs in the town of Bucha, where more than 300 citizens were murdered. Russian troops have also been accused of killing children, as well as raping and torturing women.
According to data from the United Nations, 1,842 Ukrainian citizens have been killed since the start of the war, though the actual number is expected to be much higher. On Sunday, Ukraine's ambassador to the U.S. vowed that all Russian troops involved in committing atrocities will be prosecuted in an international court.
"All of them will be prosecuted, both military commanders, personnel, people who did it on the ground, the people who ordered it, and ultimately Putin," Oksana Markarova told CBS' Face the Nation. "There should be no place on earth where they can hide."
Newsweek has contacted Russia's foreign ministry for comment.