Putin, Officers 'Will Be Prosecuted' for War Crimes: Ukrainian Ambassador
Russian President Vladimir Putin and any troops that committed atrocities in Ukraine will be prosecuted for war crimes, Ukraine's ambassador to the U.S. said Sunday.
Oksana Markarova told CBS' Face the Nation that "all" Russian troops and leaders involved in committing war crimes will face prosecution in international court.
"We have the criminal cases opened in Ukraine, more than 4000 of individual criminal cases already by the prosecutor general. We have ten more countries that opened their own individual criminal prosecutions, and we are providing all the evidence to them," the ambassador said. "All of them will be prosecuted, both military commanders, personnel, people who did it on the ground, the people who ordered it, and ultimately Putin."
When asked by host Margaret Brennan where she would like to see these individuals face trial, Markarova replied "everywhere."
"There should be no place on earth where they can hide," she added. "We would like them to be tried in Ukraine. And we really hope that after we win and after Ukraine is liberated, that we will have a tribunal. Ukraine and our people are entitled to a full scale tribunal, but anywhere where they can be prosecuted is fine."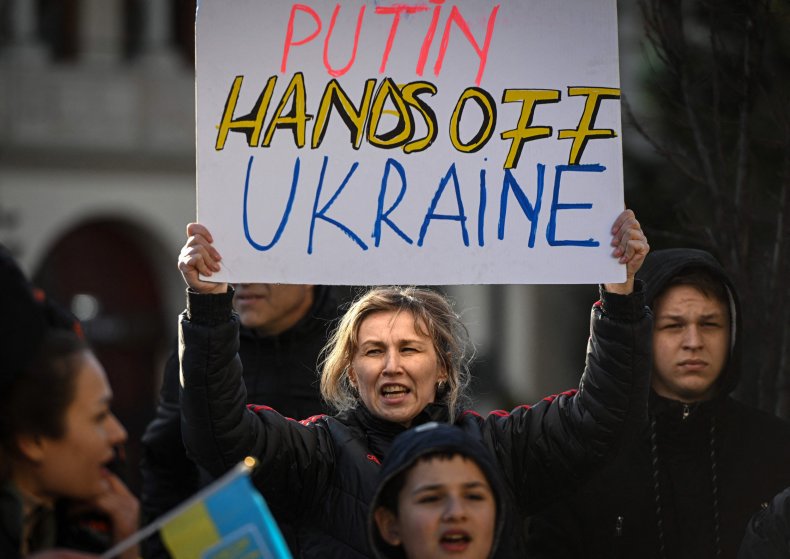 Putin and his troops have been accused of committing grim war crimes across Ukraine since Russia began its invasion on February 24. Late last month, President Joe Biden determined such accusations to be true, and the U.S. House of Representatives later passed a bill requiring the administration to detail evidence of any crimes.
On Friday, Russian forces came under further scrutiny after one of their missiles struck a train station in the eastern city of Kramatorsk, killing at least 50 Ukrainian civilians, who were attempting to flee the war-torn country.
Days earlier, troops allegedly massacred and tortured hundreds of Ukrainian civilians before withdrawing from the Kyiv region. Disturbing images have emerged showing mass graves and corpses with their hands tied behind their backs in the town of Bucha, where more than 300 citizens were slain. Russian troops have also been accused of raping and torturing women, as well as killing and abducting children.
"Bodies left in streets as Russian troops withdrew, some shot in the back of the head with their hands tied behind their backs; civilians executed in cold blood; bodies dumped into mass graves. The sense of brutality and inhumanity left for all the world to see unapologetically," Biden said Wednesday during a speech announcing new sanctions against Russia. "There's nothing less happening than major war crimes. Responsible nations have to come together to hold these perpetrators accountable."
Newsweek contacted the foreign ministries of Russia and Ukraine for comment.