Zelensky Says Russia Committed 'War Crime' With Train Station Attack
Ukrainian President Volodymyr Zelensky has called a Russian strike on a train station in Kramatorsk a "war crime"—a sentiment shared by European leaders about alleged atrocities carried out by Vladimir Putin's forces during their invasion of Ukraine.
Zelensky said that five children were among at least 50 people who had been killed on Friday in the rocket attack at the station which was being used to evacuate civilians
The Kremlin has denied responsibility and Moscow said the attack was a Ukrainian hoax. Newsweek has contacted the Russian Defense Ministry for comment.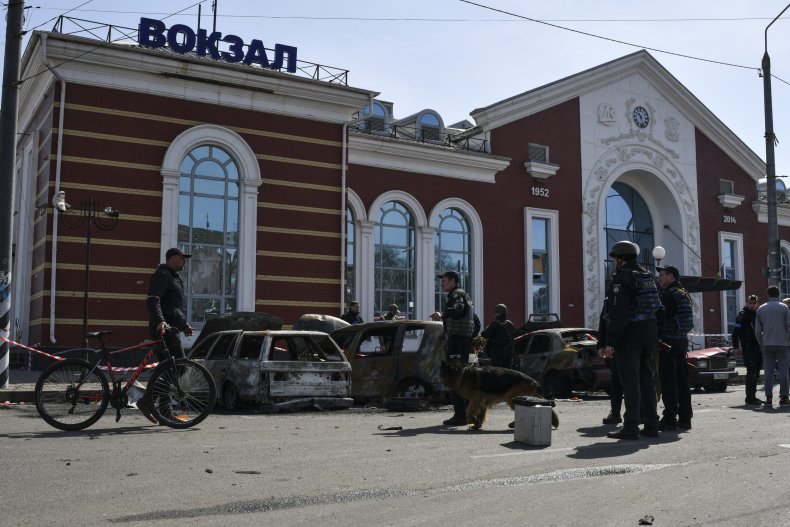 Video and images showing the aftermath of the attack in the eastern Donetsk region have sparked global condemnation of Moscow.
"This is another war crime of Russia for which everyone involved will be held accountable," Zelensky said in a virtual address on Friday.
"We expect a firm, global response to this war crime like the massacre in Bucha, the missile strike on Kramatorsk must be one of the charges at the tribunal," he said.
The scenes in Bucha the town in the Kyiv region, have shocked the world following the retreat of Russian forces which showed the apparent targeting of civilians.
Local officials said that more than 360 civilians were killed and up to 280 had been buried by other residents in a mass grave.
After visiting the city on Friday, European Commission President Ursula von der Leyen, said: "If this is not a war crime, what is a war crime?"
As forensic investigators began exhuming a mass grave in the city, she said the EU was working with Ukraine in a joint investigation team to gather evidence of possible war crimes.
On Saturday, German Chancellor Olaf Scholz said, according to Reuters: "These are war crimes we will not accept, [...] this is something we cannot forget."
Also on Saturday, British Prime Minister Boris Johnson met with Zelensky in Kyiv a day after he announced Britain would supply Ukraine with £100 million ($130 million) worth of weapons for Ukraine after the "unconscionable bombing" of the station.
It comes as Ukrainian officials said that 10 humanitarian corridors had been agreed to help people escape from cities besieged by Russian forces.
Ukrainian Deputy Prime Minister Iryna Vereshchuk said people could leave cities in the regions of Donetsk, Luhansk and Zaporizhzhia on Saturday.
The BBC reported that those in the cities of Mariupol, Enerhodar, Tokmak, Berdyansk and Melitopol will be able to evacuate to the city of Zaporizhzhia.
Meanwhile people in Severodonetsk, Lysychansk, Popasna, Hirske and Rubizhne can move to the city of Bakhmut in the Donetsk region.