Kremlin Says After 'Denazification,' Ukrainians to 'Freely' Determine Fate
The Kremlin insists Ukrainians will be given self-determination when Russia takes over their country, after having launched an invasion under the pretense of removing "Nazis" from its leadership.
Russian President Vladimir Putin's previous remarks were echoed by his top diplomat, repeating the Kremlin's justification for Russia's invasion of Ukraine, which has been dismissed by Western powers as false. The comments from Russian officials that seemingly lend support to Ukrainians being in control of their fate come as leaders of the two countries began negotiations on Monday.
But Russia's support for Ukrainian self-determination came with a big qualification, laid out Russian Foreign Minister Sergey Lavrov.
"We want the Ukrainian people or, as Putin said, all the peoples living on the territory of modern-day Ukraine to be able to freely, without trying to drive them into the clutches of Bandera psychology, determine their destiny," Lavrov said during a news conference Friday, according to the Russian TASS news agency.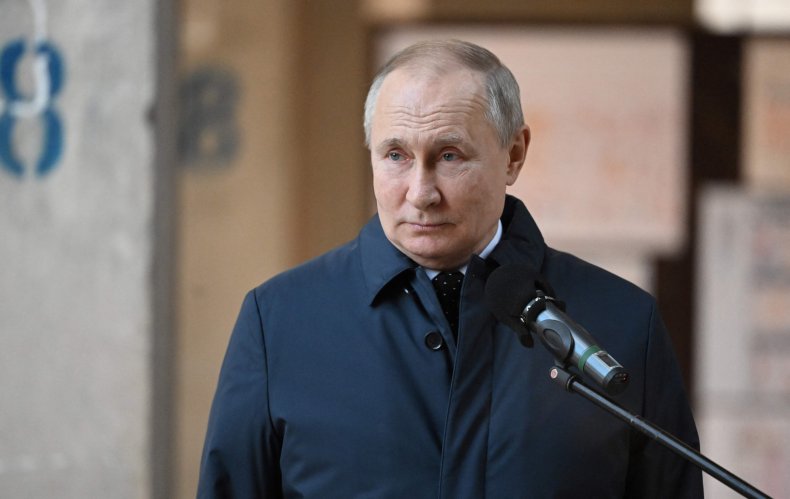 Lavrov's mention of "Bandera" is a reference to Stepan Bandera, a World War II–era Ukrainian nationalist leader who remains a controversial figure.
Hundreds of Ukrainian nationalists last month held a demonstration in capital city Kyiv to mark Bandera's birth, despite leading a militia that fought alongside Nazi soldiers in World War II, according to The Times of Israel. Historian Timothy Snyder wrote in 2010 that Bandera remains for "some Ukrainians a symbol of the struggle for independence during the twentieth century," despite his support for "a one-party fascist dictatorship."
Previously, President Volodymyr Zelensky resisted calls to recognize Bandera as a "Hero Ukraine," according to the Kyiv Post.
Speaking at the press conference Friday, Lavrov said Russia opposes efforts to keep the people of Ukraine under what he called the sway of pro-Bandera propaganda while supporting their right to self-determination. He made the remarks following talks with officials from the Donetsk People's Republic and the Luhansk People's Republic, two breakaway regions in eastern Ukraine that Russia recognized shortly before its invasion, according to the TASS news agency.
Previously, Lavrov has said that Russia's military action against Ukraine is about "preventing Neo-Nazis and those promoting genocide from ruling this country."
"Russia will ensure the demilitarization of Ukraine," the minister stressed, "Russia will ensure the denazification of Ukraine. We suffered too much from Nazism, and so did the Ukrainian people suffer enormously from Nazism to be able to turn a blind eye to all this."
U.S. Ambassador to Russia Michael McFaul said Sunday on NBC's Meet the Press that Putin is is becoming "increasingly unhinged," pointing out that Zelensky is Jewish.
"That doesn't sound like somebody that's going to sit down and negotiate a peaceful outcome," McFaul said of Putin.