Former U.S. Ambassador to Russia Michael McFaul said Sunday that he thinks Russian President Vladimir Putin is becoming "increasingly unhinged" as the country's invasion of Ukraine continues.
His comments came during an interview on NBC's Meet the Press and just after Putin ordered the nation's nuclear deterrent forces to be put on high alert in response to sanctions and "aggressive statements" by leading NATO officials.
The actions from Putin followed a decision by the U.S. and European allies on Saturday to expel certain Russian banks from the high-security SWIFT banking system that connects major banking systems all over the world.
Ukrainian President Volodymyr Zelenskyy confirmed Sunday that his country has agreed to meet with Russian delegations on the Ukraine-Belarus border for talks.
On NBC Sunday, host Chuck Todd asked McFaul, "What do you see right now with Putin, and do you think he's a rational actor right now?"
"That word 'rational actor' is very elastic, right?" McFaul responded. "To get kicked out of SWIFT as it happened to Russia yesterday, and then to have the president of Russia get in front of his generals and say 'We need to prepare for nuclear war.' That doesn't sound very rational to me."
The former ambassador said he's nervous that Putin "has been believing his propaganda for decades," and noted that "he doesn't listen to his aides."
"Even when I was ambassador eight years ago, he was very dismissive of anybody around him. He's out at his compound, doesn't come into town very much and under COVID he's been more isolated," he added.
McFaul added that having watched and listened to Putin over the years, he believes the Russian leader is "increasingly unhinged in the way he talks about the regime."
"Just yesterday talking about Zelenskyy being a neo-Nazi—let's remind everybody watching, he's Jewish...that doesn't sound like somebody that's going to sit down and negotiate a peaceful outcome," he said.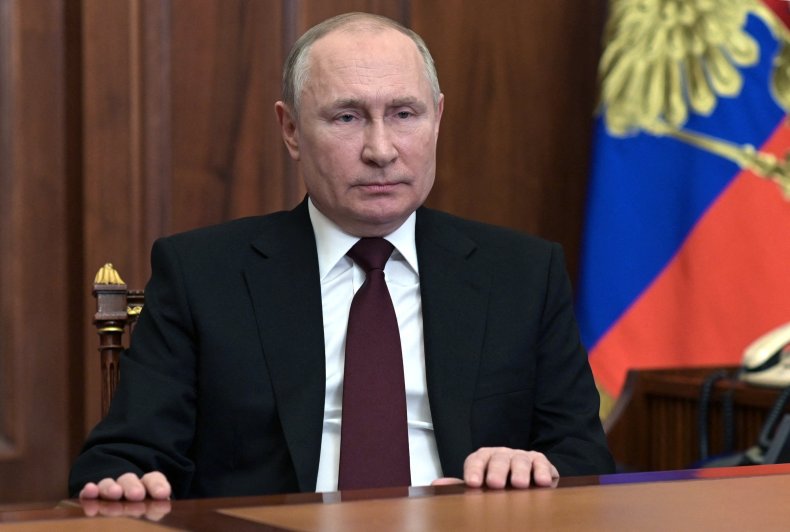 Asked by Todd how the U.S. should respond if Putin is an "irrational actor," McFaul said that "it's really about winning the war on the ground."
"We need to support the Ukrainians who are fighting," he said, noting that sanctions are "great" but that "they take months and years to have effect."
If Russia ultimately succeeds and ousts Zelenskyy, the former ambassador said the U.S. needs to continue to support the Ukrainian resistance.
"I'm convinced Chuck, there is no way that Ukrainians will submit right now to some kind of puppet regime from Russia," he said.
Later in the day, McFaul tweeted: "When dictators rule for decades, they (1) stop listening to advisors, (2) become disconnected from reality, (3) spend a lot of time alone, and (4) overreach. This is exactly what has happened to Putin."