Russia Threatens Nukes in Baltic if Sweden, Finland Join NATO
Former Russian President Dmitry Medvedev has warned that Sweden and Finland joining NATO could bring nuclear weapons to the Baltic.
Medvedev, now deputy chairman of the Russian Security Council, issued the warning on his Telegram channel, according to Tass—a state-controlled news agency.
The close ally of Russian President Vladimir Putin said the country would have "more officially registered adversaries" should Sweden and Finland join NATO.
If both countries join NATO the alliance would have another of its members sharing a border spanning hundreds of miles with Russia.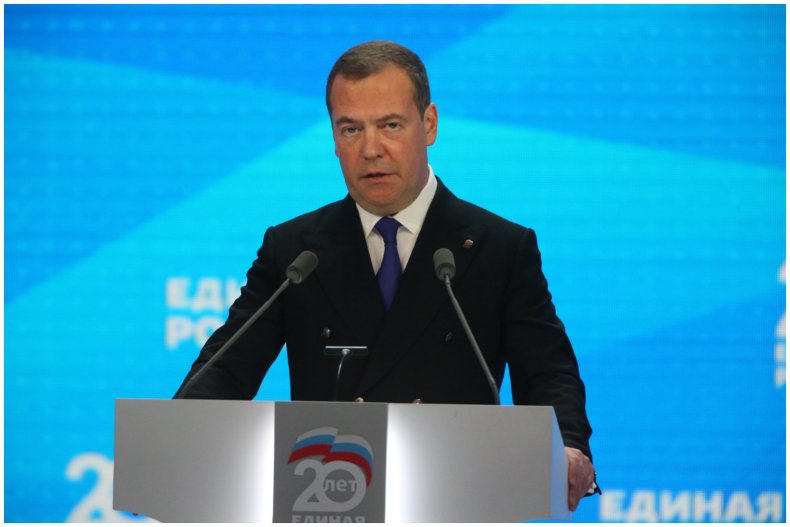 Medvedev said: "If Sweden and Finland join NATO, the length of the land borders of the alliance with the Russian Federation will more than double. Naturally, these borders will have to be strengthened."
According to Tass, Medvedev said Russia would need to enhance its military presence in the Gulf of Finland, including the possibility of moving nuclear weapons to the region.
Medvedev said: "In this case, there will no longer be any talk of a non-nuclear status of the Baltic, the balance must be restored.
"Until now, Russia has not taken such measures and was not going to take them. If we are forced, well 'note that we didn't propose it,' as the hero of the famous old film said."
Newsweek has contacted officials in Russia, Sweden and Finland for comment.
Sweden and Finland appear prepared to abandon decades of neutral foreign policy positions amid Russia's ongoing war with non-NATO member Ukraine.
On April 13, Finland's Prime Minister Sanna Marin and her Swedish counterpart Magdalena Andersson gave a joint press statement amid speculation both countries were poised to submit applications to join NATO.
Andersson told reporters: "In order to strengthen our security, discussions are going on in both our countries and Sanna will update me on the Finnish and I will give her an update on the discussions here in Sweden between the political parties in the Swedish parliament.
"We will continue our very close coordination and cooperation. It is also clear that we have to access different options and that no option is without risk."
By joining NATO Sweden and Finland would be guaranteed by 30 states who agree to the mutual defense of members should any of them be attacked.
But the Kremlin on Monday warned the Nordic countries against joining NATO and said doing so would not bring further stability to Europe.
Kremlin spokesperson Dmitry Peskov told reporters during a press briefing: "We have repeatedly said that the alliance remains a tool geared towards confrontation and its further expansion will not bring further stability to the European continent."