Sweden On Verge of Applying For NATO Membership: Reports
Sweden is preparing to apply for NATO membership as early as this summer, according to media reports in the Scandinavian country.
The reports come as neighboring Finland also weighs up whether to join the alliance after Russia invaded Ukraine in February - a move that would displease the Kremlin.
According to the Svenska Dagbladet, Swedish Prime Minister Magdalena Andersson is keen to join the defensive alliance as early as June this year.
An unnamed government insider told the outlet Andersson will submit the country's membership application at a NATO summit in Madrid on June 29 and 30.
The Aftonbladet newspaper added Magdalena's party, the Social Democrats, has called for a meeting to be held on May 24 to settle the question of joining NATO.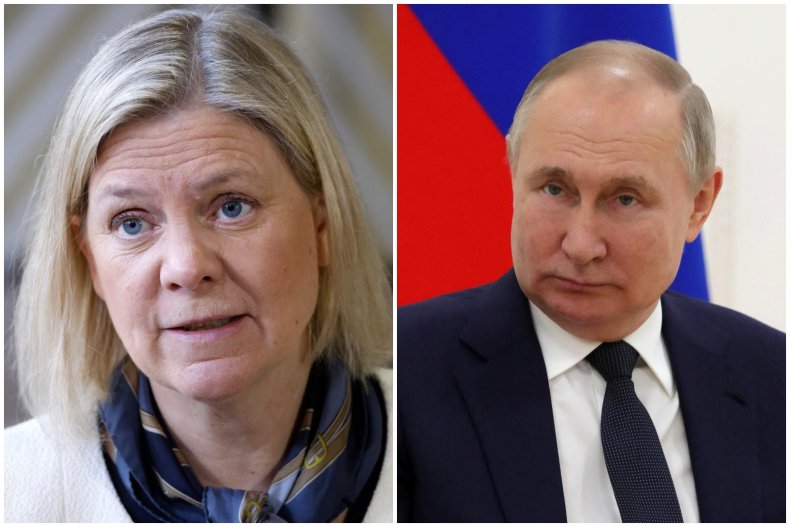 Amid speculation that Sweden would seek NATO membership, Andersson gave a joint press statement with Finland's Prime Minister Sanna Marin in Stockholm on Wednesday, April 13.
She told reporters: "In order to strengthen our security, discussions are going on in both our countries and Sanna will update me on the Finnish and I will give her an update on the discussions here in Sweden between the political parties in the Swedish parliament.
"We will continue our very close coordination and cooperation. It is also clear that we have to discuss different options and that no option is without risk.
"Even though our respective security choices are independent, it's up to every country to decide for themselves, we do depend on each other in our deep security cooperation. And I am truly thankful for the deep cooperation and information that we are having between our two countries."
Should Sweden or Finland, or both, be granted NATO membership, it would represent a colossal foreign policy shift and bring an end to decades of the two countries being non-aligned militarily.
Support for NATO membership has grown in Sweden with nearly six out of 10 Swedes backing the move if Finland joins, according to a March Kantor-Sifo poll.
Newsweek has contacted the Swedish government for comment.
The Kremlin warned Sweden and Finland against joining NATO on Monday and said doing so would not bring further stability to Europe.
But, should the two nations join NATO, it would be further evidence of a possible miscalculation by Russian President Vladimir Putin who said his invasion of Ukraine was in part to prevent it from joining the alliance.
Kremlin spokesperson Dmitry Peskov previously told reporters at a press briefing: "We have repeatedly said that the alliance remains a tool geared towards confrontation and its further expansion will not bring stability to the European continent."
If Finland and Sweden join NATO, the alliance would grow to 32 members and Putin has stated any further eastward expansion would be a direct threat to Russia.
UPDATE 04/13/22 at 08:30 a.m. EDT: This article was updated with comments by the Swedish prime minister and background.