Finland to Discuss NATO Membership Next Week, Risking Putin's Fury
Finland's Prime Minister Sanna Marin said the country will hold a debate on whether to apply to join NATO with a decision expected to be made shortly afterwards.
Marin made the announcement during a joint-press conference with Swedish Prime Minister Magdalena Andersson in Stockholm, with both countries having debated joining NATO in the wake of Russia's invasion of Ukraine in late February.
The parliamentary debate in Finland will take place after a government-commissioned report was released on Wednesday highlighting the change in security across Europe amid the war in Ukraine.
The report is scheduled to be debated in Finland's parliament next Wednesday (April 20) with a decision on whether to join NATO expected to be made "within weeks," according to Marin.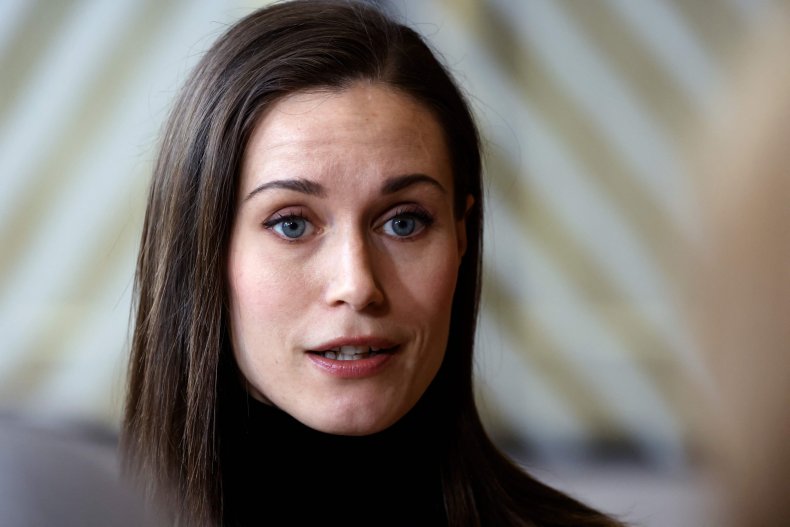 The proposed move to join NATO by Finland, which shares a border of more than 800 miles with Russia, risks infuriating Moscow and President Vladimir Putin.
If Finland joins NATO it would officially end a post-World War II agreement that saw the country essentially act as a neutral buffer between the West and what was then the Soviet Union, and further aggravate Russia due to the alliance's expansion.
"Both Finland and Sweden make independent decisions regarding security policy arrangements," Marin said. "But we do that with a clear understanding that our choices will affect not only ourselves, but our neighbors as well.
"Our aim is clear. We want to guarantee peace in the future for us and for our region and for Europe, and to contribute towards that aim with our own choices."
Marin added that a debate in parliament on whether to join NATO is important as a wide consensus on such a decision was required given Russia is their "next door neighbor" that "acts like this," she said in reference to its military aggression against Ukraine.
"We need to have a view on the future and we are using this time to analyze and build common views on the future when it comes to security.
"I won't give any kind of timetable when we will make our decisions, but I think it will happen quite fast. Within weeks, not within months," Marin said. "All the parliamentary groups and also the president will have the opportunity to make the decision in the upcoming weeks."
Russia has already warned Finland and Sweden that they risk facing military consequences if they join NATO.
On Monday, unverified footage emerged online showing what appeared to be Russian military vehicles being placed near the country's border with Finland.
The footage arrived as Moscow once again warned Finland and Sweden against joining NATO.
"We have repeatedly said that the alliance remains a tool geared towards confrontation and its further expansion will not bring stability to the European continent," Kremlin spokesperson Dmitry Peskov told reporters.
NATO Secretary-General Jens Stoltenberg recently said that the alliance would "welcome" Finland and Sweden to the coalition if they decide to apply for membership.
Update 4/13/22, 8:00 a.m. EDT: This article has been updated throughout to include more detail.