Biden Says Russia Threatening War With U.S. a Sign of Putin's 'Desperation'
President Joe Biden on Thursday addressed recent comments from Russian officials threatening war with the U.S. and NATO, calling such rhetoric a sign of "desperation that Russia is feeling about their abject failure."
Biden made the remarks during a White House address announcing a request he made to Congress about providing $33 billion in funding to Ukraine as support for its war with Russia. After the president made his prepared statement, a reporter asked him about Russian officials "painting this conflict as actually already a conflict between NATO, the U.S., and Russia."
The reporter also brought up Russian Foreign Minister Sergey Lavrov recently stating that "NATO is essentially going to war with Russia through a proxy" and if such comments worried him.
"They're not true," Biden answered. "They do concern me because it shows the desperation that Russia is feeling about their abject failure in being able to do what they set out to do in the first instance."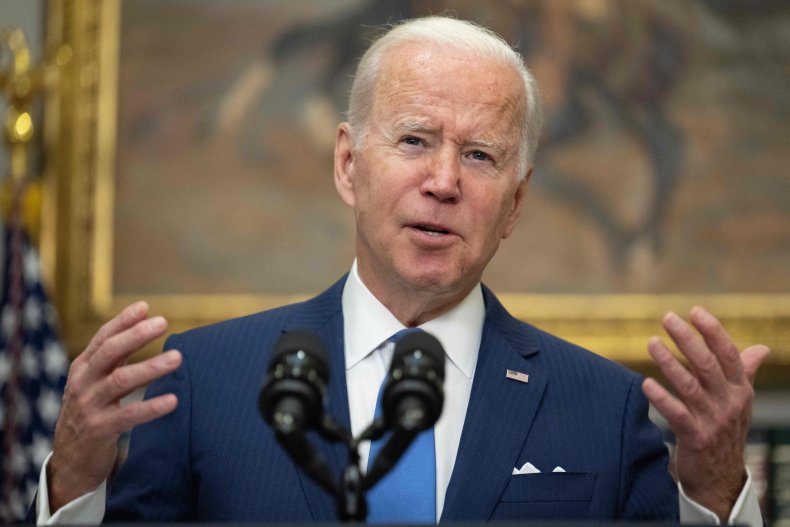 Biden continued, "And so, I think it's more of a reflection not of the truth but of their failure. And so, instead of saying that the Ukrainians, equipped with some capability to resist Russian forces, are doing this, they've got to tell their people the United States and all of NATO is engaged in taking out Russian troops and tanks, etc.
"So, it's—number one, it's an excuse for their failure. But number two, it's also, if they really mean it...No one should be making idle comments about the use of nuclear weapons or the possibility that they'd use that. It's irresponsible."
Experts have said that Russia in recent days has increased its amount of statements about NATO as a strategic tactic of spreading disinformation and stoking fear. On Wednesday, Russian President Vladimir Putin said during a speech that Russian forces would respond with "retaliatory strikes" against NATO members or other countries that posed "a strategic threat" to Russia in Ukraine.
Russian Deputy Foreign Minister Sergei Ryabkov also made similar remarks on April 13. During an interview with the Russian state-owned news agency TASS, Ryabkov said Russia will consider U.S. and NATO vehicles transporting weapons on Ukrainian territory as "legitimate military targets."
During his address about the funding request, Biden stated why he felt supporting Ukraine was important.
"The cost of this fight is not cheap, but caving to aggression is going to be more costly if we allow it to happen," he said. "We either back the Ukrainian people as they defend their country or we stand by as the Russians continue their atrocities and aggression in Ukraine."
Newsweek reached out to the White House and the Russian Foreign Ministry for comment.