Russian President Vladimir Putin and Kremlin officials have increasingly made threatening statements to NATO as a strategic tactic as the Ukraine war enters its third month, according to experts.
During a Wednesday speech, Putin said any countries that intervene in Russian military operations in Ukraine and create "unacceptable threats for us that are strategic in nature" would be met with a "lightning-fast" response, Agence France-Presse reported.
This came after Russian Foreign Minister Sergey Lavrov said in a Monday interview with state media that "NATO is essentially going to war with Russia through a proxy and arming that proxy." In another example of incendiary comments, Russian Deputy Foreign Minister Sergei Ryabkov said during an April 13 interview that Russia will consider U.S. and NATO vehicles transporting weapons on Ukrainian territory as "legitimate military targets."
Recently, the British defense ministry said in an intelligence update that there was reason to believe Russia was feeling a sense of urgency about ending its war in Ukraine before it celebrates Victory Day next month. The annual commemoration on May 9 marks the Russian defeat of Nazi Germany in 1945 and the end of World War II in Europe.
During a press briefing last week, White House press secretary Jen Psaki was asked about Russian warnings that the U.S. must stop arming Ukraine or risk "unpredictable consequences." Psaki demurred from commenting, saying, "I'm not going to speculate on empty threats or threats by President Putin or by Russian leadership."
Jonathan Katz, the director of Democracy Initiatives and a senior fellow with the German Marshall Fund of the United States, said that while such threats are taken very seriously by the U.S. and NATO—which is why troop levels have increased in countries near Ukraine—Russia's threats are strategic and part of the Kremlin's "war of disinformation."
"Russia has long had in its arsenal efforts to impact information through disinformation," Katz told Newsweek.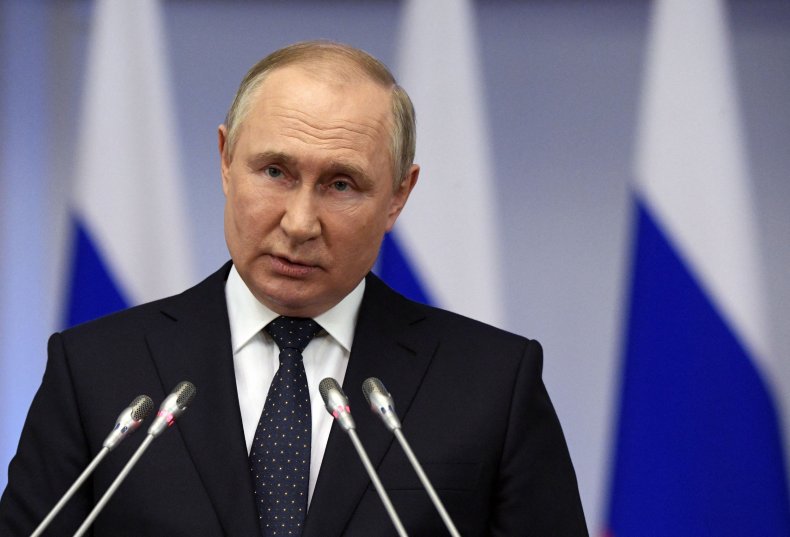 Laurence Reardon, an associate professor of political science at the University of New Hampshire, said he feels Russia's statements are a response to the strong international support Ukraine has received.
"I think Putin has underestimated the resolve of NATO, the EU and the U.S. to support Ukraine," Reardon said. "Putin hopes that his threats of a wider war will weaken the alliance, who will 'tire' of the war after a couple of months, just like they tired of the Russian invasion in 2014. So I think Putin is undertaking a psychological war to unnerve the West."
William Reno, a professor of political science at Northwestern University, pointed out that Russia is not the only country turning to strategic statements.
"Both sides can't rely solely on military force to get what they want because that risks ending in nuclear war. But the risk of a species-ending event is an instrument of this diplomacy on both sides. That puts the onus on state leaders to know how to use force persuasively," Reno said.
He added that Russia making allusions to its nuclear arsenal and Lavrov calling NATO's actions a proxy war "is Russia's way of telling NATO there is a risk that Russia will use more force. Statements of U.S. officials that Russia is losing, and public plans to send heavy weaponry, signals to Russia that it faces risk if its forces remain in Ukraine."
Reno continued, "Taken together, this is the manipulation of risk. The power to hurt the adversary is bargaining power.... Deterrence at its heart is about coercion and intimidation. Neither side wants to build up for an attack that will actually happen. The risk of mutual destruction is too great."
Katz said Putin also has current and potential economic and political partners in mind with his aggressive statements and claims about NATO.
"I think from the perspective of Moscow, they want to build a case that this whole thing was started by NATO and the United States," Katz said. With economic sanctions decimating Russia's economy, Putin may hope countries looking to buy energy supplies and other goods "might buy the line that Moscow is peddling."
"Then you also have the domestic implications of what he is saying, which is really important," Katz noted. Putin is "using the boogeyman of NATO, of the United States, to justify the actions that he is taking to the Russian domestic population."
Katz added that such verbal tactics, as well as the spread of misinformation through cyber means, have long been in Russia's "playbook."
"Thankfully, the thing that Putin didn't count on was trans-Atlantic unity to remain in the way that it has," Katz said.
Newsweek reached out to the Russian Foreign Ministry for comment.